Give The Gift That Keeps On Giving: A Pinot's Palette Gift Certificate!
'Tis the season to be buying....................................gifts, that is!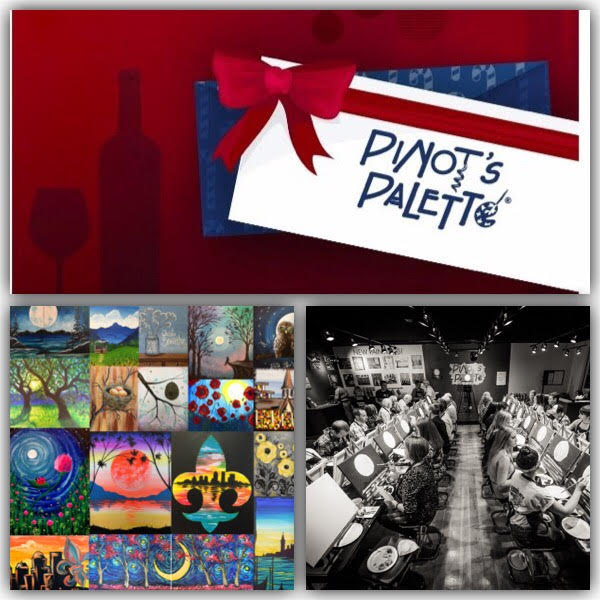 It's that time of year where we've all got a list and are trying to frantically check it, twice! Make the gift giving easy, practical, and thoughtful this year and purchase Pinot's Palette gift certificates for all of your friends and family!
Whether they're near or far, naturally artistic or not, or young or old, this is the gift that EVERYONE will love!!! These painting and wine classes are a fun, unique, and valuable experience that will leave your loved ones being thankful for you and your thoughtful gift! Giving the gift of an experience is always a great idea. Putting time and thought into something that you know your friends and family can enjoy, even after the holidays, is a good way to go!
Our classes are for ages 7+ and meant for anyone, at any level of art experience... even none! The majority of our customers are first time painters, who haven't lifted a brush since 3rd grade! We break down the painting, step-by-step, in easy to follow instructions, allowing you to create a masterpiece quickly and easily!
As said before, we offer wine in our (21 and up) classes, adding an additional aspect of fun into the classes! Sipping some wine and relaxing while you paint and catch up with friends, is a wonderful way to spend a night out! Leaving the class with a souvenir that YOU created, is the icing on the cake! Display your lovely, hand-painted artwork in your home for some extra meaningful decor, that you'll treasure for years to come!
We have over 170 locations across the US and even in Canada! If you have friends and family that live outside of the Raleigh-Durham area, and even out of state, they can still have fun a Pinot's location near them! Check out our list of studio locations to see if there is one located what your loved ones, and send them the gift of a painting class to enjoy in their hometown!
Pinot's Palette locations:
https://www....com/locations
With Pinot's Palette gift certificates, checking those names off your long list is fast and easy! You can pop over to our website (link below) to buy them or come into the studio! Check out our calendar to view all of the MANY, AMAZING classes we're offering throughout the next few weeks, and sign up for a class for yourself! While you're in the studio, enjoying a class, stop by the bar and ask for some gift certificates! We'll be more than happy to help you out.
This time of year, it's extra important to take some time for yourself. A night out with the girls or a fun date night with your sweetie will help you to unwind after all of those long days of sitting in traffic, standing in store lines, baking, and wrapping. Come in and enjoy a few hours for yourself, sipping wine and getting creative, and paint a masterpiece at Pinot's Palette, Brier Creek!!
Cheers!
Share View our entire calendar HERE! | Purchase a gift certificate HERE!