Paint To Raise Money For Australian Wild Fire Relief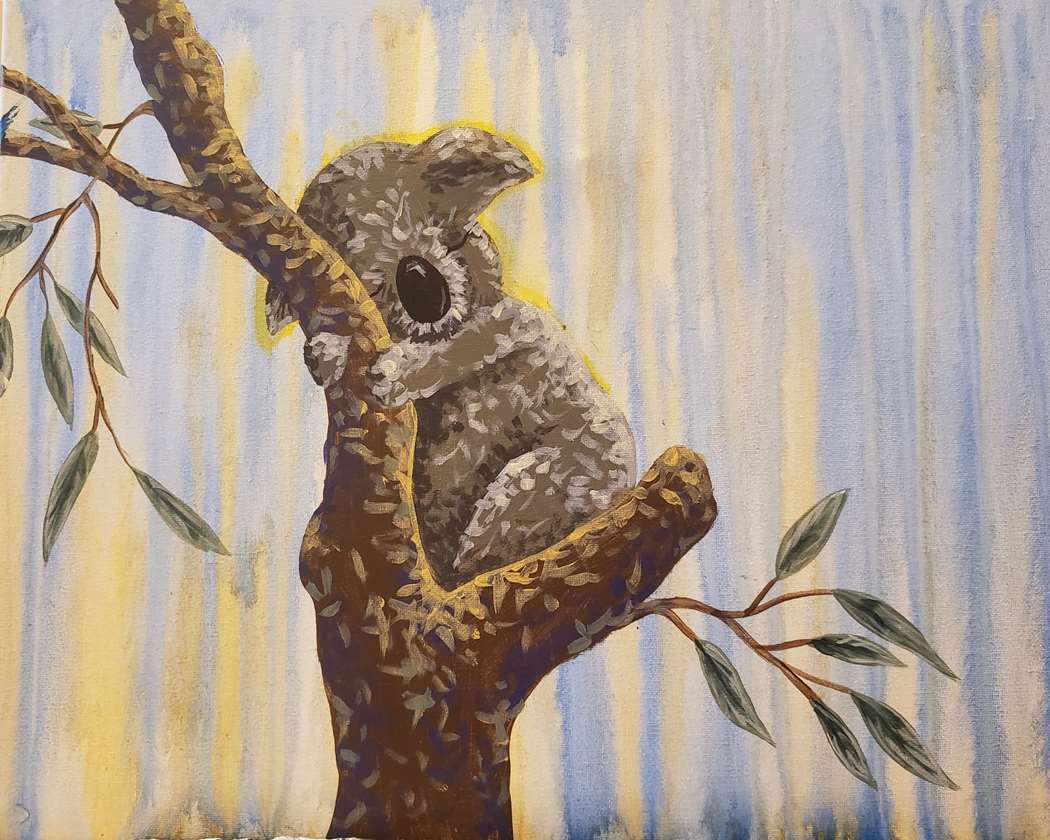 Since September, at least 27 million acres of Australia have burned in one of the country's worst fire seasons on record. That's an area larger than Portugal, and more than 14 times the area that burned in California in 2018, the state's most destructive year for wildfires.
The fires have now killed at least 29 people and destroyed some 2,500 homes. The destruction to the country's land and biodiversity is harder to fathom. An estimated 1.25 billion animals have been lost, and scientists fear long-term damage to many sensitive ecosystems.
It's been incredibly painful to hear about, and even more so to watch on television, news sites, and social media. The raging fires and endless waves of smoke are bad enough to witness, but when you think about the animals who have gone through so much, it's beyond heartbreaking. These innocent animals have had their homes destroyed, and their fellow species wounded at best and killed at worst. From being burned to suffering deadly affects from the smoke, the wildlife of the Australian continent has suffered greatly and it continues to, today.
Though they aren't accepting anymore (civilian) volunteers to help with the disaster, you might be eager to help in any way you can.
We have special classes, called 'Painting It Forward' events, where proceeds from the class go towards helping local charities and non-profits.
In many cases, we try to help outside of our local community and give back to other states (and in this case, countries), in hope of helping in some way.
If you'd like to give to Australia, while spending time with loved ones in a local, fun and creative setting, we've got just the thing for you...
****** JOIN US ******
On March 26th
We'll be painting, 'Koala Kare'
Our koala is fun to paint! It's the perfect painting for a fundraiser event to raise money for Australia's catastrophic fires that have resulted in the loss of, and displacement of, so many koalas.
This painting will be fun to create and is made even more great when you remember that you're painting for a wonderful cause!
!! A percentage of proceeds to go towards Australia fire relief, so you can come out and have a great time painting with friends and family, all while knowing you're doing your part to help contribute to the animals and people who have suffered these past few weeks.
Tell all of your loved ones about this event… The more seats we fill, the more money we're able to send to the relief of those in need.
We appreciate your support throughout the years, and we hope to see you all soon for this special fundraising event. Thank you <3
*Sign up:
https://www..../event/420430
__________________________________________________________________
Some facts you should know about the fires:
—— Destruction ——
The fires are concentrated along Australia's southeast coast, in the states of New South Wales and Victoria. The southeast is the most severely affected, but fires have also hit everyAustralian state and territory this season.
The fires started in various ways: some by lightning, some by human actions, including arson. However, it's the climate conditions that provide ample fuel for the fires to grow and spread.
Before the fires ignited, Australia was already enduring its hottest and driest year on record. It's summertime in the southern hemisphere, and the heat keeps rising.
—— Australia's fire season is getting longer and more dangerous
Wildfires are a natural part of the ecosystem in Australia. Many plants and other organisms even depend on regular blazes to germinate, cycle nutrients, and clear decay.
That said, the climate is getting hotter due to human activities. And that extra heat makes fires more likely.
—— Loss Of The Living ——
Australia is one of the great biodiversity hotspots in the world. The island continent was isolated from the rest of the world for millions of years, allowing evolution to take strange new paths, and until fairly recently, with little human influence.
Around 244 species of mammals are found only in Australia. Before the fires, its great diversity of life was already threatened due to invasive species, habitat destruction, and climate change, according to Australia's science research agency, CSIRO. Now, ecologists are fearing severe ecological consequences from so much land being burnt at once.
A staggering 1.25 billion animals are now estimated dead, though there's a good deal of uncertainty in that figure.
Initially, the number of animals killed was put at 480 million, but the truth is, it's hard for anyone to know the precise impact of the fires at this stage, not least because many animals that survive the flames will likely die later due to lack of food, water, and shelter.
Regardless of the exact numbers, this is a crisis for biodiversity in Australia, which is home to some of Earth's most distinctive animals, like marsupials.
((It's not just charismatic animals like koalas -of which around 8,000 have died, while others are desperate for water)). Even the loss of insects matters; Invertebrates are critical for ecosystem function, and they're in harm's way too. They're the ones that build ecosystems from the ground up. They decompose decaying matter, they aerate the soil, they pollinate the plants, which then create the forests. The invertebrates are the ones that are structuring those systems, even though they might be invisible, or we don't think about them so much.
—— The Disruption Of People's Lives ——
The pace of destruction of Australia's wildlife is eye-popping. Thousands of people are suffering, too. States of emergency have been declared in New South Wales and Victoria, and army reserve troops have been called up to assist in recovery efforts. Australia's firefighting force is largely made up of volunteers, many of whom have had to forgo weeks of work at their regular jobs to fight the blazes.
Their work has been very difficult. "The pace at which the bushfires have spread and the subsequent heavy smoke have made it difficult for emergency services to access and evacuate some communities, at times forcing residents to flee to beaches and other water bodies to avoid impact and await rescue," the Red Cross reported January 8. In one case, 4,000 people in Mallacoota, Victoria, headed to the beach to be rescued. The main road heading into their town had been closed off.
"Power, fuel, and food supplies have been severely interrupted to some communities and road closures have been common," the Red Cross continues. "This has resulted in some communities being isolated, or only accessible by air or sea (when smoke conditions allow)."
—— The Disaster Goes On…
The disaster won't end when the fires go out
Beyond the immediate destruction from the bushfires, Australians face other risks to their well-being — which will persist long after the fires are subdued.
The extreme stress of losing homes, livelihoods, pets, and property can be difficult to cope with. As always in a natural disaster, mental health is a concern. After a major disaster, studies find a 5 percent to 15 percent increase in the incidence of mental health problems among survivors. And there will be a lot of rebuilding to do.
The environmental crisis doesn't end either when the fires go out. When rains come, all the charred debris from the fire may wash into freshwater sources, polluting it for both aquatic life and human consumption.
On dry land, animals will continue to suffer, too. "There's going to be ongoing mortalities [i.e. deaths] as the result of starvation — there will be nothing to eat — and the lack of shelter," says Sarah Legge, an ecologist at the Australian National University who studies how species respond to fire. Feral predators like cats and foxes will be attracted to burned areas she says, and they'll "mop up all the native animals that are left there over the next few months."
Share You can see our full calendar here | More about 'Painting It Forward'