Painting For Ukraine
We stand with Ukraine!
Looking for a way to help, but arent sure how. We've made it easy!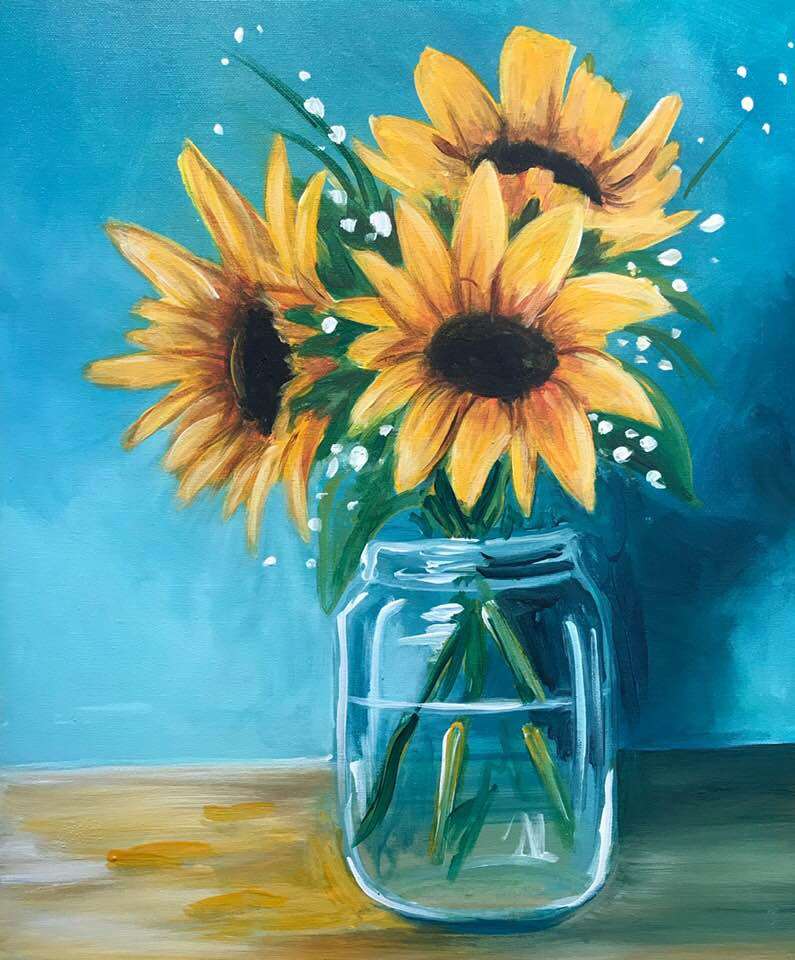 JOIN US for a paint and sip class with an extra dose of heart and soul.
Saturday, March 26th as we Paint it Forward for Ukraine.
'Sunflowers In A Glass'
Sunflowers are the perfect way to brighten up anyone's home! Paint these sunny sunflowers with us for your home or as a gift to bring some cheer to someone special.
Ukraine's national flower is the sunflower, so we will be painting ' Sunflowers In A Glass' in the European Country's beautiful blue and yellow hues.
The combination of blue and yellow as a symbol of Ukrainian lands comes from the flag of the Kingdom of Galicia–Volhynia used in the 12th century. As a national flag, the blue and yellow bicolour has been used since the 1848 Spring of Nations, when it was hoisted over Lviv Town Hall.
Not only will you be making a fabulous time creating this masterpiece, AND having a lot of fun with friends as you make it, BUT proceeds from the payment of your seat will be going towards a great cause.
Proceeds will benefit the International Committee of the Red Cross, a non-profit currently on the ground responding to urgent humanitarian needs and life-saving work. ICRC water engineers and doctors aim to help more than 3 million people access clean water and improve the living conditions of more than 66,000 whose homes have been damaged by heavy fighting.
And Another Sunflower Painting: March 26th, Sunflower Shimmer
This can be painted on a Wood Pallet , Wood Tray or Canvas
It's Mimosa Saturday at Pinot's Palette
Your reservation includes a Mimosa - upgrade to bottomless mimosas for $12.
https://www..../event/599882
((Paint This One At Home)):
https://www....lower-shimmer
Painting It Forward
If you're interested in these charitable classes for your non-profit, you can always reach out to us to set something up!
Painting It Forward events are paint and sip classes where proceeds go to the partner organization, usually a 501(c)3. They can be private events with a select guest list, or public classes that are open to your whole community. We'll also work with your organization to set up other details – like silent auctions, catering, custom paintings or other important details.
It's one of the easiest (and most fun) ways to raise money! Our studio has a beautiful space, equipped with all the details you'll need, including audio equipment, wine, paintings supplies, and helpful staff to help guide your guests. For extra-large groups or specialty events, some studios can also host painting fundraisers at the location of your choosing, indoors or outdoors.
Planning and setup of painting fundraisers is streamlined and flexible. From scheduling to logistics, we'll make sure all the details are arranged.
Whether we're hosting an event at our location or donating items to help your organization grow, we can work together, so let us know if this is something you're interested in!
Russia's war in Ukraine, explained...
Putin's invasion in February began Europe's first major war in decades. Here is a brief summary of what it's all about...
The conflict is about the future of Ukraine. But Ukraine is also a larger stage for Russia to try to reassert its influence in Europe and the world, and for Putin to cement his legacy. These are no small things for Putin, and he may decide that the only way to achieve them is to launch another incursion into Ukraine — an act that, at its most aggressive, could lead to tens of thousands of civilian deaths, a European refugee crisis, and a response from Western allies that includes tough sanctions affecting the global economy.
The US and Russia have drawn firm red lines that help explain what's at stake. Russia presented the US with a list of demands, some of which were nonstarters for the United States and its allies in the North Atlantic Treaty Organization (NATO). Putin demanded that NATO stop its eastward expansion and deny membership to Ukraine, and that NATO roll back troop deployment in countries that had joined after 1997, which would turn back the clock decades on Europe's security and geopolitical alignment.
These ultimatums are a Russian attempt not only to secure interest in Ukraine but essentially relitigate the security architecture in Europe.
As expected, the US and NATO rejected those demands. Both the US and Russia know Ukraine is not going to become a NATO member anytime soon.
On March 4, Russia seized Zaporizhzhia, one of Europe's largest nuclear power plants. Russian shelling of the southeastern Ukraine facility set off a fire, which Ukrainian officials warned could set off a nuclear disaster. It took hours, but the fire was extinguished, and international monitors said that they do not detect elevated radiation levels and that the fire did not damage "essential" equipment. US officials have said Russia now appears to be in control of the plant.
But the incident was a reminder of how dangerous this war in Ukraine is becoming, and how uncertain and confusing things still are on the ground. Russian troops were advancing toward Kyiv, and thousands and thousands are fleeing in advance of a possible siege on the city.
The Russian military has made advances in the south, and are gaining in the area of Kherson, a port city on the Black Sea whose control is reportedly contested, and Mariupol, on the Sea of Azov. Russian bombardment of these cities has resulted in humanitarian issues, with bridges and roads damaged by the fighting and dwindling access to food, clean water, medicine, and electricity in certain areas. Kharkiv, Ukraine's second-largest city, experienced heavy Russian fire this week, and strikes have heavily damaged residential areas.
Ukrainian and Russian officials met in early March, and tentatively agreed on the need to humanitarian corridors — basically, safe zones for civilians to flee and supplies to pass through — but did not reach agreements on a larger ceasefire. As of March 6, multiple attempts to evacuate Ukrainian civilians have been halted because of Russian shelling.
MORE:
https://www....b2032478.html