Paint, Drink, Have Fun….. And Then Display Your Work For All To See!
When you attend a class at Pinot's Palette class, you'll learn how to make a work of art in just a 2-3 hour class! Our studio classes are so much fun, and a great way to spend time with friends and family as you get creative.
But what do you do with those beautiful paintings once you've completed them?!
How can you best show off that lovely, handmade masterpiece?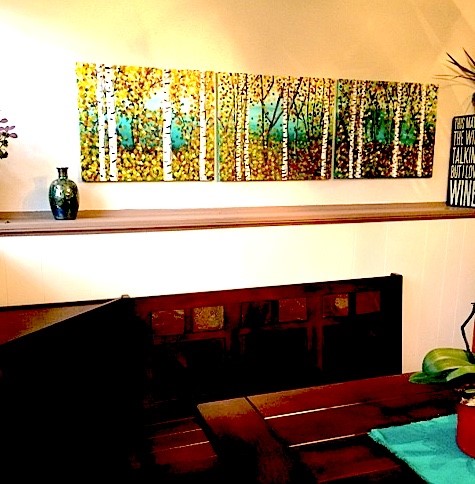 For many people, art is a very personal thing. Perhaps you're the artist who is pouring their heart and soul into the work, the buyer who is finding a connection in a work of art that you're eager to add to your home, or the recipient of artwork created for you or bought for you a loved one…
Whatever the story behind the art that you own, there are a lot of wonderful ways to show it off.
We'd like to give you some ideas about how to best display your work, as well as mention some of the upcoming classes, featuring some fabulous paintings, just waiting for you!
While we've aways offered our original 16" x20" canvas, throughout the past year or so, we've been experimenting with adding new styles of artwork to our calendar! Unique classes featuring long canvases and square ones, wine bottle decorating, blanket making, wooden pallet paintings, and more have been popping up across Pinot's Palette studios across the US, gaining popularity along the way.
***Some of our most-loved classes are the paintings that are created on a longer sized canvas, measuring 10" x 30".
This is such a fun size to display in small spaces, in 2's or 3's, place on a mantel or console table, or even to give to someone special as a gift! These are the perfect size to fit into a tight space, on a smaller wall, or to mix in with an art collage!
-- Here are some of the upcoming long canvas paintings we're offering:
((September 6th))
'Neon Jellyfish'
Enjoy a cool, relaxing night painting these Jellies under a black light! Blacklight paintings makes for a whole new experience.
**This is not just a fun and colorful painting… It's a black light class where you'll make a painting that glows in the dark!
Learn all about our very popular Black Light Classes:
https://www....comingyourway
Sign up:
https://www..../event/352425
((September 8th))
'Pile Of Pumpkins'
This shiny pile of metallic pumpkins is sure to brighten up your fall!
**The great thing about this painting is that while it's the perfect piece to show off during the Fall months, there's a very modern and sophisticated vibe to it. Create this work of art to hang in your home and impress your guests with your artistic talent and sense of style, shown in stunning metallic hues.
Sign up:
https://www..../event/349054
((September 11th))
'Colorful Poppies'
These poppies are bright and cheerful and would bring happiness to any home.
**This is one of our newer paintings and has been very popular throughout Pinot's Palette studios, around the nation! Everything from the bright, rich colors to the movement of the beautifully bold flowers is breathtaking. This is a painting you could make and place in any room and leave it up all year long, OR give to a special friend as a gift!
Sign up:
https://www..../event/358477
((September 18th))
'Pleasantly Pumpkin'
Bring some glamour and whimsy into your holiday décor with this monogrammed stack of pumpkins in stylish fall colors!
**This painting is PERFECTION for the Fall season! Add you family's initial, name, a quote, or anything else you want to do to personalize it your way! Add it into your home's seasonal decor and wait for the compliments to follow :)
https://www..../event/351660
***AND MORE:
-- September 8th, 'Marble Art'
This immersive, expressive type of pour art painting is so cool! It is a fun experience, easy to make and looks very professional. Select the colors you want to create a one-of-a-kind masterpiece, specific to your taste and home's décor.
NOTE— SEATS ARE SELLING OUT FAST- REGISTER SOON (*) And be on the lookout for this popular class to be offered again!
**All about this popular and very trendy art:
https://www....eoneofyourown
Sign up:
https://www..../event/349065
-- September 25, 'Aurora On Wood'
Painting on wood! This is a new class and it's going to be a blast!
Paint this gorgeous scene on a piece of real wood! How cool would this unique work of art look in your home?! Mix it in with a large art collage, hang it on the wall, or sit on a piece of flat surface furniture in a high-traffic area for all to admire!
Sign up:
https://www..../event/357125
-- October 2nd, 'Coastal Craze' Flowable Art
This is a brand new painting! Come in and use the 'pour art' technique along with guided painting to make this truly one-of-a-kind Pinot's Palette painting!
Come and create these two beautiful paintings in a 2 night class. The first class we will be creating an abstract acrylic pour ocean, and the 2nd class we will be painting the ocean scene. Everyone will leave with an original and gorgeous piece of art, while having an amazing time creating it.
NOTE: ((This is a two part class))
Sign up & Learn more:
https://www..../event/356762
We hope to see you soon for some of the upcoming classes on our calendar!
In addition to our public classes on the calendar, we also offer private events! It's all the fun of our regular classes but with the painting and guest list of your choice! From fun with friends, to team-building creativity with your co-workers, kids' parties, and more, we've got it all!
Celebrations:
https://www....ivate-parties
Team Building Events:
https://www....porate-events
Kids Painting Parties:
https://www....ainting-party
Mobile Events:
https://www....ainting-party
Share View our FULL calendar here | More tips for displaying artwork