Have The Coziest Season Ever!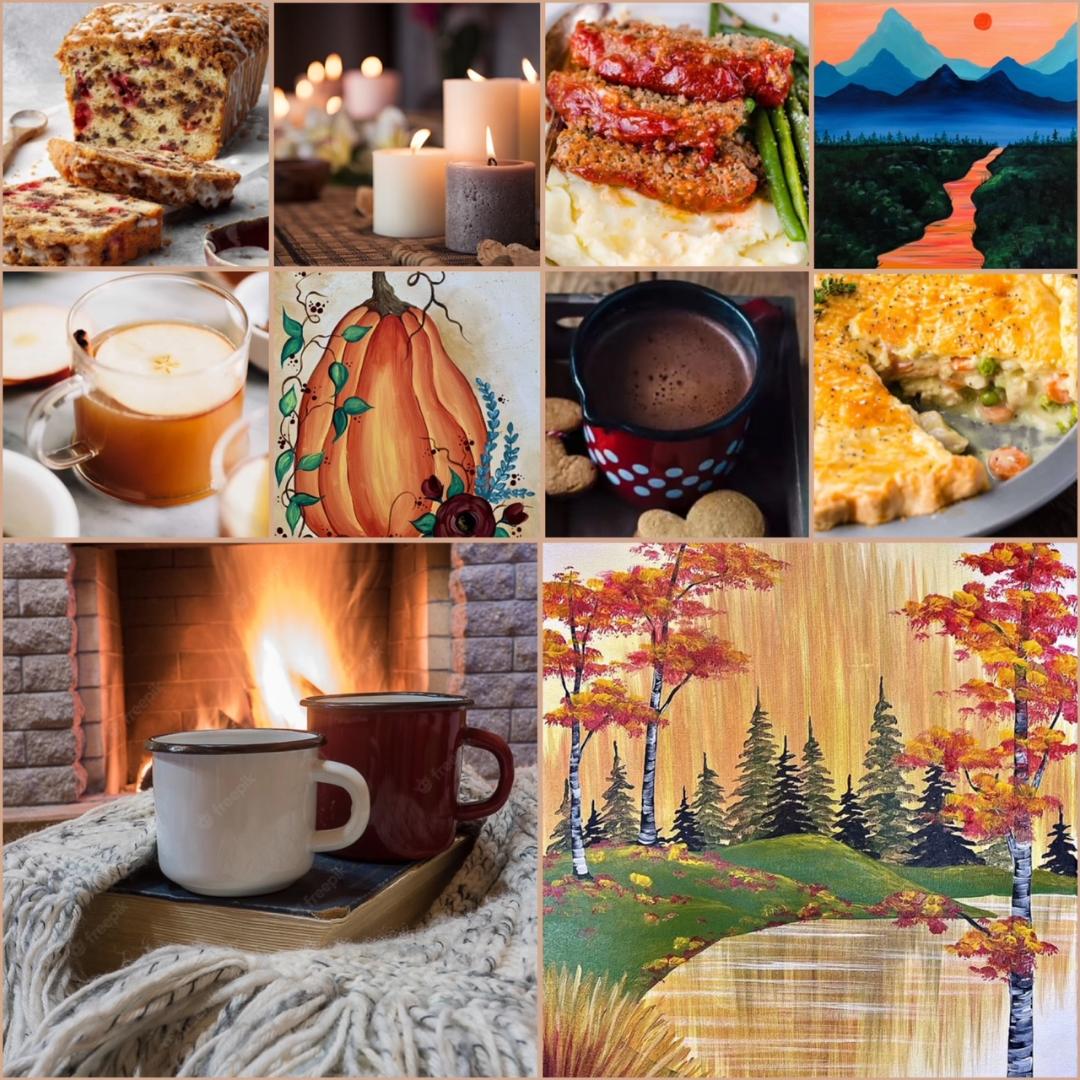 While each of the four seasons has their own charm, Fall is one of the best seasons!
The explosive color of the leaves alone, before they die and drop to the ground, makes autumn far superior to the rest.
The weather can be chilly, unpredictable, and lovely! The trees look different every single day. The food is warm and comforting. The nights are cool enough to snuggle up under a blanket in front of the fireplace. It's glorious!
We've put together this list of meals, drinks, and home decor to help you have a Cozy autumn for the rest of this season (before you know it, the Christmas trees will be up).
Enjoy!
***** HOME DECOR *****
Fun Ways To Get Cozy:
-Add Throw Blankets
Find some nice, quality throw blankets that coordinate with your living area and bedroom. A nice throw blanket on the living room couch encourages guests to make themselves right at home. Keeping a throw on your bed can give it a nice decorative touch. You can even pick out your most stylish throws and find a nice woven basket or blanket ladder to put them on display that invites your guests to grab a blanket and stay a while!
-Accentuate The Fireplace
If your house has a fireplace, highlight it by decorating the mantle area with things like vases, candles or other decorative pieces. However, don't try too hard to follow a set decorative plan for your mantle. Finding pieces that work with your style and coordinate with the room will help give your space some personality. Also, putting one big focal piece, such as a mirror or painting, in the area above the fireplace will help draw the eye and pull the room together
-Let There Be (Candle) Light
Having plenty of candles around your home gives it a sense of warmth. Put a couple candles in each room and people will feel a sense of comfort no matter where they are in your home. Plus, your home will smell great, too!
-Add Artwork
Hanging artwork and mirrors are the best way to decorate any home. In order to make home cozy we aim to avoid blank walls. Artwork not only brings personality to the room but it also insulates walls. It reduces the echo in the house where the sound is bouncing off the walls.
Even though blank walls can absolutely be a design choice. You may decide to hang one single piece of artwork on a statement blank wall. However, it should be an intentional choice, relflecting you and your style.
There are a variety of options for hanging on the wall:
DIY abstract art; paintings and artwork; prints; mirrors; textile wall hangings; family photographs; kids' artwork and more!
Artwork and paintings can get expensive. However, there are a lot of affordable print options that you can get online if original artwork is not for you. With so many ideas circling the internet you can absolutely DIY artwork and frame it.
JOIN US To Make Some Artwork For Your Home.
The More the Merrier!
Right now, it's Buy 5 Seats , Get 1 Free
DIY Chunky Knit Blanket - Nov 13
During this one-of-a-kind event, we will guide you step-by-step through hand knitting a warm, soft chunky knit blanket. No needles or knitting experience is required and all supplies will be provided.
Dive into a new creative night out! Join us for our DIY Chunky Blanket Workshop. Where we show you step-by-step on how to create your very own soft, snuggly, chunky blanket! ! No experience or knitting needles required.
https://www..../event/653441
Harvest Beauty - Nov 16th
This whimsical pumpkin and flowers are full of warmth and charm.
https://www..../event/649659
Shimmering Autumn - Nov. 17th
This shimmering autumn landscape will bring a warm, cozy feeling to your fall decor!
https://www..../event/649646
Frosty Ornament Wine Bottle - Nov 19th
Frosted wine bottle with four festive and totally customizable ornaments. Add a strand of lights to instantly warm any space it stands.
https://www..../event/649848
River Glow- Nov. 19th
Transport yourself to tranquil misty mountains with a beautiful sunset glow.
https://www..../event/649477
***** MEALS *****
Double Crust Chicken Pot Pie
This perfect Chicken Pot Pie has a creamy filling with tender chicken and vegetables seasoned with herbs and baked in a golden, flakey crust!
This warm, hearty, and filling Double Crust Chicken Pot Pie is the best version of the meal you grew up eating. You can have this perfect pie with its creamy filling, hearty chicken and vegetables, and flakey golden crust in just about an hour!
https://real...cken-pot-pie/
Meatloaf
Amazing homemade Meatloaf Recipe. The meatloaf is so tender and juicy on the inside with a sweet and tangy glaze that adds so much flavor to the meatloaf. Serve the easy meatloaf with mashed potatoes and a side of asparagus.
https://nata...tloaf-recipe/
Broccoli Cheddar Soup
No need to go out to a well known bread company, this copycat broccoli cheddar soup is incredibly smooth, rich, and full of great broccoli cheese flavors! The best part, is that it's made in just 30 minutes on your stovetop!
https://www....-cheese-soup/
Braised Brisket Sandwiches
Braised brisket is a Jewish holiday staple and Rebecca Firkser upped the ante so that it would turn into an even better sandwich (not something that's dry and tastes, well, like leftovers). You can thank pomegranate juice, tomato sauce, brown sugar, ketchup, and an assortment of dried spices for the punchy flavor.
https://food...et-sandwiches
Chocolate Chip Cranberry Bread
This cranberry bread is tender and moist. The first time I made it, it immediately became a favorite for the fall and winter holidays. The tart cranberries complement the sweet chocolate so wel
https://www....nberry-bread/
Pecan Pie
This homemade pecan pie is a classic old-fashioned dessert that's perfect for Thanksgiving and Christmas. It has the best combination of sweet and salty! Plus, it's so easy to make that the kids can help with every step of this recipe
https://cook...n-pie-recipe/
Buttermilk-Brined Southern Fried Chicken
This classic comfort food has deep chicken flavor; a flab-free skin; juicy, tender meat; and crisp, spicy coating. Pair with mashed potatoes and gravy!
https://www....hicken-recipe
Creamy White Chili
This white chicken chili recipe is the best chili I have ever had. It is so delicious, and everyone raves about how good it tastes. Don't count on leftovers!
https://www....-white-chili/
Crockpot Beef Stew
Silky, rich, and tender as can be, making beef stew in the slow-cooker is first and foremost easy, and second of all delicious. Along with the beef, you'll find that it's chock full of celery, carrots, pearl onions, cremini mushrooms, and potatoes.
https://food...ockpot-recipe
Chicken Parm
This Cheesy Chicken Parmesan is a delicious Italian dish of breaded chicken, topped with marinara sauce and lots of cheese. Get this restaurant quality favorite Italian dish right at home. Crispy on the outside, juicy on the inside, this cheesy chicken will become a family favorite!
https://www....AAAAdAAAAABAD
Brown Butter Chocolate Chip Cookies
These Brown butter chocolate chip cookies have a nutty, deep flavor. They're made better by adding finely chopped walnuts to the dough. They're chewy, butter, nutty and perfectly chocolate-y.
https://www....olate-cookies
Pimiento Cheeseburgers with Bacon Jam
"This is like a bacon cheeseburger that went to heaven," says chef Edward Lee, of Whiskey Dry in Louisville. The pimiento cheese and sweet bacon jam both melt into one dreamy, messy bite — this is not a burger for the faint of heart (quite literally). Save any leftover spreads for an out-of-this-world grilled cheese sandwich.
https://www....ers-bacon-jam
Cheesy Beef Ravioli
ASY, ready in 30 minutes, and it's pure cheesy COMFORT FOOD in every bite!! Makes a big batch and it's perfect for meal prep and planned freezer meals! A guaranteed family FAVORITE you'll want on repeat!!
https://www....beef-ravioli/
Stuffed Peppers With Lamb, Orzo & Halloumi
There are millions of recipes for stuffed peppers on the internet right now. Some call for the peppers to be blanched in advance or stuffed raw and cooked longer—either way, both techniques result in peppers that taste steamed rather than roasted. I much prefer to roast the peppers to soften, then stuff and roast them again. The first round in the oven guarantees some sweetness and caramelization. Then the second round ensures a pepper that is tender but not falling apart.
https://food...eppers-recipe
-Buttermilk Biscuits
Peel every thin, flaky layer of these buttery biscuits and watch as steam escapes. Add a smear of butter and jam for an easy-to-pair side dish.
https://www....cuits-recipe/
Brown Sugar–Brined Pork Chops With Hot & Sour Peppers
"In this recipe, pork chops get the brown sugar treatment (malty! molasses-y!), which helps them caramelize in the pan, creating a deep, dark, lacquered crust," writes Food Editor Emma Laperruque.
https://food...-chops-recipe
Shepherd's Pie
Mashed potatoes, ground beef or lamb, and one giant casserole dish equal the makings of one perfect comfort food recipe.
https://food...ds-pie-recipe
Cast-Iron Skillet Cornbread
There are a few things that make this classic cornbread recipe better than ever. For starters, it requires baking the bread in a cast-iron skillet, which makes it extra crispy and golden brown on the outside. But it's also a moister-than-ever cornbread, thanks to buttermilk or kefir and a sweeter-than-ever cornbread, thanks to a little bit of maple syrup instead of the usual sugar.
https://food...let-cornbread
Tater Tots & Cheese Sauce
Tater tots have always been a kid-friendly side dish favorite. But they will jump for joy when you tell them that not only are you serving them for dinner tonight, but they'll be covered in an ooey-gooey cheese sauce too.
https://food...8-tots-cheese
***** DRINKS *****
Cranberry Spritzer Cocktail
This Cranberry Spritzer Cocktail is sweet with a kick of tartness that my family just loves. Made with cranberry juice and diet 7up (or soda water), it's the perfect cocktail for holiday events and so simple to make that it takes less than 5 minutes to put together. Gotta love a classic cocktail.
https://www....zer-cocktail/
Apple Cider Hot Toddy
This boozy apple cider version is similar to the classic hot toddy, a warm and cozy drink that is perfect for sipping on by the fire this fall and holiday season.
https://www....toddy-recipe/
Gingerbread Hot Chocolate
This tasty hot chocolate and gingerbread combo is also perfect for those cold autumn days and nights
https://www....ot-chocolate/
AND MORE:
https://food...up-this-fall/
Share Come make some art for your walls! | Gift certificates for Holiday gifts