Grow (Or paint!) A Colorful Garden In April & May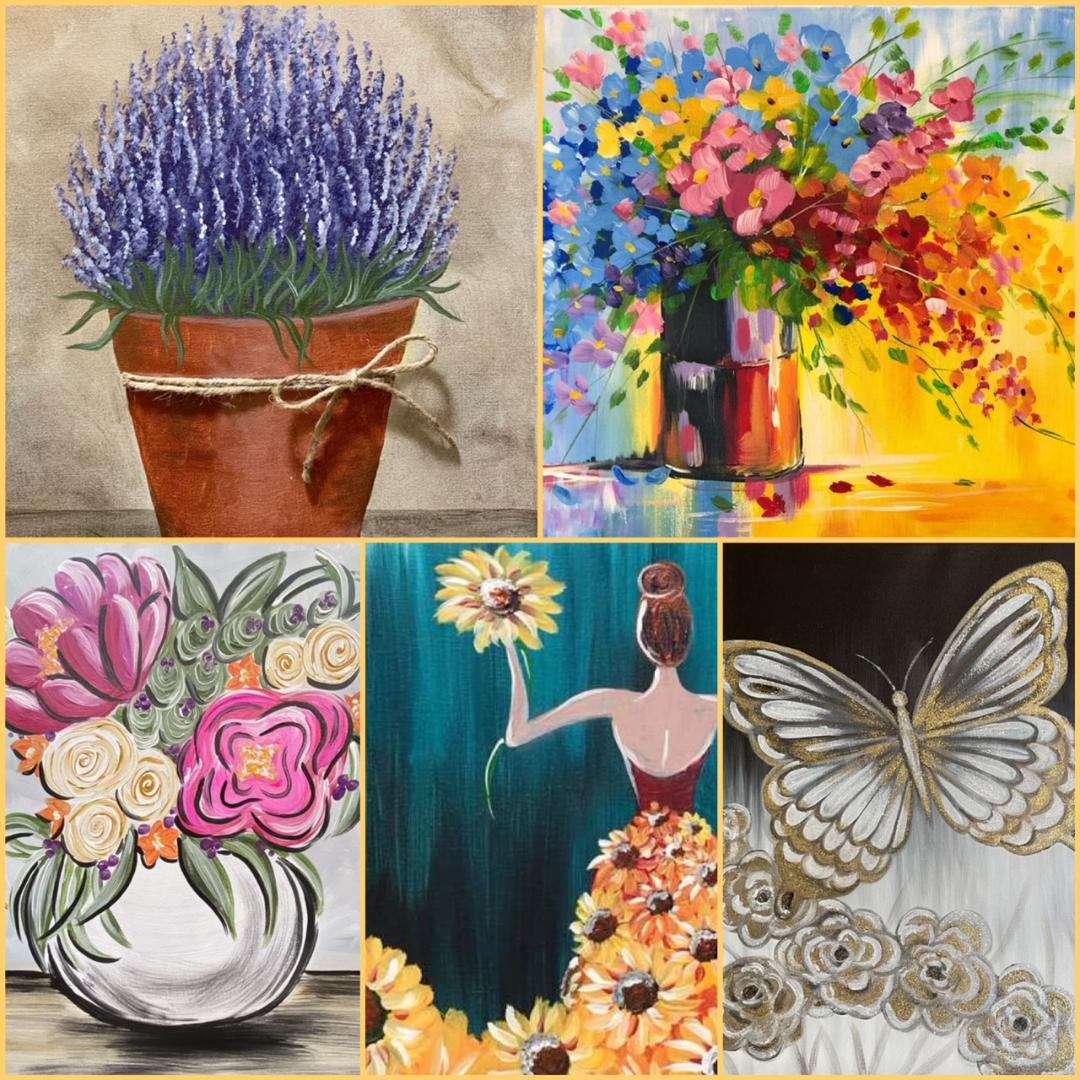 You've undoubtedly heard the phrase, "April showers bring May flowers". This popular saying that is often used to describe the way that the weather in the month of April can lead to the growth of flowers in the month of May. Though it's not entirely clear where the phrase originated, it's believed to have roots in the agricultural practices of the English countryside.
In England, April is known for being a particularly rainy month; This rainfall can be beneficial for crops and plants. The moisture from the rain helps to nourish the soil and encourage the growth of new plants. This, in turn, can lead to an abundance of flowers in the month of May.
The phrase is thought to have been popularized in the 19th century, when it was often used in poems and other works of literature. It has since become a well-known saying, used to describe the way that the changing seasons can bring new life and growth.
***** Tips for planting and growing flowers this time of year *****
The key to growing flowers successfully in April and May is to make sure that they have the right growing conditions. By following these tips, you can help ensure that your flowers grow strong and healthy during the months of April and May, and provide a beautiful display in your garden or yard...
(1) Choose the right flowers: Certain flowers are better suited to the climate and growing conditions of April and May. Some popular options include daffodils, tulips, hyacinths, and pansies.
(2) Plant in well-draining soil: Make sure that the soil you use drains well, as excessive moisture can cause root rot and other issues. If necessary, amend the soil with compost or other organic matter to improve drainage.
(3) Water appropriately: Water your flowers regularly, but be careful not to overwater them. Water deeply when the soil starts to dry out, and avoid watering during periods of heavy rain.
(4) Fertilize: Fertilize your flowers every few weeks with a balanced fertilizer to help promote healthy growth and blooming.
(5) Protect from pests: Keep an eye out for pests like aphids and slugs, and take steps to protect your flowers from them. This may include using natural remedies like neem oil or planting companion plants that deter pests.
(6) Provide adequate sunlight: Most flowers need plenty of sunlight to grow and bloom, so make sure that they are planted in a location that gets at least 6 hours of sunlight per day.
***** Paint Your Flowers! *****
Not the 'Green Thumb' type? Why not make some flowers that will never die?!
JOIN US for a painting and wine class where you can sip some delicious beverages, listen to music, and relax and paint with friends as you create something perfect for your home this Spring!
**Here are some of our upcoming paintings.
4/16 'Dazzling Butterfly'
Elegant and glittery, this dazzling butterfly will brighten both the room and the mood. This painting is fun to paint and glitter.
https://www..../event/680102
4/18 'Lovely Blooms'
This cheery painting is inspired by perfectly imperfect handpicked bouquets. Purple and pink flowers accented with lush greens and golds, a stunning color palette that's a joy to paint.
https://www..../event/681354
4/22 'Les Lavendes'
Having lavender in your home is not only physically and mentally healing but also beautiful. So come and relieve the stress of your day.
https://www..../event/680640
4/25 Floral Delight
Relax and paint this bright, fun, & colorful bouquet. With bright pops of color, and abstract flowers - this painting is sure to be a hit!
https://www..../event/682284
4/30 Sunflower Chic
Sunflowers so elegant, with their rich, warm colors... Even lovelier embellishing the gown of a lovely lady. This beauty can easily be customized to resemble you or your favorite muse!
https://www..../event/682272
We are always offing floral paintings! They are some of our customers' favorite things to paint. What we love most about flower paintings is that there really is no wrong way to do them, and it's something that allows you to work freely and creatively, adding your own colors and textures into the mix, truly making it one of a kind!
So be sure to keep an eye on the May calendar for many more bright beauties! From floral artwork to plants, spring landscapes, and more, we've got some bright and beautiful creations for you!
May 1st: 'Sweet Succulents'
A sweet arrangement of succulents can enhance and compliment any rustic home decor setting. Best of all you don't have to water these!
https://www..../event/687414