Goodbye Summer, Hello Fall! Come In And Make Some Autumn Decor For Your Home!
Hello, Fall!
We welcome you with open arms.
Your array of colors, weather, holidays, and beauty have been missed for one whole year and we're happy to see you, again!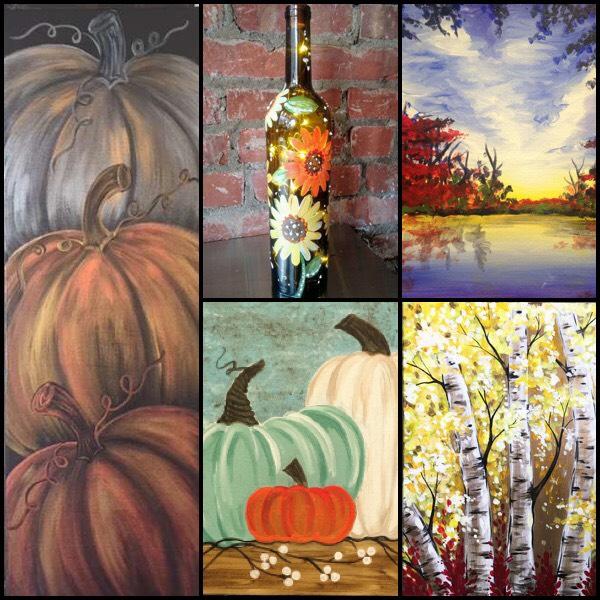 Autumn is filled with leaves and pumpkins, festivals and craft shows, Halloween and Thanksgiving, sweaters and boots, and pumpkin spiced everything. There's football, blankets, candles, and best of all are all of the adorable decorations. Readily available in every store right now, there are no shortage of cute and festive decorations to adorn your home with.
While it's a lot of fun to rummage through the large supply of gorgeous decorations in the stores, there's a certain amount of pride that comes with making a unique and hand-painted work of art to add to your decor. You'll have a one-of-a-kind masterpieces that you can hang in your home and enjoy during the Autumn, remembering the great memories you made while creating it, and keeping it for years to come. You're sure to get tons of compliments from anyone who sees that fabulous painting that YOU made, which is another benefit of making your own decor! Bring your friends and family along to enjoy these classes with you, as having loved ones by your side, makes everything more fun!
Here are some of the upcoming, Fall-themed paintings that we're offering throughout September and October. Be sure to continuously view our website as we'll be adding one more great Autumn-inspired paintings, all season long. In addition to the paintings, mentioned, we have a wide selection of other subjects to paint like landscapes, floral paintings, animals, and more, so there's sure to be something for everyone.
September 16, 'Pile of Pumpkins
This shiny pile of metallic pumpkins is sure to brighten up your fall! There's something so lovely about this metallic pile of pumpkins on a dark background the lends itself to a certain sophistication. Add some modern, vibrant artwork to your home with this long painting, created with gorgeous hues and an eye-catching style.
https://www..../event/259474
September 22, 'Autumn Equinox'
An ethereal scene of a moon crescent framing a fall tree in full splendor. The equinox is almost here! Soon, Summer will officially be gone and Autumn will remain. Come in and create this painting that's perfect for this symbolic day (but will look great, any time of year), as you add in colors of bright reds and turquoise, creating a stunning work of art!
https://www..../event/259473
September 27, 'Golden Gaze'
This watercolor-esque rendering of a barn owl is both expressive and easy to customize. This painting will look gorgeous in your home throughout the Fall and well through the Winter as the colors and style work well as decorations for those seasons. Keep this beauty up, year-round, as the rustic/farmhouse style is super trendy right now and this piece will fit right in!
https://www..../event/261688
September 29, 'A Walk Through Color'
A walk through a whimsical pathway. This incredibly colorful painting is fun to make, stunning to look at, and will work in any home, all year long. The colors of the trees will look gorgeous, mixed in with your Fall decor, but will fit into any style and space throughout the whole year, as it adds color and whimsy to your home!
https://www..../event/259476
October 6, 'Carved In Love'
*this is a date night class
This beautiful birch tree date night painting can be customized for each couple. Putting your initials, kids initials, dog or cat paws or a special saying or date, makes this such a fun and creative date night for everyone.
--Make it a Date Night or Paint on a Single canvas. Either format makes a beautiful painting!
https://www..../event/267108
October 9, 'Sunflower' wine bottle with lights
*In this class, you'll be painting on a WINE BOTTLE
Paint your own beautiful piece of light up decor! We'll be providing the paints, bottles, and lights and helping you the whole way through to make this practical work of art, a piece that you'll love to use in your home. Add some ambience into any room with this soft and decorate light.
https://www..../event/260453
October 12, 'Elegant Autumn'
Adorn your walls with the elegance of autumn! This is one of our best-selling Autumn paintings! The soft, natural colors, blend together nicely with the pops of red and yellow, making it one gorgeous painting that will look great in any room in the house!
https://www..../event/260476
Autumn 28, 'Autumn's Heirlooms'
"Autumn paints in colors that summer has never seen". This little trio of Cinderella pumpkins sets a charming scene that only fall can set! The orange, white, and blue, come together perfectly to make a one-of-a-kind work of art that you'll treasure for years to come!
https://www..../event/264343
We hope to see you soon for a class at our studio, whether it's for one of our Fall-themed paintings or another class on the calendar. If you're looking for something fun to do in or around the Raleigh-Durham area, we make the perfect event for everything from a fun and unique date night, an awesome girls' night out experience, and remember that we even offer private events! When you view our classes on our website, you'll be viewing our schedule for our public classes, but you can also book a painting party with the guest list of your choice! Come in to celebrate a birthday, bridal shower, reunion, retirement, and more with friends and family, sharing their artistic sides, together. Make memories that will last a lifetime with a souvenir to treasure forever with one our classes.
*Learn more about our private parties, here:
https://www....ivate-parties
We also play host to tons of corporate events, too! Why not book your next work party or team building event with us? We offer several styles of paintings that incorporate team building strategies, encouraging the whole office to work together, creating a stunning world of art!
*Read more about corporate events, here:
https://www....porate-events
Finally, in addition to out studio parties, we offer mobile events, off-site! You choose the location and we'll come to you with all of the supplies!
*Learn more about out mobile events, here:
https://www....ainting-party