Fall Fever: Add Some Autumn Artwork Into Your Home With One Of These Paintings!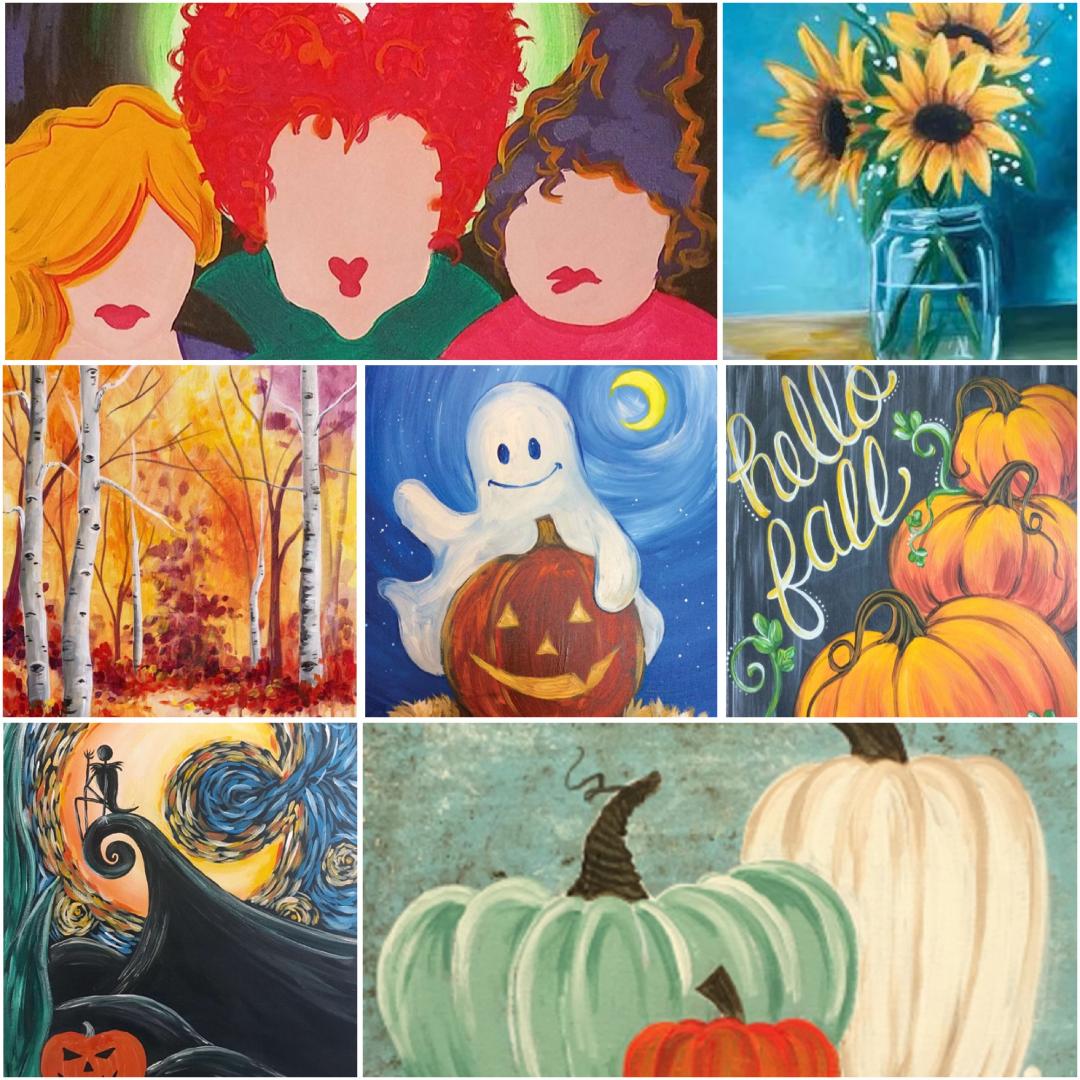 Who Doesn't Love Fall????
We surely do, and while we're sad to see another Summer leave, we are so ready for pumpkins, leaves, football, and thousands of other incredible things about the next season. We're entering our last week of August and while there is a lot going on right now, we're never too busy to think about brining the amazingness of Autumn, indoors.
With just a few simple and inexpensive decor tricks, you can spruce up your home for the new season, leaving it all cozy and warm for you and your guests.
From throw blankets and pillows, to scented candles, pinecone or leafe centerpieces and pumpkin decor, we love it all!
While every store has some kind of decorations to buy and fill your home with, why not create your own??!
JOIN US for a painting and wine class and make some fabulous artwork of your own (Fall-themed, of course); Add a touch of personalized decor in the form of a hand-painted masterpiece in your living space, ASAP!
Here's what's coming up:
9/31 Amber Waves of Autumn
Create the bright, crisp colors of Fall in this dreamy lake landscape. This is a new painting!
https://www..../event/562234
9/1 Field of Sunflowers
Join us as we paint this gorgeous sunflower field together on a long canvas.
https://www..../event/562238
9/2 Rustic Pumpkin Trio
Celebrate Autumn with this fun, beautiful and easy rustic pumpkin trio!
https://www..../event/561256
9/3 Rustic Romance
There's no better time to fall in love! This lovely, romantic painting brings you closer to nature and to the one you love.
https://www..../event/561254
9/5 Spirit of Fall
A fox warms himself in the autumn sun as the brisk wind dances leaves around him.
Bottomless Mimosas are available for $12
https://www..../event/562241
9/8 Fall Wine Bottle With Lights
Create this beautiful piece of home decor! A painted wine bottle with lights included!
https://www..../event/561262
9/11 Autumn Afternoon
Experience the romance of Autumn with crisp blue skies, crystal clear waters, and a pop of bright fall color!
Bottomless Mimosas are available for $12
https://www..../event/562236
9/11 Rustic Fall Pumpkins
Rustic fall painting with pumpkins
https://www..../event/561248
AND MORE!
We'll be offering lots of Fall, Halloween, and Thanksgiving themed artwork these next few months so be sure to check out the full calendar on the link below AND keep an eye out as we continue to add more classes over the weeks!
More ways to spruce up your home for Fall:
Painted Pumpkin Vase
Along with using your pumpkin as a vase, take it a step further and paint the outside in a fun pattern. A combo of moon and stars is always a good idea in our book.
Dried Corn Wreath
To make your front door more fall-appropriate in an instant, create a wreath out of dried decorative corn. Be sure to alternate colors for an eye-catching arrangement.
https://www....c4&utm_term=0
Make the Outdoors Cozier
Just because the temperatures have taken a nosedive doesn't mean you can't enjoy the fresh autumn air. Just add string lights, plush blankets, fuzzy throw pillows, and lanterns to cozy up your space.
Pile on Chunky Knits
After the heat of summer, you'll be oh-so-ready to bring on the chunky blankets. Mix in your favorite flannel PJs for peak coziness.
Lighten up Your Porch
Fall isn't necessarily reserved for rich colors and bold prints. This porch leans heavy on neutrals and soft treasures to make an easy transition from one season to the next.
https://www....y-fall-porch/
Hang Grapevine Wreaths
Dress up a basic grapevine wreath for fall with seasonal accents like apples or autumn flowers.
Display Hanging Pine Cones
Hang a hand-picked cluster of cones by hot-gluing each base to ribbon that best complements your home's color and aesthetic.
Easy, Peasy: Stop by a discount home store like 'Home Goods' and grab some throw pillows, blankets, and some candles and you home will immediately feel like Fall.