Decorate Your Home For Fall!!!
Fall is rapidly making its way into our forecast.... now, let's bring it into our home!!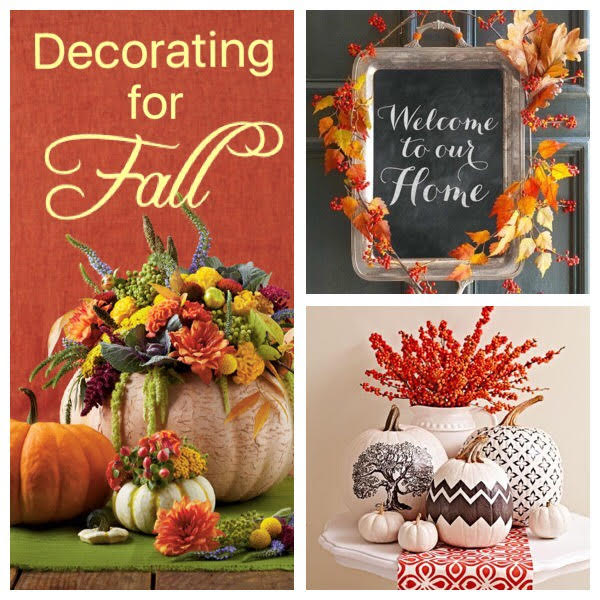 It's finally the beginning of the Fall season! This is the time of year when home decorating it at it's highest! People love to fill their homes with warm and welcoming decor. Leaves, pumpkins, candles, and blankets are just some of the ways to bring some seasonal decor into your living space.
We've found a few great ideas for decorating your home this season. Keeping in mind low-cost, trendiness, and classic style, we've found some great ideas! Plus side: all of these items can be found in almost any store right now (leaves, pumpkins...etc). You can even get as inexpensive as the dollar store for supplies!
Many of the typical, yet timeless, ideas for Fall decor include pumpkins, leaves, and seasonal flowers, such as mums. There are so many ways to use these classic pieces throughout your home and they're worth keeping around to use, year after year. Put a modern spin on these items to make them fit perfectly into your home for 2017. They're sure to reap a great deal of compliments and the best part is that they're totally do-able!
Click here for some Fall decor ideas from Southern Living:
https://www....%3fsource=dam
50 Pumpkin Decorating Projects:
http://www.m...ting-projects
30 Gorgeous Ways to Decorate With Leaves:
https://www....-leaf-crafts/
**************************************************************************************************
If you're looking to get crafty and create some Fall decorations of your own, come in to our studio!!! We're offering some incredible, seasonal paintings over the next few months... and you'll want to create one (or all of them...) for your home!
There are few, better combinations than wine and painting!! So come in for a class and leave with some Fall decor you can take credit for!
*Check out the calendar for details and to register for a class. Some of the upcoming Fall themed paintings include:
September:
9/22 (7-9pm) - 'Hilltop Sunset'
9/27 (7/9pm) - 'Pumpkin Spice' ------ $30 special price
9/28 (7-9pm) - 'Fallen Feather' ------ This painting will be done on a LONG canvas and is a part of our 'Fall Out Of Format' classes that we'll be offering throughout September and October. Read more about it here:
https://www....homearttrends
9/29 (7-9pm) - 'Scarlet Autumn'
October:
10/4 (7-9pm) - 'Amazing Red And Gold' ------ $30 special price
10/5 (7-9pm)- 'Fall Walk On The Beach'
10/6 (7-9pm) - 'Toot Sweet Autumn'
10/14 (7-10) - 'A Walk Through Color'
10/15 (3-5) - 'Pile Of Pumpkins' ------ This painting will be done on a LONG canvas
10/18 (7-9pm) - 'The Love Of Fall'
10/20 (7-9:30pm) - 'Autumn Equinox'
10/24 (7-9pm) - Harvest Moon'
10/27 (7-9pm) - 'Crimson Pathway'
**Be on the lookout for our Halloween paintings (already up on the calendar), as well!
Share View the calendar and sign up for a Fall Painting here!