Step 1: Drink.......Step 2: Decorate!
If you love wine like we love wine, well, that's a lot of wine bottles you're left with at the end of the... month?....week?...day?.... who are we to judge? :)
Put those empty bottles (and corks!) to good use and recycle them in some very creative ways!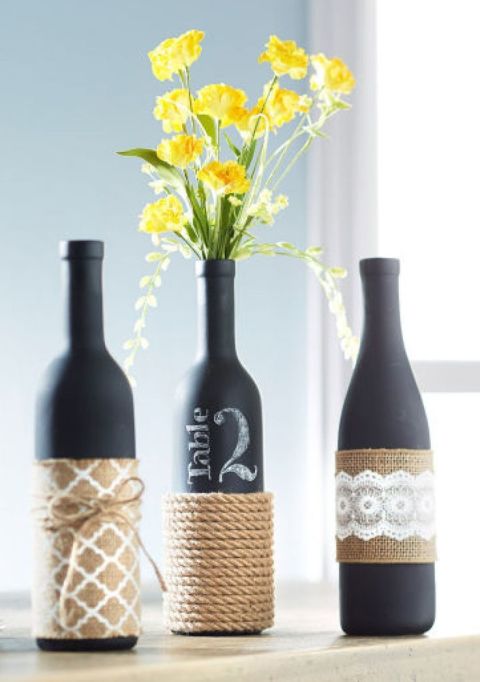 Wine bottles and corks can be turned into some pretty creative (and inexpensive) things! They are great to use in a myriad of ways, from decor and useful re-purposed crafts to creative, homemade gifts!
From the recycled wine bottle ideas we found from 'Southern Living', we found a lot of super cute and very do-able ideas! We favored the simple and elegant ideas of using them as table decor! Whether they're on display at your next cookout or used as table numbers or centerpieces at a wedding or other large event, they make a unique and inexpensive way to decorate!
Trying to overachieve in your crafting endeavors??? Check out the incredibly breathtaking wine bottle wall!!!! Talk about putting those old wine bottles to good use! The wall is dramatic and stunning, taking your creativity to the next level! It'll be sure to leave your guests envious and likely asking you to make one for them!
*note: this craft decor idea is especially perfect for the strong-willed crafter and the dedicated wine drinker! :)
____________________________________________________________________________________________________
Where there's leftover wine bottles... there's leftover corks!
Check out the link below for some fun AND USEFUL cork re-purposing ideas!
We especially love the cork coasters! They are absolutely adorable! The DIY tutorial breaks down how to assemble them, making it an easy craft to make in your spare time! These can be customized with various colored paint and ribbon and they make a wonderful gift! How perfect would a set of these cork coasters look in a basket with a bottle of wine as a housewarming gift?!!!
**Be sure to check out our calendar for upcoming painting events! With your inner artist getting excited over wine bottle crafts, you can put that creativity to good use in a painting and wine class, as well! Come in and practice drinking wine with us
so you can be sure to get enough bottles and corks by the holiday season! Think of all the holiday gifts you can make for friends and family this year??
Want more wine bottle and cork craft ideas, hop on 'Pinterest' for tons of great ideas, as well!!!
SIGN UP FOR A PAINTING AND WINE CLASS with our studio:
https://www....k/events/july
CHEERS!
Share 23 ways to repurpose wine bottles | 10 Ways to recycle wine corks