Frida Kahlo Comes To Raleigh!
"I paint flowers so they will not die."
― Frida Kahlo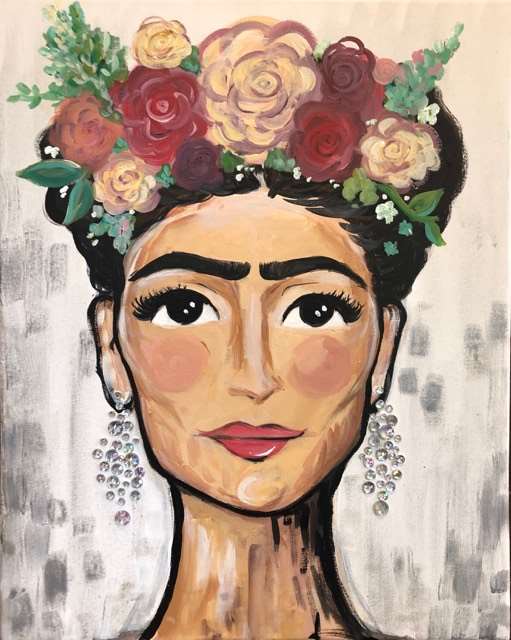 We have some exciting news for all of you art-lovers out there!!!
The NC Museum of Art in Raleigh is the temporary home of some amazing artwork by none other than that talented and inspiring, Frida Kahlo!
Now, through January 2020, you can take a trip to the museum, where you'll learn a lot about Frida and other Mexican Modernists, see their incredible work, and be inspired in so many ways.
**But that's not all!!!
In correlation with the museum's installment, we're celebrating the life and art of Frida, herself, with a brand new painting!
Join us for this beautiful work of art that we're so proud to present to you! It's a portrait of Frida Kahlo, which, if you know anything about her work, you know that many of her most well-known pieces are ones she painted of herself.
Of her 143 paintings, 55 of them were self portraits, and now, you can create your own hand-painted masterpiece to pay homage to this strong, legendary, Mexican woman in your own way.
Have fun, getting in touch with your inner-artist in a fun and creative environment as you create this work fo art in your own way. Change the background, flowers, her earrings, and more, because it's YOUR artwork! How will you portray her?
*Sign up:
https://www..../event/380088
*All About Frida Kahlo:
https://www....biography.jsp
The 'Frida Kahlo, Diego Rivera, and Mexican Modernism from the Jacques and Natasha Gelman Collection' at NC Museum of Art!
Experience the lives, loves, and influence of two art icons of the 20th century. Few artists have captured the public's imagination with the force of Mexican painter Frida Kahlo (1907–54) and her husband, the Mexican painter and muralist Diego Rivera (1886–1957). The myths that surrounded them in their lifetime arose not only from their significant bodies of work, but also from their friendships (and conflicts) with leading political figures and their passionate, tempestuous personal relationships
((More about this collection, including tickets)):
https://ncar...s_and_natasha
Kahlo and Rivera's works vary in scope and inspiration. She is best-known for her intense self-portraits, whereas he worked as a large-scale muralist in Mexico and the United States. Kahlo's work is deeply personal, often depicting her own dreams, painful personal experiences, and affinity with Mexican culture, while Rivera's more public art portrays everyday people swept up in industrial and cultural revolution. Both artists forged the way for Mexican art as a significant element of the 20th century and beyond. Their art is tied to the legacy of Jacques and Natasha Gelman, who knew Kahlo and Rivera personally. The Gelmans became Mexican citizens in 1942 and began amassing Mexican art, sustaining a growing collection of works by Mexican modernists, including Kahlo, Rivera, Rufino Tamayo, David Alfaro Siqueiros, and others.
**Two Exhibitions For The Price Of One!
This special exhibition is ticketed with Scott Avett: INVISIBLE. Internationally recognized as co-founder of the band The Avett Brothers, Scott Avett has been a working artist, focusing on painting and printmaking, since he earned a BFA in studio art from East Carolina University in 2000. But until now this art-making part of his life has been a secret and a more solitary creative pursuit in comparison to his life as a musician, singer, and songwriter. Like his songs, Avett's paintings speak to universal issues of spirituality and struggle, love and loss, heartache and joy, as well as more personal stories of career, family, and living in the South. The exhibition includes large-scale oil paintings, prints and paintings related to Avett's musical career.
*More about 'Scott Avett: Invisible'
https://ncar...ns/view/39556
**If you love all things 'Mexican Art', you'll also be interest in another exhibition that's going on at the same time as the Frida Kahlo (and more) showcase!
Introducing: 'Luces y Sombras: Images of Mexico'
This stunning artwork is in the form of photographs from the 'Bank of America Collection' and are sure to capture your eyes and heart!
(Exhibition runs from October 26, 2019 – February 23, 2020)
This exhibition features 45 photographs, spanning the 20th century, by six internationally renowned photographers who focused their cameras on Mexico: Manuel Álvarez Bravo, Manuel Carrillo, Flor Garduño, Graciela Iturbide, Paul Strand, and Mariana Yampolsky. Mexico's landscapes, history, and culture have inspired photographers since the advent of the medium. Álvarez Bravo started his career in Mexico City in the 1920s and became one of the leading modernist photographers and teachers. He influenced several generations of Mexican photographers, including Carrillo, Iturbide, and Garduño, as well as American photographers who worked in Mexico, like Strand and Yampolsky. Mexico has a complex cultural history and has undergone social, political, and ideological transformations during the modern era. The work of these diverse photographers deeply reflects this rich history.
((This exhibition is made possible through the Bank of America Art in Our Communities program.))
Share View our full event calendar | See all that NCMA Has To Offer