August Is 'Family Fun Month' and We've Got Some Great Ideas On How To Celebrate!
August is 'Family Fun Month' and while it's always wonderful to spend time with loved ones, this month is a great one since it's about to be back to school time for the kiddos. Gather everyone together to get creative in our studio, all month long!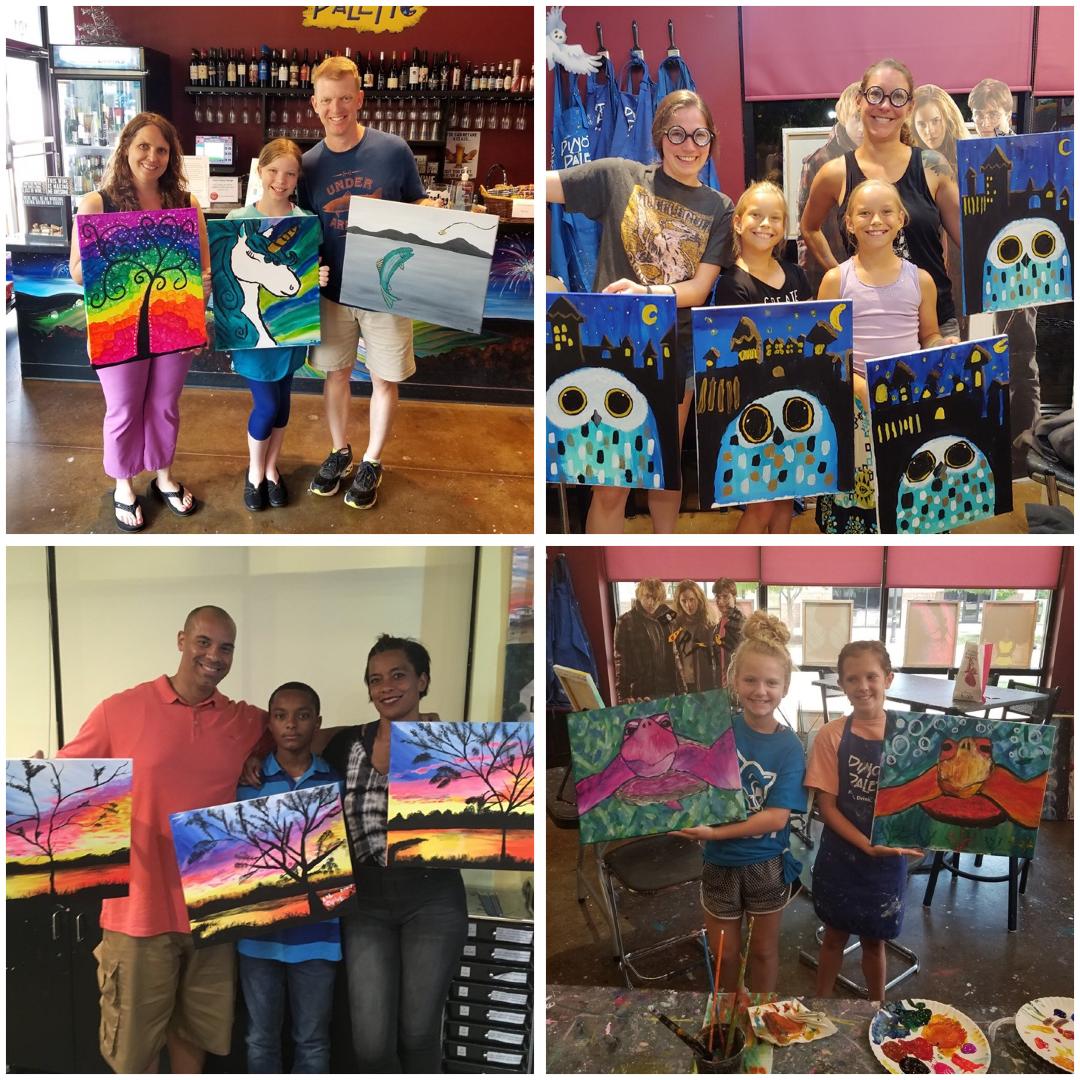 Here at Pinot's Palette, we're always eager to bring friends and family together to paint and have a lot of fun! Theres nothing like spending some time with loved ones in a fun and creative environment. While most of the classes we offer are for the 21+ crowd, we often have family day and all ages classes where anyone can come in to paint! Be sure to check our calendar each month for these special events, typically listed as "Family Day" or "Open Studio - All Ages Welcome"!
Here are some of the ones to take advantage of this month:
***** Family Days *****
Not only are these classes amazing for their ability to bring families together, but also for the great price! Experience one of our painting classes with your loved ones for just $30 on Family Day!
August 17
'Peek-Al-Paca'
This sweet cheeky Alpaca will be fun for all ages to add a quirky character to your decor! Hard to capture in a photograph is the stunning metallics used in this painting for a real treat as you pass by it in your home for that extra shine to brighten your day. This is one of our newest paintings, ready and waiting for YOU to create!
https://www..../event/345897
August 24
'The Cats Meow'
Spend an afternoon with us showing off your catitude!
Enjoy creating one of our newest paintings of this adorable kitty with a head full of flowers! Change the background color to fit your style (and even alter the colors of the cat's fur!).
https://www..../event/342775
***** Open Studio (with all ages welcome) *****
Never been to one of our 'Open Studio' classes, here's what it's all about:
Unlike our traditional step-by-step instructor-led art class with an art instructor on stage... Open Studio time is designed to give you more flexibility and freedom. This is your chance to decide what you'd like to paint!
— How does it work?
You have 3 Options to choose from during Open Studio Hours:
(Each option includes all the supplies you need to complete a 16x20 Canvas).
Option 1- Self-Guided Instructions.
Select from our Open Studio painting selections; and then with the help of self-guided instructions complete your painting
Option 2- Point and Paint.
Find something on our walls and do your best to copy it (all materials and canvas provided but no guided paint instructions...)
Option 3- Be the Artist.
We'll provide everything you need for a fun day out: the brushes, the paints , apron, and your own bartender then sit down with some music and start to paint from your own imagination... Have an idea in your head? This is the time to paint it into reality.
(Note: Smaller canvases are available for those under 13 years old for $15)
*Feel free to bring your own food. Beverages can be purchased from our bar.
August 13
https://www..../event/346646
August 14
https://www..../event/321000
August 20
https://www..../event/321004
August 21
https://www..../event/321005
August 22
https://www..../event/356757
August 27
https://www..../event/348065
August 29
https://www..../event/348066
** More fun things to do with the family this month:
https://www....lythissummer-
Share More ideas for family fun! | View our full class schedule!