Send The Kids Back To School With These Easy, DIY Teacher Gifts
With the kids heading back to school soon, it's time to start getting life back in order. Making lunches, setting alarms, and planning the tasks of each day. De-stress a little with a simple DIY craft. Send your loved ones off with a special gift for their hard-working teachers this year!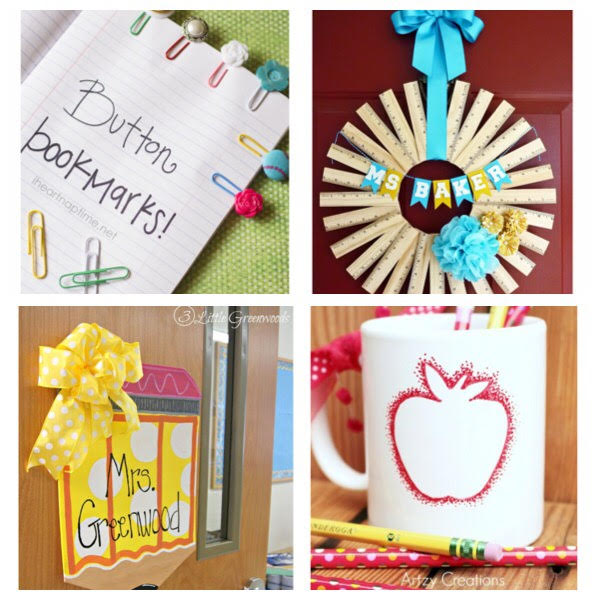 These crafts are super easy and inexpensive, making them the perfect treat to start the school year off right. The kids will love to help make them with you, adding an extra special touch to these adorable teacher gifts.
Most of the featured ideas are made with minimal, cost-effective, and easy to find supplies. Many of them include a downloadable file to print out, then just add to the simply-created gift! Personalize them for the school colors or mascots, teacher's name, classroom theme, and more!
One of our favorites is the personalized door hanger! This door decor is so adorable with it's pencil shape and teacher's name written on it! The idea can be applied to any shape you want to cut out of the foam board, then decorated with any design you wish! (you can also see what wooden shapes you can find in the craft store to make it extra durable, with no cutting required). You could even make it for your own door at home, with the school mascot on it. "Go Bulls"....."Let's Go, PHS" and more! *photo featured above
Personalized Pencil Door Hanger:
http://www.3...chers-pencil/
We're also a fan of these super cute DIY button bookmarks. Made from items you have laying around, they're easy on the wallet and can be customized any way you like!
*photo featured above
15 Back to School Teacher Gift Ideas:
https://www....on-bookmarks/
Check out some of these DIY gift options HERE:
25 Back to School Teacher Gift Ideas:
https://abli...r-gift-ideas/
Easy, Budget-friendly Teacher Gifts:
http://happy...-the-teacher/
(Be sure to check 'Pinterest' for more great ideas, as well!)
*** For more ways to create this season, check out our calendar! Come in to one of our painting classes and spend time with friends and family before the hectic school year routine comes around....or use a class to de-stress during the weekend! Wine, painting, music, and more! What else could you ask for??!!