Weekday Meal Ideas For The Entire Family!
Find some relief among the hectic weekdays days of 'Back to School' by being prepared for lunches and dinners, ahead of time!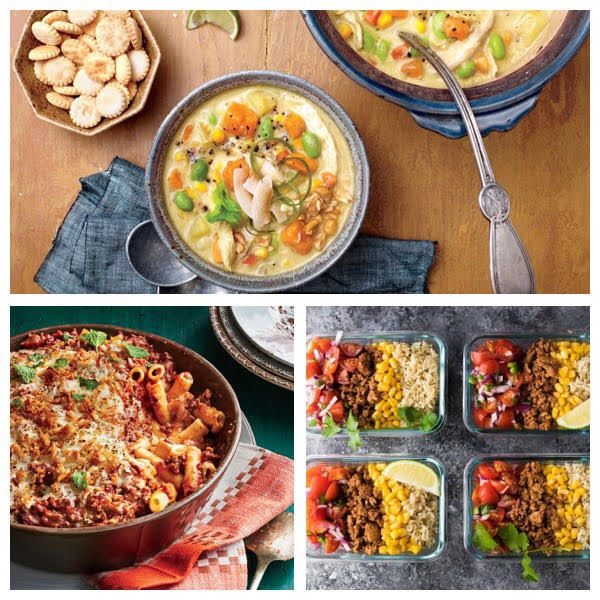 If you have kids, life is busy everyday, but once the school years begins, it gets even busier! Getting the kiddos to school and practices on time, maintaining schedules, and balancing work and family time can be tricky. The addition of trying to make the kids, hubby, and yourself healthy lunches is time consuming and stressful; then there's dinner at the end of a long day to consider, as well!
We've found some great recipes and meal prep ideas to help you this year! These meals are not only easy and inexpensive to prepare, but they look amazing too! They really look like you have been slaving over them all day and the bonus is that they're healthy and made with real food!
**Kid's Lunches:
Skip the pre-packaged 'Lunchables' and send the kids off to school with a lunch, made with love. Pick 1-2 of these easy to prep meals, make in a large batch, and then pack them all week long, freezing the rest for another week! You'll feel good about what your kids are eating at school, knowing they're getting a healthy-made meal, and saving some time in the process!
41 Quick and easy school lunches for your kids:
https://www....hes-pack-kids
**Lunches for you and your spouse:
If you're a parent, chances are, you tend to put everyone else first! You make their lunches and make sure they're packed and ready for school without thinking much about your own lunch. Grabbing a pre-packaged salad or a yogurt from the fridge can be boring and bland. Grabbing a burrito from the street cart, outside the office, can be unhealthy (and pricey) to do everyday. Take a little bit of time on Sunday and make meals for the whole week! You'll feel great, seeing exactly what is going into your meals, and having something delicious and ready for you each day is wonderful, too!
20 Lunches you can meal prep on Sunday:
http://theev...ep-on-sunday/
**Easy weeknight dinners the whole family will love:
The last thing you want to do after a LONG day is come home and slave over dinner for the whole gang! Why not meals prep for weekday dinners??! The meal-prep conceot steadily becoming more popular (and useful!), so jump on board and see what the craze is all about! Take a few hours, one day, each month, and make meals for weeks! 'Pinterest' is filled with endless freezer meal ideas, so you'll never get tired of eating the same old things. You can prep as far in advance as you'd like! Do it every Sunday for the week ahead, and keep them in the fridge... or... do it once a month and keep them in the freezer, then pull them out anytime you need them. Slow cooker recipes are a lifesaver since you can put them in, set it, and let dinner be cooking while you're out during the day! It doesn't get much easier than that!!
Check out some of these easy (and super delicious) freezer meal recipes:
https://www....%3fsource=dam
___________________________________________________________________________________________________
With all that extra time and money you'll be saving with the meal prep ideas, use the savings for something FUN!!!
Come out for a painting and wine class at Pinot's Palette, Brier Creek! If you're in the Raleigh area, come in to our studio and paint with us! Bring friends and family for a fun day out, where you can all catch up and create a masterpiece. If you need a break after a long week, come in for a date night with your significant other or come out with friends and wind down. Have a glass of wine, listen to some music, and paint your stress away!
We can't wait to see you at the studio, and we wish you the best of luck on making these meal plans work for you! They're truly a stress-reliever and will change your life!!! So get cooking! :)
Cheers