The Incredible Health Benefits of Painting
Whether you're always busy crafting and creating with your right-brained instincts, or perhaps you're left-brained and more of an analytical and critical thinker.....painting is good for ALL!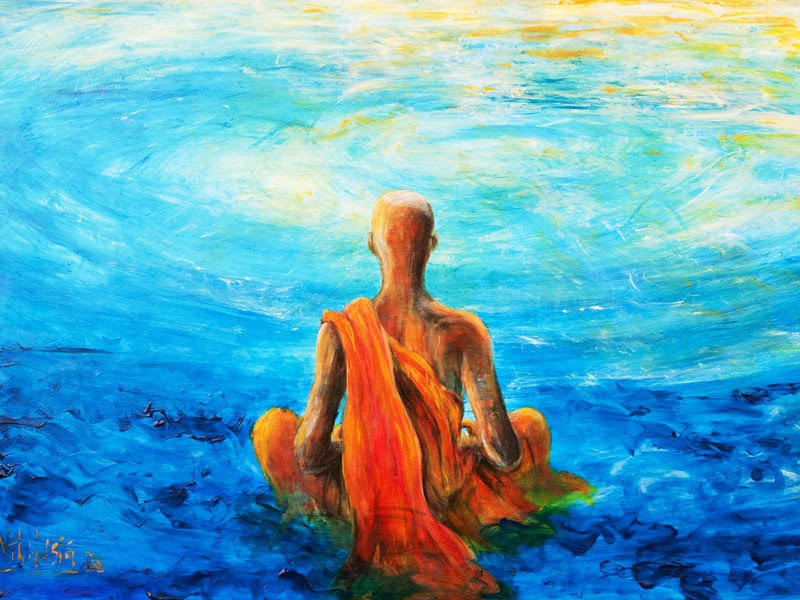 Painting is one of those activities that ANYONE can do. It's a common misconception that you have to have artistic abilities or training to participate in creating a painting, or any work of art, for that matter. We're here to let you know that couldn't be further from the truth!! We're (obviously) a huge fan of painting and believe in all of the incredible things that it has to offer. We wanted to share with you, some of the major benefits you can reap from trying it out for yourself!
(And this is just to name a few...)
1.Painting Stimulates Creativity in Everyone:
While you may feel more confident and qualified to paint if you have that right side of the brain going strong, the reality is that anyone can benefit from all of the amazing health positives that painting has to offer. The analytical left-brainers can actually nurture their creative growth through creative activities, such as painting. Those that frequently create can grow more and more in their artwork as they continue to paint. People who never tap into that creative side of their brain, benefit greatly every time they do! They will grown and develop in their artistic abilities the more they venture into that area of their mind, making it stronger every time they use it!
2.Painting Strengthens Memory:
Those that frequently use creative outlets such as writing, painting, and drawing, have less chance of developing memory loss illnesses when they get older. On the other side, those with Alzheimer's and dementia have been known to greatly benefit from painting, as it provides them with a sense of accomplishment and achievement. Art therapy gives those with memory loss and other disabilities the ability to paint their thoughts, emotions, and memories. The art becomes their voice.
3. Painting Lets People Open Up and Express Themselves:
Painting allows people to show themselves without using words. They may paint to overcome personal obstacles, such as shyness, and express their personality with colors, shapes, and techniques. Artwork as a form of self expression, allows someone shy or reserved, to let go of social reservations and show themselves to the world. It's truly a mental and social healing, and a successful self-building process that shows in their artistic creations.
4. Painting Is An Incredible Form of Stress Relief:
Everyone deals with stress to some degree. Painting is a great way to help relax your mind and lower stress levels. It's a low-stress and essentially, mindless activity that help's a person's mind to relax and let go of life's problems and high demands for a while. When we create something beautiful, it stimulates the creative mind, while relieving mental strain and even anxiety. Lower stress levels help contribute to overall happiness and well being. Who doesn't need a little stress relief in their lives??!
5. Art Therapy Is Such An Incredible Thing:
Widely practiced in mental and physical health facilities, world-wide, Art Therapy helps so many people, suffering from a number of issues.
"Art therapy is practiced in mental health, rehabilitation, medical, educational, forensic, wellness, private practice and community settings with diverse client populations in individual, couples, family, and group therapy formats. Art therapy is an effective treatment for people experiencing developmental, medical, educational, and social or psychological impairment. Individuals who benefit from art therapy include those who have survived trauma resulting from combat, abuse, and natural disaster; persons with adverse physical health conditions such as cancer, traumatic brain injury, and other health disability; and persons with autism, dementia, depression, and other disorders. Art therapy helps people resolve conflicts, improve interpersonal skills, manage problematic behaviors, reduce negative stress, and achieve personal insight. Art therapy also provides an opportunity to enjoy the life-affirming pleasures of art making."
We love art and painting so much and are proud to be a part of a business that helps others find their happy place! When people just take a little bit of time to reach into those creative areas of their minds and let go of stress for just a few hours, during a class, it's always a good thing. We hear a lot of guests' stories about the positive effects that a glass of wine and a paint brush can provide and it feels good to be a part of that. We often hear tales of a bad day at work, turned happy by the end of a class, later that evening; or those of friends and family who haven't seen one another in a while and have come together to share in wine, music, and the magic of painting for a few hours.
If you're in serious need of a fun and stress-free night out, come on in to one of our classes and try it out! We also offer Open Studio, where you can come into the studio during certain days and times for an even more relaxing environment as there aren't many people, compared to some of our public classes. During our studio hours, you can paint something from our library selections or just let your artistic expressions come out and paint anything you like!
*Click the lick below for public class dates and times, as well as Open Studio options.
Come on in to Pinot's Palette, Brier Creek and give it a try- We think you'll see just what we're talking about!
Best of all??.... it's much cheaper than a therapist!!! :)
CHEERS!!!
Share Come Reap the Benefits TODAY! | Painting and Drawing: 24 Proven Healthy Benefits You Didn't Know About