Incredible DIY Halloween Wreaths!!!
Challenge your inner crafty-self and create one of these amazing Halloween decorations in no time!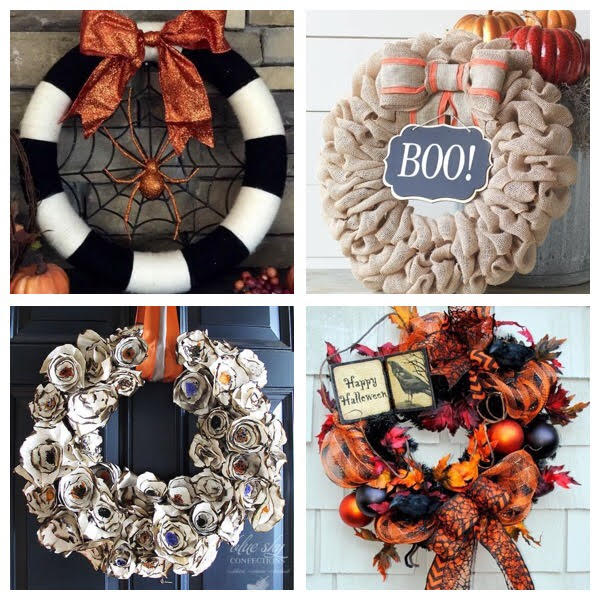 As the end of September draws near, we have thoughts of Halloween decor and costume ideas, running through our heads. Before the craziness of finding or making costumes, creating goody bags for class parties, and Halloween party planning begins, get ahead of the game and create one of these unique door decorations!
These wreath ideas range from super simple, easy, and inexpensive, to some that are more time-consuming with more materials. Check them all out and see which one is for you! Think about which wreath might be most realistic for you to create and how to best adapt it to fit with your current Halloween decorations and your general, home decor style!
Some of our favorites include:
1-Spider web wreath:
http://apump...n-wreath.html
2- Trick or treat wreath:
http://blog....craft-wreath/
3- Candy Corn Wreath:
http://www.t...ther.html?m=1
Some others we liked:
**Check out the tutorial for this modern and preppy mason jar lid wreath! It can be created in any colors and will make a big impact on a dull door!
http://eight...r-lid-wreath/
**For a clean, simplistic look, we love this paper flower wreath!! You could get away with using this from the beginning of September, until the end of November!
http://blues...eath.html?m=1
**For an EASY, yet super cute, wreath idea, check out this mummy wreath!!
https://pret...mummy-wreath/
**There are so many, additional wreaths, on these lists, that use minimal, inexpensive supplies! Hit up your local dollar store for the items and turn them into a wreath for a super low price tag!! ((Bonus: You'll be able to make some for friends and family, too, when you select a wreath that's easy and inexpensive to make!!))
**Other, simple and inexpensive wreath ideas include:
-Raven wreath:
http://www.r...eath.html?m=1
-Coffee filter wreath:
https://lill...ilter-wreath/
-Skeleton hands wreath:
http://www.t...oween-wreath/
Check out TONS of over great wreath ideas:
*15 Spooky (and cute!) wreaths, from 'Good Housekeeping'
https://www....ween-wreaths/
*30+ DIY Halloween Wreaths, from 'Country Linving':
https://www....ween-wreaths/
____________________________________________________________________________________________________
After you've created something wonderful to brighten up your front door, why not make something for inside the home, too??!!
Come in to Pinot's Palette, Brier Creek, and paint one of the amazing Halloween paintings we have, coming up! We'll be offering Fall-themed pictures throughout the next few months, as well! You can create one of those and keep it on the wall all season long... until you decorate for Christmas! If you're looking for Halloween-specific paintings, you're in luck! We have some great ones on the calendar coming up- check out our website, listed below, and see them for yourself!
It's so much fun to come in and paint, have a glass of wine, and spend time with friends and family! Bring your friends in for a fun 'girls' night out' experience or come with your other half for a unique date night! We have a professional artist, walking you through the steps, and always available to help if you need them! Don't worry if you have no, prior experience with painting... none is necessary! We'll break it down, slowly, and have a great staff there to help you along the way! You can easily sign up online... and give us a call if you have any addition questions!
We hope to see you soon when you come in to make your own seasonal decor! It's something that you'll get years of use out of and have everyone complimenting you on, over and over again! Come in and see what all the excitement is about! We'll see you there!!