Health and Safety
Pinot's Palette Appleton is committed to the health and safety of our staff, guests, and community. We will be open for in-studio business starting June 11th. The team at Pinot's Palette has reviewed CDC and local guidelines and will be implementing the following to reduce the risk of COVID spread. We look forward to painting with you!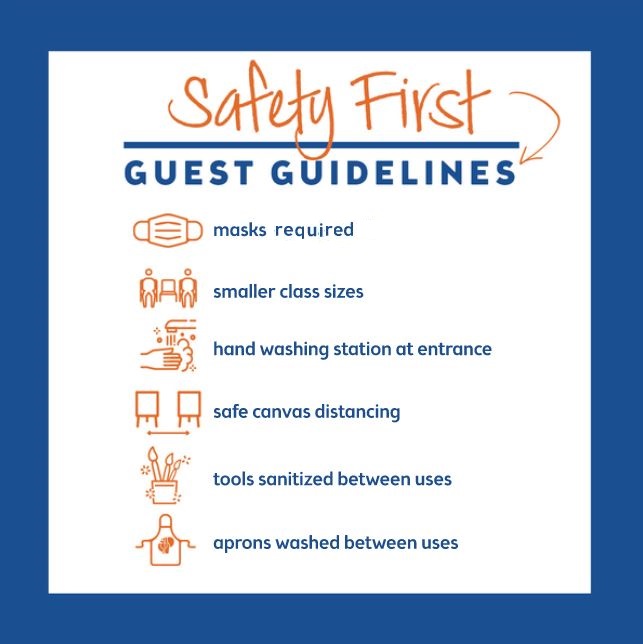 Smaller class sizes: We will have a cap of 15 painters in our main room, and up to 6 in our Picasso room.
Masks: Guests and Staff are required to wear masks to attend in studio classes.
Guest protocol: We have a handwashing station immediately upon entering the studio, where we ask that you wash your hands, while you do that we will check you in and then show you to your seat. We have a touch-less QR code bar menu that can be easily scanned with your smart phone camera; the bartender will be around to take your orders once you are situated in your spot.
Traffic flow: tape on the ground will help with distancing, and we've rearranged our cubbies to keep people spread out while still keeping your items paint free!
Reduced touch points: Aprons will be at your chairs. We pump the paint for you if you need extra just ask! Table service for beverages and snacks.
Bar Changes: Bartenders will be coming to you! Get comfortable in your seat and the bartenders will be around to take your order. Tabs will be started and payment will be taken care of at the end. Single-serve beverages available, if you order a bottle of wine disposable cups are available upon request.
Stepped up cleaning and sanitization:
-aprons washed after each use
-sanitized tools (brushes, easels, cups)
-sanitized environment (easels, chairs, door handles, tables, cubbies, countertops, bathrooms)
-removed rugs
Air filtration: we got a fancy new air purifier that covers 5000 sq ft (twice the size of the studio).
We can't wait to SAFELY paint, drink and have fun with you!