Summer "Little Brushes" Art Camps
Summer is almost here and that means time, out of school for the kiddos! While you likely have some great plans on the horizon for the whole family, we'd love to tell you about the amazing camp that we're offering the next few months in hopes that you can join us! These camps are going to be so much fun for your 6-12 year-olds, so here's all of the information about this fabulous (and creative) way to spend a few days of summer vacation!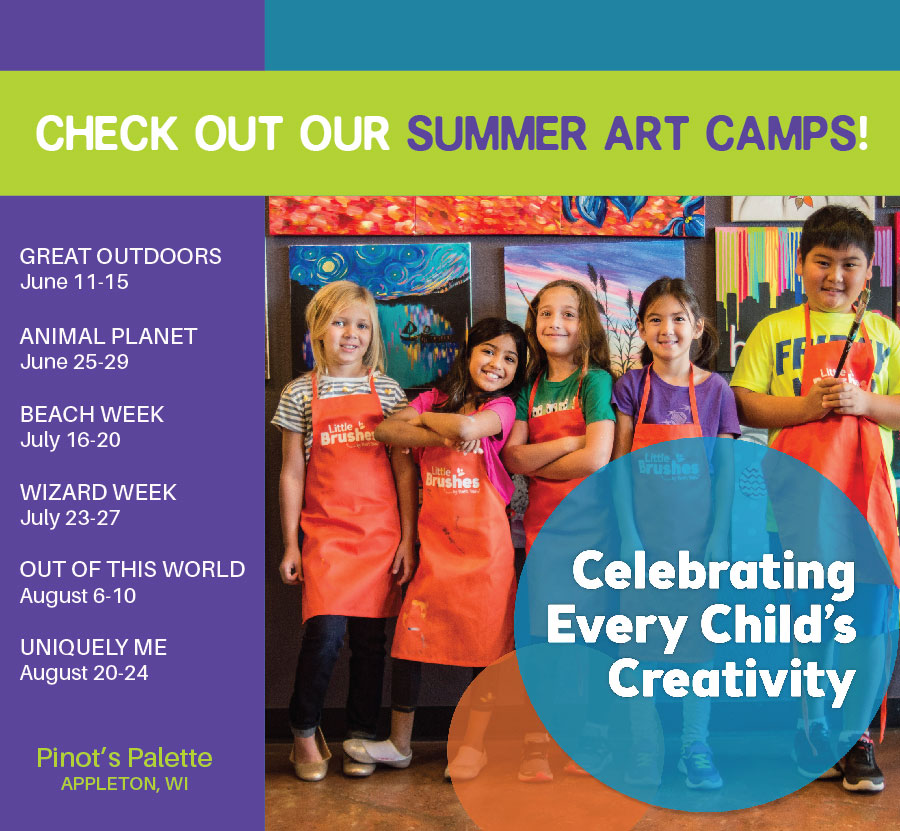 If your kids love to create, then some painting classes at Pinot's Palette will be PERFECT for them! Our studio is a great space to be creative, free, and have fun. Anyone at ANY age will absolutely enjoy our classes! You don't need any prior artistic experience to sign up, as we have a helpful and talented staff, available to assist the whole time! One of our encouraging instructors will walk your child through the painting for the day, step-by-step, taking it slow and helping them anytime they need! They'll make friends, and bond with their peers in a warm and creative environment where artwork is happily, created!
If you've been to one a class at Pinot's Palette then you know what we're all about...F-U-N!
These camp classes will be structured the same for your little ones as we do for our standard adult, public classes, with the addition of a snack break and themed craft time! The best thing about a younger crowd creating art is how involved, creative, and care-free they are while making their masterpiece! As adults, it's easy for us to see our mistakes and worry about fixing them (in pertinence to our painting classes), but the kids just go for what their creative minds are telling them and they don't look back! We love to see the excitement in their eyes, the happiness in their smiles, and how proud and accomplished they feel at the end of class! That's the best part of it all!
(AGES 6-12) Looking for a fun and creative outlet for your little artist? Then Little Brushes has exactly what you are looking for! At Little Brushes we offer a fun-filled party atmosphere where your little artists can have a blast creating their own masterpieces. From painting to crafting and everything in between Little Brushes fosters a friendly and collaborative environment, providing everything your little artist will need to bring out their creative spirit. Come one day or every day this week, we'll provide the FUN! Limited to 24 seats.
Each day we will feature painting and a unique craft fitting the theme of the week. We'll have different activities each day, so you can sign up for one day, or come all week!
Registration includes all art supplies, instruction, and a snack each day.
$180 Full Week, $40 Per Day. *Sibling discounts are available, please call us at 920.358.7913 for more information.
***
GREAT OUTDOORS WEEK
June 11-15, 2018
1:00-4:00PM
(Full Week Registration:
https://www....event/241464)
1. Monday, June 11th – "Take A Hike"
Take a Hike in tye dye! Let your creativity soar above the trees as you create a colorful masterpiece. Any room will brighten with the addition of this psychedelic scenery.
https://www..../event/241188
2. Tuesday, June 12th – "Paint It Like A Ross"
Maybe in our world there lives a happy little tree over there. - Bob Ross
https://www..../event/241192
3. Wednesday, June 13th – ILLUMINATED! Glowing Fireflies
Watch flicker of fireflies illuminate the starlit sky in this nostalgic summer scene. We'll catch these critters in mason jars and watch them glow as we add fairy lights once the masterpiece has finished drying!
https://www..../event/241191
4. Thursday, June 14th – Prismatic Pines – Wisconsin Silhouette
Cast in the silhouette of Wisconsin, Prismatic Pines is the perfect pop of color for any decor; fireflies come out to dance as the sun casts its last rays over an elegant forest of colorful pines.
https://www..../event/241190
5. Friday, June 15th – Gone Camping
Camping is an all-time favorite activity! Join us as we create this lovely campfire scene on a canvas backpack!
https://www..../event/241194
***
ANIMAL PLANET WEEK
June 25-29th
1-4PM
(Full Week Registration:
https://www....event/242591)
1. Monday, June 25th – "Safari Silhouette"
Create a one-of-a-kind sunset image and add in your favorite safari animals!
https://www..../event/241196
2. Tuesday, June 26th – "Little Rascal"
This cute little raccoon is a painting that will brighten up your child's bedroom or playroom. Fun to paint and fun to take home - she'll make everyone smile! Easily can be customized to fit your decor.
https://www..../event/241198
3. Wednesday, June 27th – "Colorful Owl Stained Glass"
This bright and colorful stained glass owl is sure to please. Artists will create a custom version of this bold animal and utilize mixed media techniques to make this "stained glass" piece of artwork come to life!
https://www..../event/241199
4. Thursday, June 28th – "Frogadelic"
This laid-back groovy dude is ready to bring you some good vibes. He's frogadelic man!!
https://www..../event/241200
5. Friday, June 29th – "No Prob-llama"
Creating this painting is no Prob-Llama! Fun for all ages, this little cutie is sure to create some giggles and an all around great time.
https://www..../event/241201
***
BEACH WEEK
July 16-20th
10AM-12PM
More details coming soon!
***
WIZARD WEEK
July 23-27th
10AM-12PM
More details coming soon!
***
OUT OF THIS WORLD
August 6-10
10AM-12PM
More details coming soon!
***
UNIQUELY ME
August 20-24
10AM-12PM
More details coming soon!
***
We hope to see you soon for a class at our studio if you're looking for something fun to do in or around the Fox Valley area! Whether you're bringing the kids in to enjoy some of our summer camp classes, bringing everyone in for an Open Studio or just coming in with your friends for an adults-only night out, we're looking forward to it! We make the perfect event for everything from a fun and unique date night, an awesome girls' night out experience, and we even offer private events! When you view our classes on our website, you'll be viewing our schedule for our public classes, but you can also book a painting party with the guest list of your choice! Come in to celebrate a birthday, bridal shower, reunion, retirement, and more with friends and family, sharing their artistic sides, together. Make memories that will last a lifetime with a souvenir to treasure forever with one our classes.
*Learn more about our private parties, here:
https://www....ivate-parties
We also play host to tons of corporate events, too! Why not book your next work party or team building event with us? We offer several styles of paintings that incorporate team building strategies, encouraging the whole office to work together, creating a stunning world of art!
*Read more about corporate events, here:
https://www....porate-events
(*You can even give someone the gift of a painting class with one of our gift certificates)
https://www....-certificates
See you soon and have a wonderful Summer!
Cheers!