Things To Do In Orange County
If you live in or around OC, you prrrobably love it. I mean, really.... what's not to love? Palm trees, sunshine, beautiful buildings and natural sights all around... and a whooooole lot of fun things to do!!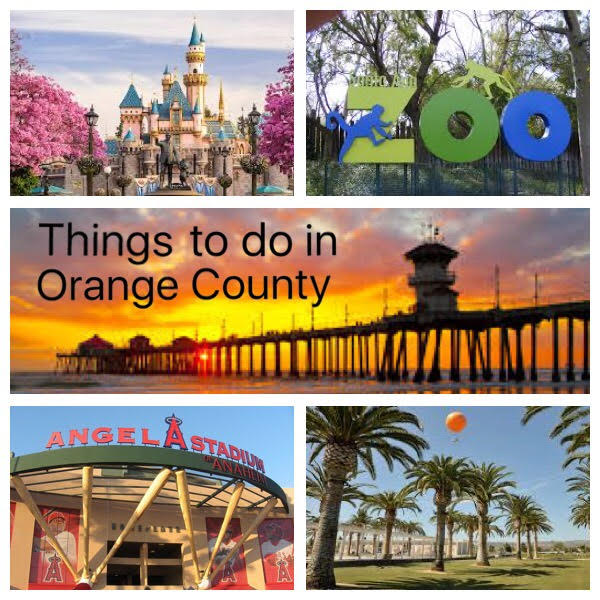 The weather outside is getting a little cooler, the 'back to school' schedule is becoming more routine, and weekends are a good time to unwind! Why not spend time with friends and family, partaking in the MANY wonderful things Orange County has to offer?!!
For theme parks and thrilling adventures, try one of these:
Disneyland:
(Anaheim)
Of course we have to mention the mother of all things to do in OC!!! It's why sooo many people come to visit our area every year... Disney!!!! Visit Mickey and friends, enjoy some excellent rides, eat delicious food, see shows and parades, and do so many more unforgettable, fun things in the park!!!!
https://disn...C-dlr_gmap_38
California Adventure Park:
(Anaheim)
*The "second half" of Disneyland... this park is technically a separate park from 'Disneyland', but most of the time, discounted tickets for both parks are sold so you get two parks in one! (Located directly attached to Disneyland...)
https://disn...-wdw_gmap_173
Knott's Berry Farm:
(Burns Park)
*Rides, games, and more! Come visit Knott's for a fun-filled, trilling day or night... be sure to stop in during their various seasonal-themed months for even more fun!
-Knott's 'Scary' Farm (spooky Halloween fun)
-Knott's 'Merry' Farm (the holiday season gets a trilling makeover with coasters and holiday-themed decor everywhere!)
https://www.knotts.com/
Orange County Great Park:
(Irvine)
*Rise up to 500 feet in a giant, orange balloon ride that will tower over Orange County for a breathtaking view!!
http://www.c...ty-great-park
Santa Ana Zoo:
*Get wild with the various animals, living in the zoo! You can see some from afar, while petting others in an interactive space! Ride the ferris wheel or the express train for extra fun!
http://www.s...taanazoo.org/
___________________________________________________________________________________________________
For some fun and interesting things, the kiddos will LOVE:
101 Things to do with kids in OC:
https://www....do-with-kids/
____________________________________________________________________________________________________
There art SO MANY incredible, natural sights to see. From parks with trails to hike, and beaches with waves and sand, you can make many of these educational experiences for the kids! You'll also be getting some physical fitness out of the mix, while you're at it!
Check out all of the park/trail and beach events and locations, here:
https://www....ange-County-0
Our Beaches!!!
*California known world-wide for its beautiful beaches... and Orange County beaches are some of the best in California! While there are tons of shops and amazing food, all up and down the beaches, they can also be a free experience! Just go for the sunshine, relaxation, and breathtaking sights for a fun day out, that's easy on the pocketbook!!
The top of the list are:
1-Newport Beach
2-Huntington Beach
3-Laguna Beach
Read ALL about Orange County's many beaches:
https://www....range-county/
____________________________________________________________________________________________________
Other great family events include:
Baseball games (go Angels!!!)
(Anaheim)
April- September (Oct for post season...)
*Enjoy watching America's favorite pastime with the Anaheim Angels! Be sure to eat some of the delicious food the stadium has to offer, while taking in the event!
https://www....lb.com/angels
Hockey games (go Ducks!!!)
(Anaheim)
October-April
*Enjoy the rush of watching live hockey, in the famous, 'Honda Center' in Anaheim
https://www.nhl.com/ducks
Art Museums!!
*Take in a little culture with historic and modern art! (Of course, art museums are one of our favorite recommendations!!)
-Orange County Museum of Art:
(Newport Beach)
https://www.ocma.net/
-Laguna Art Museum:
(Laguna Beach)
https://www.ocma.net/
-More art museums here!
https://m.ye...+County%2C+CA
____________________________________________________________________________________________________
Pinot's Palette!!
(Tustin... located in 'The District' shopping center)
*Look up any ideas you want for a night out (or day out) in Orange County, and we're sure to pop up! We always make the 'Yelp' lists for search words, like: "date night ideas Orange County"... "fun things to do in Orange County"... and so much more! Our Tustin location has been around since March 2014 and we have been a favorite place for locals (and out of town guests!) to visit, ever since!! Try it out for yourself and see how much fun it is!!!
We offer tons of amazing paintings, each week, and our customers love to come back, time and time again! A painting class at Pinot's Palette is a great way to spend a date night or a girls' night out! Don't worry about not having any prior painting experience... we've got you covered! We always have an awesome instructor, walking you through the painting, step by step, and a great staff of people, always available to help!
Our studio is ages 21 and up, however we offer mobile, private painting parties, starting at ages 6 and up! You can contact us online or give the studio a call to find out all of the details and to book a party! It's a unique idea for a birthday party, holiday event, and more! Every so often, we also try to include kids in the fun with an outdoor event... like the one, listed below, that we have coming up on
SUNDAY, OCTOBER 15, from (12:30-2pm)...
*Check out this tote bag painting class! The kids will LOVE to create their very own bag that can be used to collect all of that yummy Halloween candy!!! ((Ages 6+ welcome))
https://www..../event/193113
We hope you enjoy all of the fun times you'll have in Orange County! There are so many things to see and do and we want you to take advantage of them! Remember to come visit us, while making your tour around the OC and we'll be sure to show you a great time!!