Welcome, First-timers! All Of Your Painting & Wine Class Questions, Answered Here!
We've provided a Q & A of some of our most-asked questions!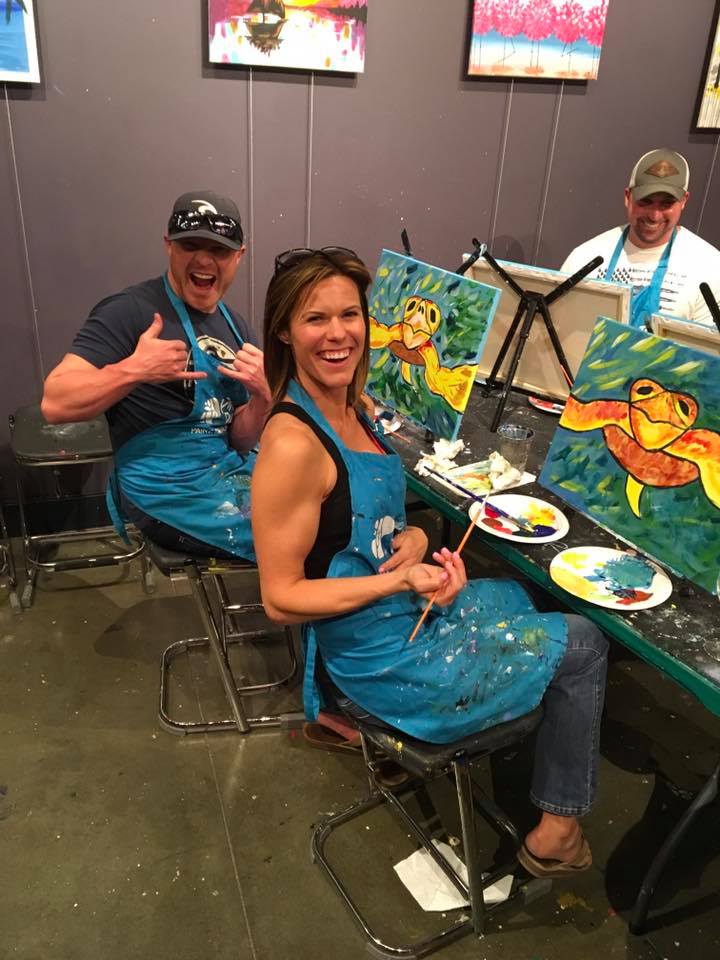 While we have a lot of retuning customers in our classes, there are ALWAYS some first-timers in each of them, as well! We wanted to make sure you have all of the basic information before you sign up and attend a class, especially if you like to do your research. We're a pretty basic concept, come in and create a painting while enjoying some wine or beer, great music, and spend time with loved ones in a creative environment. But what about all of the fine details?... We've got you covered!
Here are some of our most-asked questions from our new customers:
Q. WHAT IF I HAVE NO PRIOR PAINTING EXPERIENCE?
A. That's ok! In fact, the majority of our customers haven't picked up a paint brush since they were kids!
We cater to the novice; We want to inspire those that have always wanted to create something, to do just that! We are eager to show anyone out there that they CAN paint, no matter how much they think they can't.
We have a fabulous team of talented instructors and assistants who are there to help guide you though the painting, step-by-step, encouraging you the whole way through AND giving you some extra help, any time you need it!
Q. HOW DO THE CLASSES WORK?
A. Once you sign up (online registration is recommended), you'll come to the studio and one of our helpful team members will get you checked in and seated. After that, the time before class is yours! Hang out with friends and family, grab some wine and beer, get a snack, and take some pictures!
Once the class starts, one of our talented instructors will walk you through the painting for the class, step by step. Our classes last between 2-3 hours, depending on the painting, and you'll get breaks between some of the steps, throughout the whole class; Get refills on drinks, walk around and look at others' artwork, and more when you're on your break.
Q. WHAT SHOULD I BRING?
A. No need to bring anything at all, as we'll provide all of the supplies you need! Paint, brushes, canvases, wine and beer, and even an apron to protect your clothing will all be available at the studio.
Most people have their phone or camera with them to take some photos of the fun time and the friends you share it with; One of our team members will also be coming around to take photos throughout the class, too!
Q. WHAT SHOULD I WEAR?
A. Really anything is fine, especially if you're going out to dinner before or after a class and want to dress in some of your nicest clothing…. However, we do use acrylic (plastic-based) paint in our studio which is typically near-impossible to remove when it gets onto and dries in most material. As you'll hear your instructor tell you at the start of class that if you notice any paint on you, let one of our team members know, ASAP, and we will assist you in removing it as best we can. (*That being said, you might not want to risk it and wear your favorite outfit, vintage clothing, or anything overly-special, just in case) :)
Q. ARE MY DRINKS INCLUDED?
A. The majority of the time, NO, wine, beer, and nonalcoholic drinks are not included; However, we are always offering some great drinks specials so be sure to take notice of them on the calendar as you decide on which class to sign up for! The price that you pay when you sign up, sorry includes the materials to create the painting (unless you see a class that says '1st glass of house wine included with admission'). Our menu is priced well and comes in a variety of wine selection and price points! Something for everyone!
Q. SHOULD I SIGN UP ONLINE?
A. We DO recommend that you and your group sign up online. While we will accept walk-ins, but most of the time our classes sell out so we can never guarantee that we'll have an extra seat (or a few seats) for you and your group. When you sign up online, you're sure to have a seat saved for you, you'll get the payment process out of the way, and all you have to do is come in and enjoy the class from that point on!
*To view our calendar and sign up for a class, click here:
https://www....tustin/events
Q. HOW CAN I MAKE SURE I'LL BE SITTING WITH MY FRIENDS?
A. When you sign up, you can have your entire group sign up together under one person's card, so it comes to us as a single reservation, OR (most conveniently), you can have everyone sign up on their own, but *BE SURE TO* instruct your friends to mention that they want to be seated with you (and vice-versa if you're joining a group that has already signed up) when you are signing up (there's a place in the online sing-up process where you can list these preferences).
Q. CAN I BRING GUESTS THAT ARE UNDER THE AGE OF 21?
A. Unfortunately, No. We are a painting and wine studio with a license that prohibits anyone under the age of 21, entering through our doors. You and your friends/family must be 21 years or old to sign up for and attend one of our classes… We DO, however, offer various events throughout the year that people of all ages can attend! Be sure to check out our calendar and look for Family Fun events, kids' paintings classes where we partner with our neighbors, and more!
Q. HOW EARLY SHOULD I ARRIVE?
A. When you sign up, you'll see that we request you to arrive about 30 minutes early. We want to make sure that you have plenty of time to find the building, get checked in, meet up with your group and socialize a bit, as well as get some drinks and snacks!
Q. WHAT IF I WANT TO HAVE A SPECIAL EVENT AT YOUR STUDIO?
A. In addition to our public classes, we offer private parties! You can reserve our studio space on the date and time of your choosing, select the painting, guest-ilst, and more as you celebrate anything you want in a private, intimate setting!
*For private parties, celebrating birthdays, retirements, wedding events, baby showers, and more:
https://www....ivate-parties
*For corporate events where you can bring the whole office in to bond over some painting and even some team-building events:
https://www....porate-events