This Valentine's Day, Disconnect To Reconnect
Disconnect from the distractions of daily life and reconnect with the one that matters most.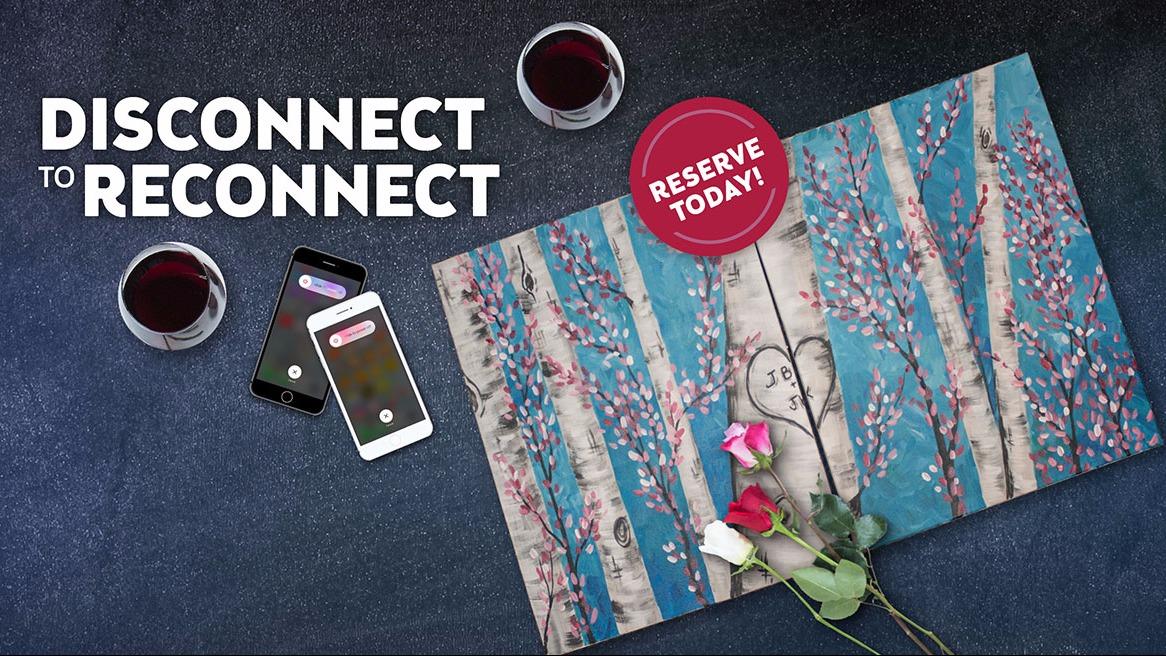 Let's be real...Life gets busy! It's easy to get swept up in our daily tasks, running from work to the gym...dropping the kids off at practice....deadlines...appointments...etc. We get it. In all of the craziness our lives bring, sometimes it's hard to remember to do something for ourselves that we enjoy and isn't an obligation.
"Memories are made in the present! Leave devices and distractions behind, and reconnect with the ones you love.
The digital world is demanding. Emails, text messages, social media and apps ring and ding at us at all hours of the day. All these little distractions take us out of the present, keep us from stopping to smell the roses, and cut into our relationships.
Disconnect from your screens and reconnect with your people. There are a thousand ways to put this idea into practice, and all of them are meaningful.
Everything we do at Pinot's Palette is designed to build connections and create memories. A relaxed atmosphere, a little music, a little art, and your preferred beverage: It's a fantastic opportunity to make new memories with someone you love."
This Valentine's Day is the perfect time to take a little time to love yourself and take a break with us at Pinot's Palette in Tustin? This month, we are offering a lot of beautifully romantic paintings, including 'Date Night' paintings, Galentine's Day fun, and some great artwork to make your Valentine's Day weekend.
Disconnect from your hectic daily tasks and take some time for yourself to relax, paint, sip some wine, and have fun!
It's so important to take time for yourself and your significant other and this is the perfect time of year to remember that!
Work, kids, social obligations; all these things will take every bit of time you have and more if you do not manage them. Those that make love last learn how to set boundaries in their different roles, and give time to what is important to them.
This Valentine's Day, we hope to see you and your special someone, your bffs, or your family as you come in to paint, drink, and have a to of fun.
From Eiffel Towers and beautiful landscapes, to Galaxies far, far away, we've got something to fit everyone's taste!
So grab your sweetie, whomever that may be, and come have a date with us this Valentine's season!
We'd LOVE to see you!!
XOXO
***Learn all about this month's Valentine's artwork:
https://www....celebrations-
Share See our full calendar here | Buy your Valentine a Gift Certificate!