May Is National Barbecue Month!!! Let's Eat!!!
Gathering together for an outdoor eating experience in the nice weather is just one of the best parts of Summer! Grilling out with some saucy, spicy, and smokey dishes and throwing some fresh and flavorful sides together, makes for a great barbecue!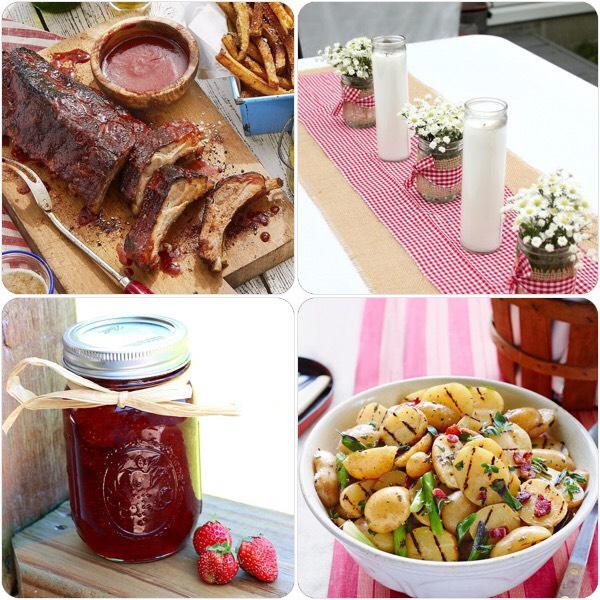 May is 'National Barbecue Month' and while that might seem to pertain, solely, to pulled pork, it's actually a much wider definition. Here are some ways that BBQ can be defined:
-Roasting or broiling on a rack or revolving spit over or before a source of heat (such as hot coals)
-A social gathering, usually held outdoors, at which food is cooked over an open flame.
-Cooking in a highly seasoned vinegar sauce
-Meat or seafood cooked in or served with barbecue sauce
We've found some DELICIOUS recipes for you to try at your next barbecue! Pair these impressive dishes with some cute decor for the ultimate cookout this season!
THE FOOD:
-Cheddar-stuffed Burger
Also known as a 'Juicy Lucy Burger'.
A juicy lucy burger which has the cheese stuffed inside of then then cooked up, encompassing a molten lava of melted cheese. When you first bite into the juicy patty, the deliciousness of the inner melted cheese siren calls you past the fear of fuzzy tongue and you plunge head first into a great, oozy, juicy burger.
Recipe:
http://white...+-+Full+Feed)
-Pulled Pork with Homeade BBQ Sauce
This low and slow barbecue recipe might take a lot of time but the end result will be worth it!
http://andre...de-bbq-sauce/
-Sweet Heat Cheerwine Baby Back Ribs
Smothered on grilled baby back ribs, this Cheerwine glaze is finger-lickin' good. Better stock up on the napkins.
Recipe:
https://www....by-back-ribs/
-Grilled Steak Kabobs
These tasty and tender kabobs are out of this world delicious. The marinade is super easy and what makes these kebabs so amazing. Sometimes the best recipes are the simplest, and these kebabs are just that.
Recipe:
https://life...steak-kebabs/
-Grilled Sausage with Apple Slaw
Hearty brats and creamy, crunchy slaw are made fit for fall tailgating with the addition of crisp apples.
Recipe:
https://www....cipe-ghk1014/
-Honey Sriracha Grilled Chicken Thighs
Sweet & Spicy HONEY SRIRACHA GRILLED CHICKEN THIGHS – juicy smoky chicken thighs slathered in an easy Honey Sriracha glaze that will make you swoon! I guarantee these will be a hit!
Recipe:
https://www....icken-thighs/
-Grilled Salmon with Basil Butter and Broccolini
The basil and butter combo perfectly compliments the salmon and makes this recipe a melt in your mouth entree. Literally.
Recipe:
https://kitc...olini-recipe/
-Grilled Lobster with Lime Bay Butter
These lobsters are first parboiled, then finished on the grill for a no-fuss but special treat.
Recipe:
https://www....-butter-2986/
Grilled Potato Salad with Bacon Vinaigrette
The two-step process of cooking the potatoes transforms this summer salad from same-old to sublime.
Recipe:
https://www....-vinaigrette/
THE DECOR:
Nothing says ' Barbeque' like a good, old fashioned red and white, checkered tablecloth! Use this as your party theme and go traditional rustic, outdoor fun with the rest! Grab some mason jars and an inexpensive bouquet of daisies for simple but stunning decor. Add in some dollar store candles, twine or checkered ribbon and put it all together for the perfect tablescape for your event.
*Bonus: Send guests off with a parting gift, fitting for the theme: homemade jam!
Try this homemade strawberry jame:
https://cook...rawberry-jam/
With the Spring season in full force and Summer, right around the corner, now is a great time to come in and make some gorgeous, fresh art to hang in your home! We've got some great painting coming up, full of color, summertime landscapes and more that are perfect for the season and something that you'll love to create! Bring your loved ones in to spend time wit you, painting and sipping wine in a fun and creative environment. A painting (or two) is such an easy and fun way to update a space and change it our, from season to season! Take a look at the upcoming paintings on our calendar and see what we've got coming up!
When you come into a painting and wine class at Pinot's Palette you'll create a handmade masterpiece in just a 2-3hour class! First time painters, so often, come into the studio with great doubt that they'll be able to recreate the painting for the class… then they leave wit a stunning painting that THEY MADE at the end of the class, realizing that they actually COULD paint, all along! We have a great staff helping you through the whole class, from showing you to your seat, pouring (and re-pouring) your drinks, to assisting you with your painting. One of out talented instructors will walk you through the painting, step-by-step, encouraging you the whole way. You'll ave so much fun, trying something new, listening to music, and getting in touch with your inner creative-self.
Be sure to come in and see what we're all about if you're living in or around the Tustin area. We make the perfect event in Orange County for everything from a fun and unique date night, an awesome girls' night out experience, and we even offer private events! When you view our classes on our website, you'll be viewing our schedule for our public classes, but you can also book a painting party with the guest list of your choice! Come in to celebrate a birthday, bridal shower, reunion, retirement, and more with friends and family, sharing their artistic sides, together. Make memories that will last a lifetime with a souvenir to treasure forever with one our classes.
*Learn more about our private parties, here:
https://www....ivate-parties
We also play host to some great corporate events, too! Why not book your next work party or team building event with us? We offer several styles of paintings that incorporate team building strategies, encouraging the whole office to work together, creating a stunning world of art!
*Read more about corporate events, here:
https://www....porate-events
Share 20 Healthier Grilling Recipes | View our full calendar here!