Join Us For A Special F·R·I·E·N·D·S Trivia Night!
The One With The Awesome Painting And WIne Class...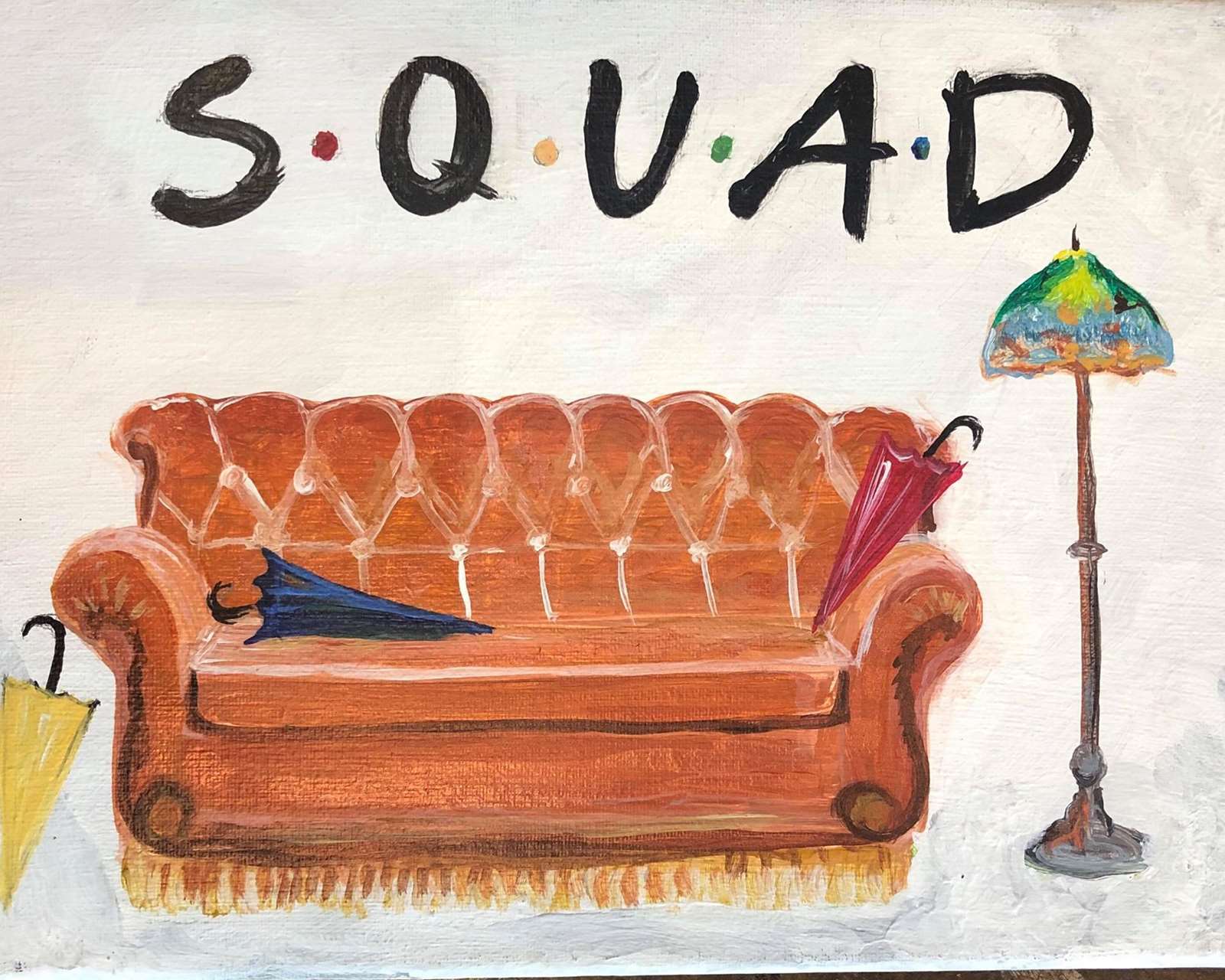 We'll be there for you!
We always are! :)
Come to Pinot's Palette in Tustin and paint along with one of our talented instructors for this special event, a 'Friends' trivia painting and wine class!
We'll be walking you through a brand new 'Friends'-themed painting, made just for all of you hardcore fans out there!
Pinot's Palette studios across the US have been hosting this fabulous new trivia class and it's been quite the success; We know our February 27th event will be wildly popular, as well!
Be sure to tell all of your friends about it and sign up, ASAP, as seats will likely sell out fast!
_____*****_____*****_____*****_____*****_____*****_____*****_____*****_____
!!! JOIN US !!!
On February 27th for this special event!
We'll be painting, 'I'll Be There For You' (shown, above)
A fabulous new painting designed just for you!
Put the ultimate pivot to your wrist and create this memorable painting with your squad.
Have fun customizing this work of art any way you want to! Change the colors, paint in other fun props from the show, add your favorite quote, and more.
There's no wrong way to make art, so relax, have fun, and let you inner-artist come to life!
Bring your squad and play Friends Trivia! Come in, ready to play hard, as you'll be painting with other die-hard fans of the show!
We'll have prizes for the winners!! Yay!
BONUS: It's Thirsty Thursday with $4 Glasses of House Wine All Night!
So much awesomeness in one class! You simply MUST be there! :)
*Sign up for this special event:
https://www..../event/405849
_____*****_____*****_____*****_____*****_____*****_____*****_____*****_____
BONUS:
The Ultimate 'Friends' Fans Will Love These Fun Facts About The Show:
(*) Note: These are just some fun facts about the filming of the popular tv series, and not based on questions that will be asked at the event on February 27th)
* All Cast Salary Negotiations Were Done as a Group
No Friend ever made more money doing the show than the others. Each time they negotiated their salaries, the negotiations were done in unison. Kudrow said, "The six of us are far stronger than just one person."
* The Opening Sequence Wasn't So Easy to Film
The water fountain opening sequence was filmed at the crack of dawn, 4 AM to be exact. The water had to be kept heated during filming. Additionally, the actors were given the lines of the theme song to lip sync because the song had not yet been recorded.
* A Typical Friends Day Lasted Five Hours
The average "Friends" episode took less than the average work day to film, clocking in at a mere five hours.
*The Central Perk Couch Was Found in a Basement
The iconic orange couch used in Central Perk wasn't found in a furniture store, but rather in a Warner Brothers basement.
* Joey's Dog Statue Actually Belonged to Jennifer Aniston
Joey's dog statue was originally given to Jennifer Aniston as a good luck present from her best friend when she started acting. She offered to lend it to the show for the episode where Joey became rich and bought a lot of stuff. After that episode, the producers decided to keep it.
*LEARN MORE:
https://www....facts-trivia/
We, here in Southern California, are lucky enough to be close enough to the real life Friends set on the Warner Brothers lot!
Learn more info and pay them a visit to take some photos, sitting on that gold sofa from the show!
https://www....tudiotour.com
Share Sign up for the 'Friends' trivia class! | View our full calendar