How To Host A Wine and Cheese Party!
Looking for an excuse to sip wine and feast on Gruyère? Look no further.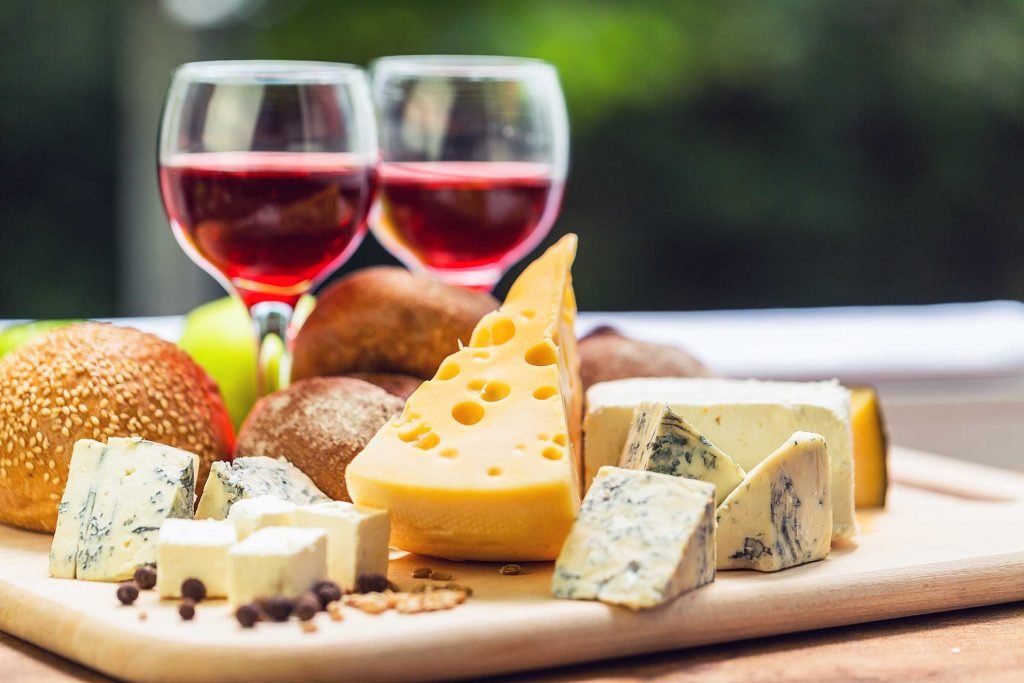 Grab all of your friends and family, and host a fabulous party that's super fun and educational to boot! Here at Pinot's Palette, our love for wine is (literally) in our name! We love unique themes and ideas for parties and centering a party theme around wine seems like perfection! With Valentine's Day and GALENTINE'S DAY right around the corner, a wine and cheese party is always a fun theme for a party!
We've found some great tips that break down the "How To" of throwing a wine party into prep, decor, and more!
Read on for some great ideas on getting starting with planning.
So grab a pen and paper, and start planning the perfect wine and cheese party today! Trust us, your friends will thank you, because really, who doesn't love wine and cheese??
** How It Works
Guests sample delicious cheeses while they mingle. Yup, it's that simple.
** Whom to invite
About 12 of your favorite food lovers. Even die-hard Velveeta fans will enjoy a party like this.
** What to serve
Don't let the cheese stand alone. Pair it with delicious accompaniments and wines.
** Your Game Plan
((A few days before the party)):
- Buy the cheese. Skip the supermarket and go to a specialty store for the tastiest selection. Or shop online at artisanalcheese.com or murrayscheese.com; allow 2 business days for delivery.
- Make cheese labels and tasting cards. Then guests can know―and keep track of―what they're sampling.
((1 to 2 hours before the party)):
- Take the cheese out of the refrigerator. It has the fullest flavor at room temperature.
- Prepare the bar. Chill the white wine and set out glasses.
- Open two reds and two whites to make it easy to get the party started.
- Set out the food. Space out a few cheese boards around the room so guests don't clump in one spot.
** The Perfect Cheese Platter
Think of cheeses as falling into five basic types, says Anne Saxelby, owner of Saxelby Cheesemongers, in New York City. For a good balance of tastes and textures, serve one from each category.
1. Blue: The most intense.
Gorgonzola (shown, top left), Cashel Blue, Fourme d'Ambert, Roquefort, Stilton.
2. Semifirm: Subtle but rich.
Manchego (shown, top center), cave-aged Cheddar, fontina, Garrotxa, Saint-Nectaire.
3. Super-aged: Sharp and nutty.
Parmigiano-Reggiano (shown, top right), Asiago, Comté, aged Gouda, aged Gruyère.
4. Pungent: A.k.a. stinky.
Taleggio (shown, bottom left), Èpoisses, Langres, Livarot, Pont l'Évêque.
5. Mild: Soft and creamy.
Fresh chèvre (shown, bottom right), Brie, Camembert, Chaource, Robiola.
((Cheeses)):
Fight your more-is-better instinct. "Limit your-self to three to five different cheeses," says Liz Thorpe, vice president of Murray's Cheese, in New York City. "Anything additional is overwhelming to the palate." For each type of cheese, buy one ounce per person.
((Wines)):
You can get away with serving only one red and one white, as long as they're versatile. See "What to Sip" for suggestions. For a dozen people, you'll need about 4 bottles of each.
((More)):
*Crackers
Get a couple of boxes of crackers and cut a baguette into rounds.
Upgrade: Brush the baguette slices with olive oil and toast them. Or try raisin-walnut bread instead.
*Grapes
Snip a bunch into small clusters and pile them together to create easy-to-grab portions.
Upgrade: Try sliced apples, pears, or figs or dried nectarines and peaches
*Chutney
Tangy stewed fruit, in flavors like fig, apple-cranberry, and sour cherry, is a nice complement to pungent cheeses.
*Honey
The simply sweet flavor offsets the richness of cheese, particularly strong blues.
*Sun-Dried Tomatoes
These savory morsels pair exceptionally well with mild cheeses, such as fresh chèvre.
*Dried Sausage
Offer guests a hearty snack to round out the food. Look for saucisson sec or sopresatta. Or try sliced prosciutto or capicola.
Upgrade: Serve the sausage with Dijon mustard and gherkins.
__________________________________________________________________
Now that you've gotten your cheeses and other snacks covered, it's time to talk WINE!
The main event of the wine and cheese party is discovering how the two work together; Some wines pair better with specific cheeses, and to keep it simple for you, here's a variety of handy charts you can refer to when planning, as well as some cute ideas for serving:
https://www....heese-pairing
*For an educationally illustrated way to serve the best wine with the best cheese, check out these ideas:
https://www....-cheese-party
BONUS: Check out these super cute wine glass decorations that will help each party goes remember which glass is theirs:
https://www....DbGljaz10cnVl