Glow In The Dark Week!!!
It's that time of year again! Glow week!!!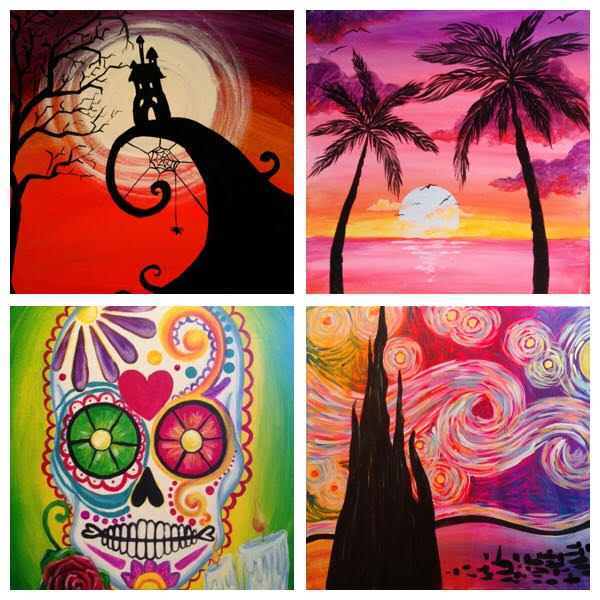 If you've never been to one of our 'glow in the dark' classes, you have SERIOUSLY been missing out!! They are the absolute best!
We have been hosting these unique classes since we opened our doors in 2014! Every year, around Halloween, we hang up the black lights and turn off the usual lights, for a painting experience you'll never forget!
We give some of our favorite Halloween paintings a special, spooky feel, by turning the lights out and using fluorescent paints! Our customers love to paint "in the dark"! It's always so much fun and something out of the ordinary for people to do! We have several classes this year, for you to join in on.......
Tuesday, October 17
Wednesday, October 18
Friday, October 20
Saturday, October 21
You can view more details, as well as sign up for a class, on the site, listed at the bottom of the page! Give us a call, email, or stop in if you have additional questions... we're more than happy to answer them!
**If you aren't available to attend any of our glow in the dark classes, we have many other paintings to choose from! Our calendar is stocked-full of great Fall and Halloween- themed paintings this month, and will have some amazing holiday ones, coming up soon! We love this time of year, because we are able to offer so many themed paintings! People love to decorate canvases that they can take home and incorporate into their seasonal decor!
We have plenty of non-seasonal classes, coming up, too! If you're looking to create a great painting that you're able to hang up, all year long, check out the calendar and see what we have! We always offer landscape paintings, which are some of our customers' favorites! These pictures are easy for first-timers, and tend to fit, beautifully, anywhere in the home!
Whether you'll be attending a glow class or one of our usual, painting classes, we hope to see you soon! Bring friends and family along for the event and you'll have loved ones to share it with!
Drink wine, listen to some music, and paint the night away, at Pinot's Palette, in Tustin!
Bring your friends and family!!!
We make a wonderful 'date night' idea, as well as a unique 'girls' night out' event! Come alone, just to relax and get away from everything for an evening, or bring Mom or Dad for a special treat! We are here for those who have never painted before, so don't let that worry you! We help guide you through the steps, slowly, and helpfully, and you're sure to walk away, feeling proud of what you accomplished!
Sign up for a class ASAP, as our 'Glow in the Dark' classes are always popular!!!
Ready. Set. Glow!