Girls' Night Out At Pinot's Palette Tustin!
Grab your girls and enjoy a night out at Pinot's Palette in Tustin, where you'll paint, drink, and have fun!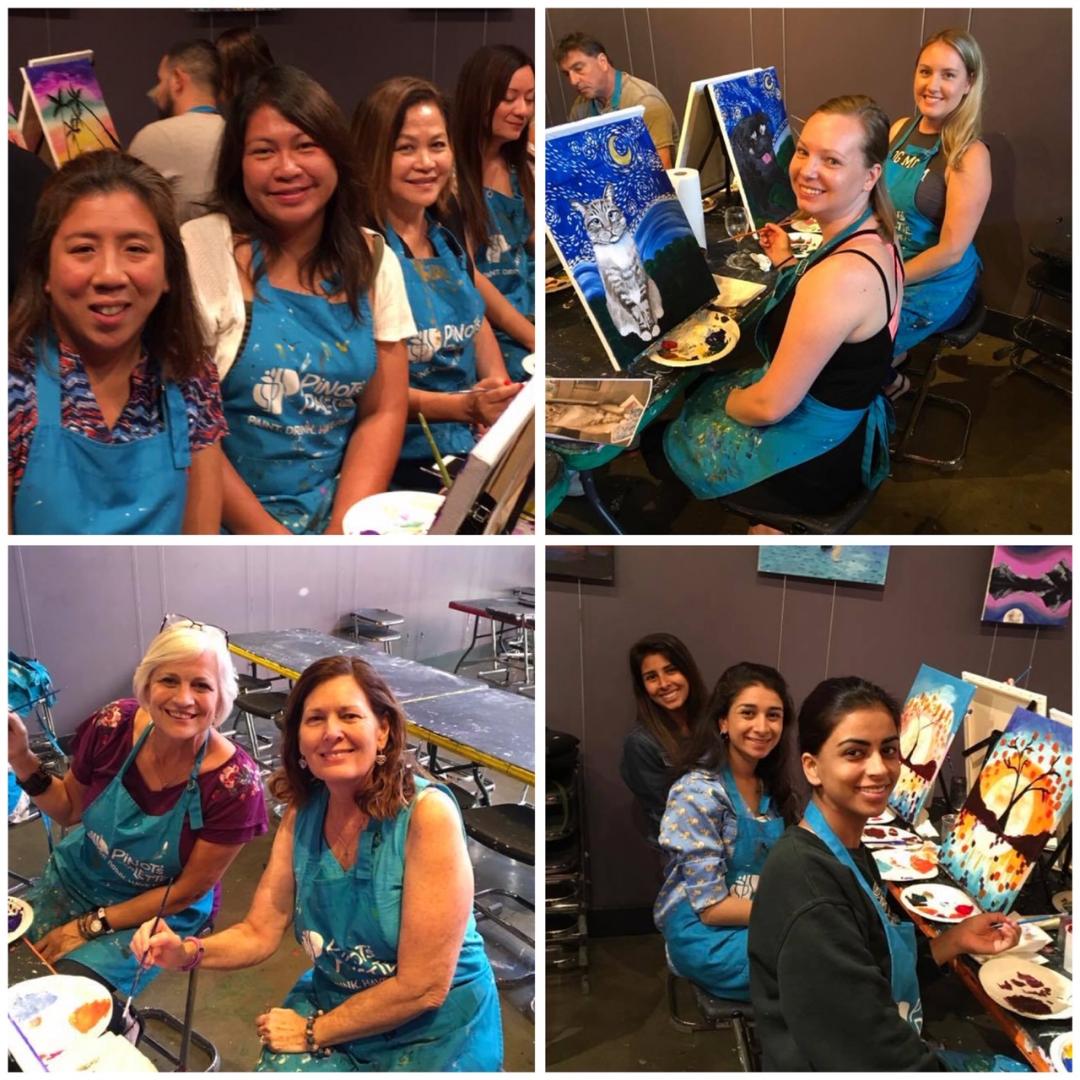 Come on out ladies! We're here to show you a great time with drinks, music, and artistic activities.
Located in Tustin, at The District, we're in a great spot around lots of places to shop and dine, before or after one of our classes so you and your friends can make a whole day out of it! Whether you're an artist or haven't touched a brush in decades, we're here to help guide you through a 2-3 hour class where you'll enjoy some wine and beer, time with friends, and getting creative together.
You'll make memories and masterpieces that will last forever!
***Some of the upcoming paintings that would make a wonderful Girls' Night (Or Day!) Out:
Sept, 26, 'Ikebana Bilss'
A minimalist piece inspired by Japanese water marbling and Ikebana.
((This is painted on a long canvas!))
*Special: $4 Glasses of House Wine!
https://www..../event/338841
Sept. 28, 'Rustic Sunflower'
Did you know!? The scientific name of sunflowers is Helianthus, Helia for sun and Anthus for flower. Brighten up your home with a rustic painting of a sunflower!
https://www..../event/344519
*** Black Light Classes!!! ***
During the first week of October (along with some other dates during the month), we're offering some very special classes where we'll turn out the lights and paint in the dark! Your fluorescent paint colors will glow with each brushstroke as the black light shines down on them… Wear white to glow along with your masterpiece!
*Learn more:
https://www....llseeyousoon-
Oct. 6 'Paris In The Rain'
Customize 'Paris in the Rain,' to match your favorite room in your house. Whether it be a different colored umbrella or different style of dress, this is your time to make it your own!
((This is painted on a long canvas!))
https://www..../event/357719
Oct. 7, DIY Chunky Knit Blanket
During this one-of-a-kind event, we will guide you step-by-step through hand knitting a warm, soft chunky knit blanket. No needles or knitting experience is required and all supplies will be provided.
*Special: Your First Glass of House Wine (or Beer) and light snacks are included with admission!
https://www..../event/351476
AND MORE!
These are just a few of the many amazing classes we're offering throughout these next few months! As the different seasons and holidays arrive, we'll be hosting more and more special, themed classes! Make a blanket to stay warm this winter, create some wooden tea trays for serving your guests during the holidays, or make some paintings to hang in your home and decorate it for Fall, Winter, and all of the upcoming holidays!
Whether you're making a work of art for yourself, or a handmade gift for someone special, Pinot's Palette is the perfect place to do it! Bring your girlfriends for a girls' night out, you significant other for a date night, or your 21+ family members to spend time together as you paint, drink, and have so much fun!
*** The Importance Of A Girls' Night Out ***
-- It gives you a (much-needed) break --
You need a break! Work, home, social media…..life gets exhausting. Having a girls night out is a great stress reliever, especially because of the emotional connection.
-- We All Need Some Girl Time --
Speaking of emotional connection, we need our girl talk! We learn something new or interesting, and of course, the hilarious stories that make your stomach hurt from laughing so hard are the best.
-- To Reconnect --
When we get together in person with our girlfriends we get into deeper conversations, details that are only shared in person. We open up, confide, bond over similar experiences, and provide support. You get to see facial expressions and have conversations that you may not have online.
-- A Boost Of Confidence --
Being surrounded by a group of fun, positive, supportive, uplifting women that can you can relate to can make you feel great…and those compliments on your beautiful smile and your outfit don't hurt either.
-- To Remind You That Just Because You're With Someone, It Doesn't Mean You've Become One Person --
Before you met your significant other, your girls were your soul mates. Don't forget that! They were there before, and they will be there after, should your relationship not work out.
All healthy relationships require a balance of time and hanging out with people other than your partner.
-- Your Girls Keep You True to Yourself --
If you've been working too much, attached at the hip to your significant other or decided it would be a good idea to buy a toe ring, a girls' night out is there for your "A Team" to evaluate and call you out if needed. They know you better than most and won't be afraid to hold back. You need those nights to stay grounded.
-- To De-stress --
Don't let your work and responsibilities overpower your life! Family and friends are there to serve as a natural buffer for the stressful aspects of your everyday, so use them to help shoulder some of the load. Spending time with loved ones is always rewarding and can help you fully decompress after the most stressful days, so don't forget to put the time in; you'll find that friends and family could be the cure for your stress.