Gift Ideas For All Of The Wine-Lovers In Your Life.
We all have that one friend (or if you're like us… quite a few of those friends) who LOOOOOVE wine! No matter the color, variety, flavors, or if it comes in a bottle or box, they love all things "wine", making them pretty easy to buy for.
But aside from the "go-to" hostess gift, or housewarming preset in the form of a bottle of wine, there are some pretty awesome wine-lovers present ideas out there for any occasion!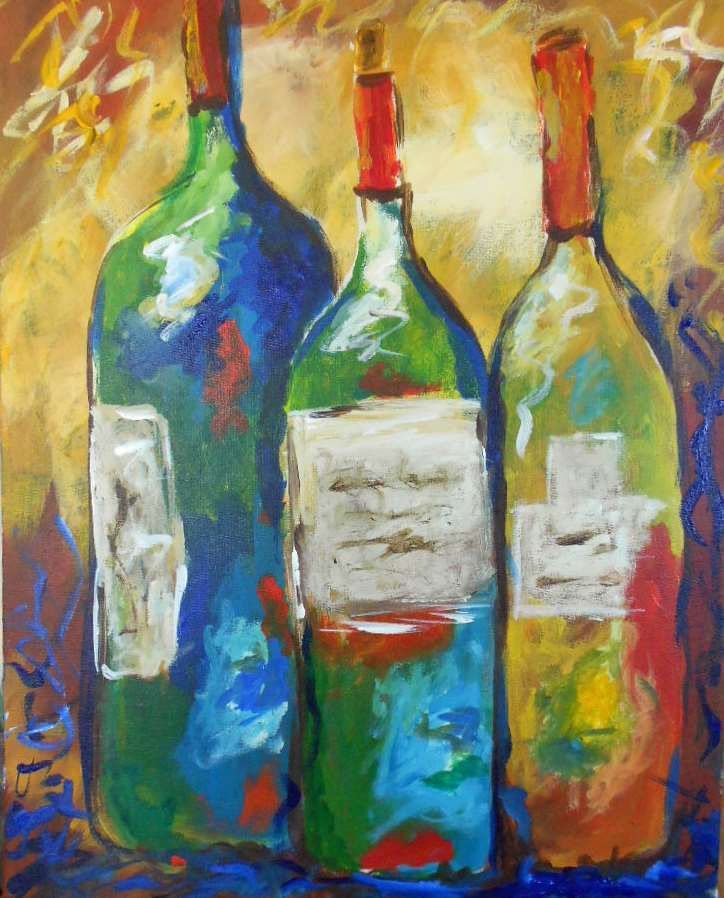 Whether you're shopping for a gift for your significant other, family member, or best friend, if they love wine, they'll love these gifts.
Enjoy!
* A Painting And Wine Class
Come out to Pinot's Palette for a painting and wine class where you'll get to spend time with all of the wine-loving friends in your life as you listen to music and make some fabulous artwork to take home with you.
No prior painting experience is needed, as our classes are meant for the first-time painter; Our talented instructors will walk you through the painting, step-by-step, encouraging you the whole way through.
Leave the class, amazed at what you created, and eager to come back and paint some more!
*A Wine-Themed Work Of Art
If you're looking for a handmade gift to gift the wine-lover in your life, we can help with that, too! Keep an eye on the calendar for one of the many wine-themed paintings we have in our library and make it as a handmade present! There's nothing like a handcrafted gift from the heart to show someone just how much they mean to you. <3
* Raspberry Flavored Sparkling Wine Fizzers
Once you plop one of these fizzers into your glass, it will not only give off a delicious flavor, but it'll also dissolve into edible glitter, allowing you to have a truly Instagram-worthy drink.
https://www...._adv_xasd0002
* Initial Bottle Stopper
Consider this a not-so-subtle way to let everyone else at the party know which bottle is theirs. But really, this rose gold monogram is a cute way to personalize even the most basic wine bottle
https://www....[src|[ch|[lt|
* 3-in-1 Wine Chiller
Once frozen, your wine-loving pal can stick this chiller in their bottle of white to keep it cool, aerate it, and pour a glass with ease.
https://www....[src|[ch|[lt|
* Wine Rack
This rose gold wine rack, which doubles as dining room décor, holds six bottles at a time. Because their coveted stash deserves to be treated with the best care.
https://www....[src|[ch|[lt|
* Wine Cork States
Since they're just as proud of their wine cork stash as they are their home state, give them this state-shaped wooden display that holds 30 different corks
https://www....=subaffiliate
* Wine Socks
A note to everyone in their life that when their feet are up, the wine should be flowing. Better yet, pair these socks with a bottle of their favorite red or white, so they can get started ASAP.
https://www....[src|[ch|[lt|
* Wine Freeze Cooling Cups
A wine lover has great taste, which means they won't even bother drinking a lukewarm glass of rosé. With these two freezable glasses, they can keep their chilled wine at the ideal temperature.
https://www....|[ch|[lt|sale
* Wine Glass Markers
Give these LOL-worthy drink markers to your friend who loves hosting parties. Brad, Chad, Josh, Ryan, Cody, and Mitch make the perfect company.
https://www....[src|[ch|[lt|
* Insulated Wine Carrier Tote
Arrive in style at the next BYOB party with this over-the-shoulder bag, which can keep two bottles of wine cool at one time. It also comes with a corkscrew to help get the drinks flowing, stat.
https://www....|[ch|[lt|sale
* Wine Saver
For the days when finishing the bottle is too ambitious, the Vacu Vin creates an airtight seal that helps your favorite bottle stay fresh for at least a week.
https://www....[src|[ch|[lt|
* Portable Cupholder
Sure, you could balance your wine glass on the bathtub ledge, but this portable cupholder will make you feel so much fancier. You can even switch things up and use it to hold your IPA.
https://www....[src|[ch|[lt|
* Marble Wine Chiller
Not only does this marble wine cooler keep her bottle chilled, but it looks seriously chic while doing so.
https://www....[src|[ch|[lt|
* Wine Wipes
Along with protecting teeth from pesky wine stains, these individual wipes also cleanse the palate, making them ideal for vineyard trips or wine tastings.
https://www....[src|[ch|[lt|
Share View our class calendar | A gift certificate is another great gift idea