Get The Grill Going Because It's 'National Grilling Month' And We've Got Some Delicious Recipes You MUST Try, Today!
Grab some charcoal or a tank of propane and your lighter…. It's grilling season!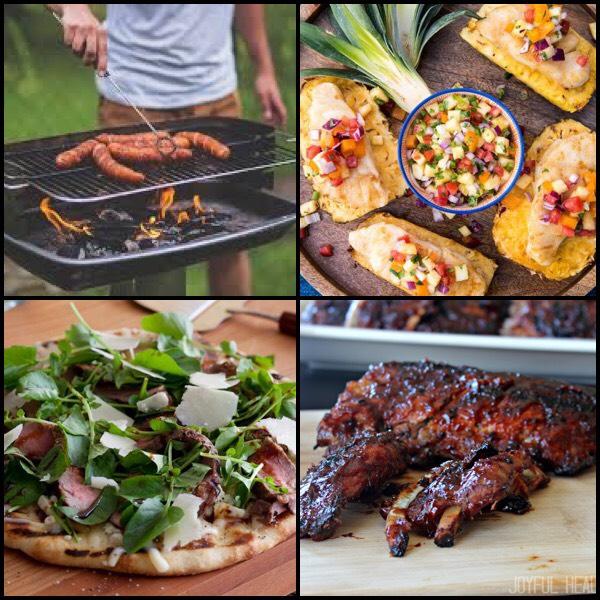 July is dedicated, specifically to the outdoor pastime, claiming the title,'National Grilling Month'! Be a part of all of the fun that this month and entertaining way of cooking has to offer and check out these excellent recipes, ASAP! Have a quiet night at home with the family or close friends as you grill out, sit and enjoy the nice weather, and have a cold drink or two. If you're looking for the perfect recipe for your next cookout, large or small, we've found some great recipes for you to make. From healthy and vegetarian to classic recipes and unique ones to try, we'e got something for everyone, so get those ingredients and get cooking!
*CLASSIC GRILL RECIPES
(1)Balsamic BBQ Chicken
*This recipe calls for an amazing balsamic bbq glaze that will taste amazing on chicken or steak, brought to you by Giada De Laurentiis
https://www....ecipe-1953568
(2)The Ultimate BBQ Baby Back Ribs (picture, shown above)
*Cooked low and slow in the oven then kissed by the fiery char of the grill, these ribs will fall of the bone with their tender texture and tangy, sticky, flavorful sauce. They're finger-licking good!
https://www....by-back-ribs/
(3)Perfect Grilled Steak With Herb Butter
Perfect Grilled Steak with Herb Butter features a homemade dry rub and melty herb butter finish. This easy grilled steak recipe is absolutely mouthwatering!
https://iowa...-herb-butter/
(4)Easy Grilled Pro Chops
*Marinated in a sweet and spicy sauce, grilled to perfection and easily-paired with a wide variety of side dishes.
https://www....ecipe-2106547
*EAT HEALTHY AND GRILL SOME FISH!
(1)Grilled Fish On Pineapple Planks (picture, shown above)
This elegant yet incredibly easy preparation uses almost all the parts of a pineapple to yield tasty fillets of bass or snapper
https://www....salsa-3714282
(2)Grilled Fish Tacos
Take your tacos to another level by adding some fresh fish and other flavors into the tortilla!
https://www....ed-fish-tacos
(3)Grilled Lemon Pepper Halibut and Squash Foil Packs
Grilling foil bundles is the secret to creating moist and flavorful fish and veggies.
https://www....-e57fdd12f89b
*UNIQUE AND DELICIOUS RECIPES
(1)Grilled Pierogies and Keilbasa
*Creamy, cheesy pierogies pair perfectly with smoky, zesty sausage for a match made in Heaven!
https://www....ecipe-1973755
(2)Grilled Lasagna
*Light and flavorful lasagna ingredients, packed nicely into an easy-to-clean-up foil pack.
https://www....ecipe-2105765
(3)Bobby Flay's Pizza With NY Strip, Blue Cheese, and Balsamic Glaze. (picture, shown above)
*Rich, tangy, salty, and savory flavors come together for this one of a kind pizza by none other than grill master, Bobby Flay!
https://www....ecipe-1948303
*VEGETARIAN DISHES ON THE GRILL
(1)Beer-burshed Tofu Skewers
Tofu gets a grilled treatment in this recipe with a sweet brown beer glaze that's brushed on both before and while the tofu grills. The flavor and texture is a delicious contrast with the hearty, chewy, nutty barley
http://www.c...kewers-barley
(2)Grilled Portabello and Poblano Tacos
A Mexican-inspired classes, made up of fresh and hearty veggies that can be dressed in any way you love most!
http://www.m...poblano-tacos
(3)Easy Grillable Veggie Burgers
Made with flavorful spices and flling ingredients like black beans and rice, this burger is actually grillable, allowing for easy grilling and flipping without the messy crumbling! This one's a homerun for sure!
https://mini...ggie-burgers/
*DELICIOUS SIDES
(1) Grilled Mixed Vegetables
http://emeri...ed-vegetables
**Guide for grilling veggies:
http://www.e...tables-guide/
(2)Grilled Baked Potatoes With Chive Butter
These supereasy, indulgent potatoes are based on a recipe Brooklyn butcher Tom Mylan found in a South Dakota centennial cookbook. They're layered with pats of chive and sour cream butter, then wrapped in foil and grilled until soft and delicious.
https://www....-chive-butter
(3) Roasted Corn On The Cob
Perfectly-cooked corn not he cob, finished off with a sour cream, parmesan, and chili powder brushed-on topping.
https://www....n-on-the-cob/
(4)Grilled Bread With Pesto, Burrata, and Tomatoes
Grilled, crunchy texture with flavorful and fresh pesto and tomatoes makes this the perfect summer side dish!
https://www....atoes-recipe/
**More, amazing grilling side dishes to try this summer!
https://www....side-dishes#1
Cooking is an art form! Try your hand at another creative outlet like our painting classes!
While you're enjoying a little time off this summer grilling out and doing other fun things with loved ones, why not come in for a painting and wine class at Pinot's Palette?!
If you live in Tustin, we're right around the corner from you, located in 'The District', a great shopping center and entertainment hub in Orange County! We make the perfect event for everything from a fun and unique date night, an awesome girls' night out experience, and we even offer private events! When you view our classes on our website, you'll be viewing our schedule for our public classes, but you can also book a painting party with the guest list of your choice! Come in to celebrate a birthday, bridal shower, reunion, retirement, and more with friends and family, sharing their artistic sides, together. Make memories that will last a lifetime with a souvenir to treasure forever with one our classes.
*Learn more about our private parties, here:
https://www....ivate-parties
We also play host to some great corporate events, too! Why not book your next work party or team building event with us? We offer several styles of paintings that incorporate team building strategies, encouraging the whole office to work together, creating a stunning world of art!
*Read more about corporate events, here:
https://www....porate-events