Get Crafty This Season With These Dollar Store Projects!
We LOVE to craft and when there's a way to do it for cheap, well that's even better!!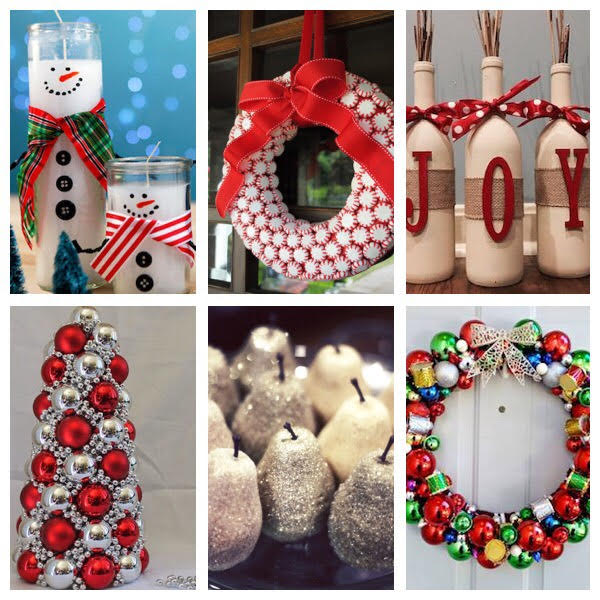 We've found some amazing, totally do-able holiday crafts and decorations that can be made with $1 items! Most of the supplies can be found at your local Dollar Tree, but some of the tutorials suggest places like Walmart and craft stores, as well!
Check out some of these ideas and try some this season! Each one is easy to customize with the colors and styles that fit your style and home's decor and are pretty do-able for first time crafters. Get the kids to help with everything from the shopping to the actual creating of the crafts, and you'll make some special memories in the process!
There are TONS of ideas out there on site like 'Pinterest' and the 'Dollar Tree' website, so be sure to search for more excellent ideas! The lists of craft tutorials we provided, contain projects that are ALL adorable and fun to make, but we listed out top 3 favorites to highlight!
(1) The ornament wreath!
*Made from a Dollar Store wreath form, plastic ornaments, and even some pretty ribbon for $1, this is at the top of our list! Customize it with any colors you can imagine and hang it on your door for all to see!
Get the Tutorial here:
http://www.d...ament-wreath/
(2) Glittered Fruit
*Faux fruit, white paint, glitter, and spray adhesive turns dollar tree fake food into glittering beauties! We love the idea of glittering some pears with white, silver, or gold sparkles and then the sky's the limit with ways to use them. Arrange them in a bowl or apothecary jar for a stunning decoration that'll go anywhere, or line them down a table runner, mixed with some greenery, flowers, or ornaments for a gorgeous tablescape.
(3) "Joy" Wine Bottle Centerpiece
*Put those leftover wine bottles to good use with some spray paint, ribbon, and wooden letters! The tutorial is for 3 bottles that spell "joy" but you could do these any way you wish! Make them spell anything, in any color scheme OR even decorate them individually and add painted wooden shapes instead of letters!
See the full list here-
100 Dollar Store Craft Ideas:
https://www....istmas-decor/
Also....
Check out additional ideas here-
40 Festive Dollar Store Crafts:
https://www....an-easily-diy
Come in for a painting and wine class after you've spent some time, getting in the creative zone! A 2-3 hour class at Pinot's Palette is always a good idea, since wine and painting are two things that go, amazingly well, together! Bring friends and family along for a class to share in the fun and you'll all leave with a souvenir, handmade, masterpiece that you'll cherish years to come!
Sign up on the link below and purchase some gift certificates while you're on our website or in a class! Gifting someone with a fun night out is unique, thoughtful, and practical! Show your loved ones how much you care and give them the gift of a painting and wine class in Orange County, or even in another state! We have several locations across the U.S. so buy some certificates for everyone you know and send them their way!
Have a very Merry Christmas and the happiest of New Years!
Share Sign Up For A Class With Us! | Purchase a gift certificate!