Fall Recipes, Drinks, & More Things That Make The Season So Great!
"Life starts all over again when it gets crisp in the Fall." – F. Scott Fitzgerald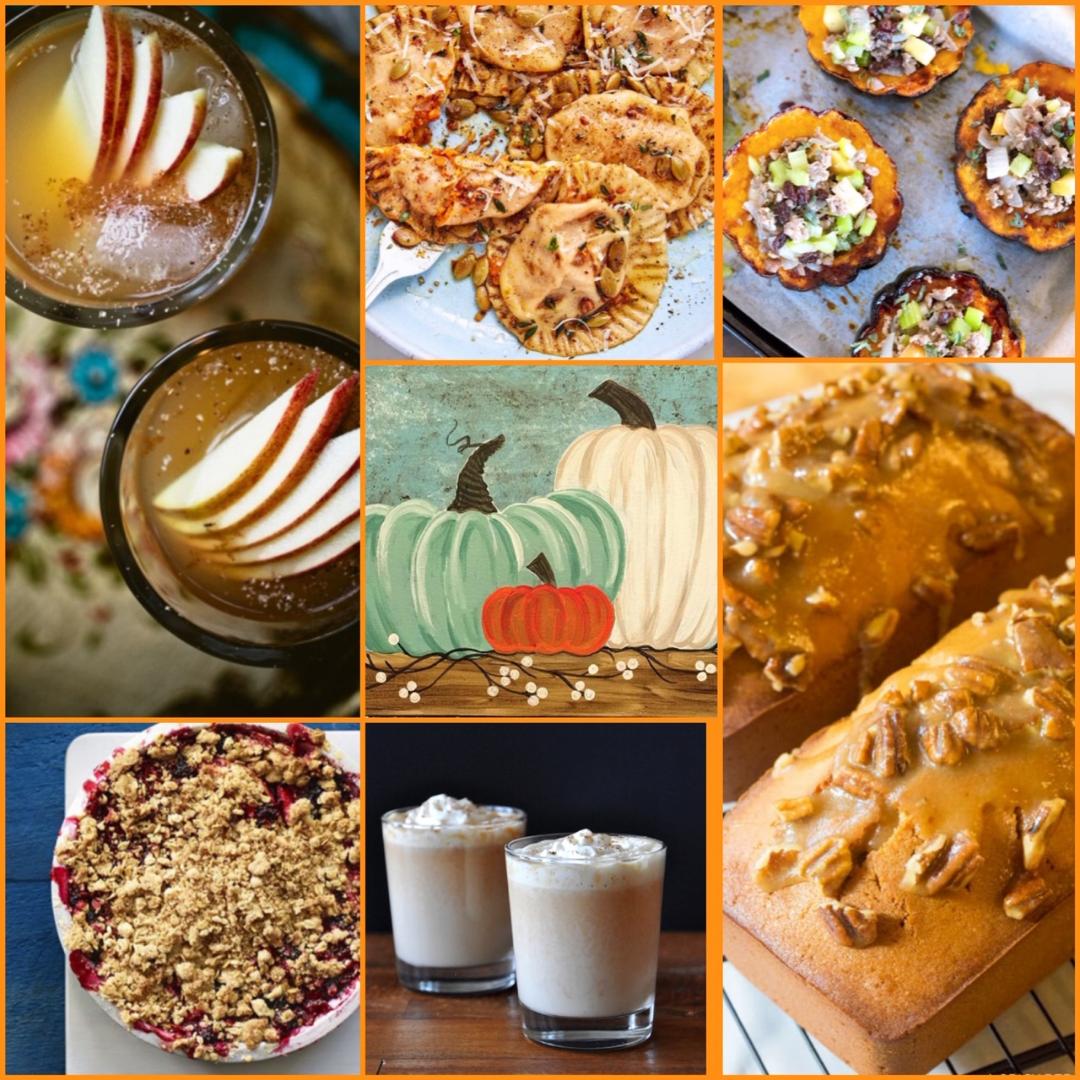 Autumn is such a special time. So many things have ended, like Summer and the warm weather, but so many things are just beginning; We're eager to welcome the final holidays of the year, like Halloween, Thanksgiving, and Christmas, and are nervously anticipating the New Year and all that it will bring.
The air gets crisp, the days grow short, and there's just a wonderful feeling of happiness, beauty, and comfort in so many of us. Along with the comforting feeling of the season, comes the desire for warm and comforting foods. While there's no shortage of incredible Fall recipes out there, we've found some of our favorites to share with you. Try them out for family dinners; Make them for your next date night; or Keep them on hand for the holidays, whether you're hosting or bringing a dish to someone's house.
However you utilize these recipes (or any of your favorite ones), we're sure they'll keep you happy and full, all season long… and probably for many months, after!
— — FOOD RECIPES — —
Many of our favorite Fall recipes are comforting, warm, sweet, and savory, because when we think, 'Autumn', we think delicious food!!
*Harvest Chicken Casserole
A whole meal, full of color and flavor, in one dish? Yes, please!
https://www....en-casserole/
*Pumpkin Ravioli with brown butter sauce and pecans
This is a great recipe to use during the holidays, as it contains lots of seasonal ingredients: pumpkin, pecans, nutmeg.
https://www....violi-recipe/
*Slow Cooker turkey Chili
The BEST turkey chili made healthier; It's hearty, thick, filling and full of flavor!
https://chef...turkey-chili/
*Honey Garlic Glazed Salmon
The most addicting salmon recipe ever.
https://www....almon-recipe/
*Maple Rosemary Pork Tenderloin
Pairs perfectly with the roasted potatoes.
https://www....rloin-recipe/
*Enchilada Meatballs
This will be your new obsession.
https://www....balls-recipe/
*Slow Cooker Balsamic Pot Roast
A holiday-worthy dinner, courtesy of your slow-cooker.
https://www....roast-recipe/
*Pumpkin Brownies
The Yummiest Pumpkin Brownies You Will Ever Taste! Pumpkin, Chocolate, And Spices Unite To Make One Pan Of Deliciousness That Will Sure To Satisfy Anyone's Pumpkin Addiction.
https://lill...kin-brownies/
*Cinnamon Apple Cheesecake
An attractive topping of cinnamon-spiced apple slices and a homemade oat-and-walnut crust make this creamy dessert a definite showstopper
https://www....e-cheesecake/
*Apple-Blackberry Crisp
This apple-blackberry pie filling is by turns tart, sweet, and juicy — pie perfection with an easy, flaky crumb topping.
https://www....cipe-wdy1114/
*Pecan Praline Pound Cake
Pound cake just got a whole lot sweeter with this pecan praline topping. Serve it warm with a scoop of vanilla ice cream and this dessert is the best way to end a fall dinner.
https://www....e-pound-cake/
_____________________________________________________________________________________
For an extra-special touch of homemade food...
***We LOVE The Nutramom (
https://thenutramom.com
) for the delicious array of recipes, not just for Fall, but all seasons!
The best thing about Liz, the creator of this fabulous website, is that she incorporates SO MANY types of recipes for those that are looking for Gluten Free, Dairy Free, Vegan, and Paleo (among others). It can be hard to find some really scrumptious GF and Vegan things sometimes, and at
https://thenutramom.com
you're sure to find tons of amazing things to make for yourself, your family, AND to keep on hand with all of the upcoming holidays!
((While it's incredibly hard to select just one of our many favorite recipes, we highly-recommend the Acorn Squash recipe)).
It's colorful, comforting, full of flavor, and would look stellar, setting on the table at Thanksgiving… oh, and the most surprising part of all? It's Paleo! If you or your dinner guests want something deeeeelicious that meets the their Paleo dietary needs, This. Is. It. :)
See for yourself:
https://then...acorn-squash/
_____________________________________________________________________________________
— — DRINK RECIPES — —
These Fall cocktails will be the perfect pair to your favorite dishes, or just to enjoy with friends, any time!
*Cider Punch
This festive cider packs quite a, you know, punch. You would never guess it only has three ingredients
http://notwi...Google+Reader
*Pumpkin Beer Float
Pumpkin beer. Ice cream. A sweet take on a kiddie classic. What's not to love? Inspired by Gal on a Mission, click through to learn how to make your own beer float just in time for Halloween. (For a kid-friendly version, swap the beer for traditional root beer.)
https://blog...n-beer-float/
*Boozy Pumpkin White Hot Chocolate (2 ways)
We like to celebrate all the possible ways to add pumpkin to your drinks.
https://mini...ot-chocolate/
*Autumn Harvest Fall Sangria
Made with red wine and seasonal fruit and spices, this drink is a delicious cocktail for celebrating the glory of autumn!
https://insp...fall-sangria/
— — AND MORE! — —
Take advantage of all the season has to offer! From going out in the nice weather to making some decor for your home, this is a lovely time of year to do so!
*Go To A Fall Festival or Arts and Craft Show!
(Or more, around OC in the Fall)!
https://funo...tions-oc.html
*Do Some Art Projects With The Kids
This is a great way to get small minds, thinking creatively… and best of all- you can make it something the whole family can bond over!
https://www....one-can-make/
*Go To A Movie!
There are so many excellent movies to see in the theaters (out now, and coming out)! Grab some popcorn and candy and watch some with the family, your special someone, or alone!
https://www....review-oscars
*MAKE SOME ARTWORK FOR YOUR HOME!
Decorating for Fall is one of our favorite things! It gets us in the mood for the warm, comfy, cozy seasons ahead and makes our homes bright and cheery! While using adorable store-bought decorations is always great, there's just something about adding in some hand-made pieces to your seasonal collection!
At Pinot's Palette, we have a lot of amazing Fall and Halloween paintings coming up that you and your loved ones will enjoy! Come in and make some artwork and memories as you paint, drink, and have fun at Pinot's Palette in Tustin!
*Learn more:
https://www....dmadeartwork-
Share Check out our entire calendar | More ways to enjoy the Fall