Contribute To The Thanksgiving Day Meal With Some Of These Amazing Recipes
Thanksgiving is just a week away!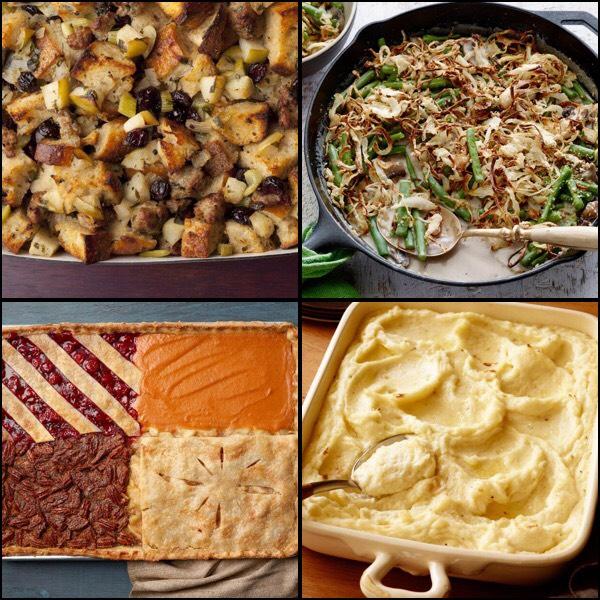 If you haven't already planned the meal you're making or the side dishes you're bringing to the host's house, its time to make that grocery list and get the shopping out of the way! The closer it gets to Thanksgiving Day, the more hectic the aisles and lines will be so grab your items as soon as you can and get ready to be "Wowed!" this year! Enjoy these comforting and traditional Thanksgiving recipes and keep the recipes on hand to use throughout the whole year!
Enjoy!
Mashed Potatoes
For The Pioneer Woman's 5-star mashed potatoes, you'll need the customary butter and half-and-half, but you'll also need cream cheese, which will guarantee the creamiest texture.
https://www....cipe0-2012666
Butternut squash soup
Simmer butternut squash in broth with buttery, sauteed onions, then puree and season. Serving up the flavors of fall simply couldn't be easier.
https://www....cipe1-1957751
Macaroni and cheese
For the perfect mac and cheese, follow Alton's lead — and don't forget your whisk. Mixing together a smooth roux and adding in an egg guarantees the richest and creamiest mac and cheese around.
https://www....ecipe-1939524
Parker House Rolls
These are the perfect all-American dinner rolls — light, buttery and yeasty. They'll be the star of any buffet breadbasket.
https://www....cipe2-1916763
Green bean casserole
Crispy onions, fresh green beans, creamy sauce, this green bean casserole has it all in one bubbling cast-iron skillet.
https://www....ecipe-1950575
Sausage and Herb Stuffing
Ina Garten's sausage and herb stuffing features the traditional flavors you know and love, but it gets an added boost from an unexpected ingredient: Granny Smith apples.
https://www....ecipe-1943434
Balsamic roasted brussels sprouts
Stress-free entertaining is made possible thanks to dishes that can be made ahead, just like this one. Prep the Brussels sprouts and pancetta, then roast about a half-hour before you'd like to serve. Once they're tender and browned, drizzle with balsamic vinegar and get ready to impress.
https://www....ecipe-1996813
Sweet potato casserole
Make this crowd-pleasing holiday favorite the classic way: with buttery mashed sweet potatoes and a crunchy pecan topping.
https://www....erole-3364945
Roasted sweet potatoes with honey and cinnamon
You need only four ingredients to turn out a delicious side that's filled with distinctive fall flavor. Simply drizzle olive oil and honey over cubed sweet potatoes, then sprinkle with cinnamon.
https://www....ecipe-1946538
Perfect cranberry sauce
There's no reason to get out the can opener when homemade cranberry sauce is this easy.
https://www....ecipe-2104277
Gravy
Ina Garten's foolproof homemade gravy gets an unexpected flavor boost from cognac.
https://www....ecipe-1940501
4 flavor sheet pan pie
A clever sheet pan hack gives you quadruple the Thanksgiving pie fun (and saves the time and effort of making four individual pies). Apple, cherry, pumpkin and pecan coexist peacefully in one giant slab that feeds a crowd.
https://www....n-pie-3885733
If you're looking for a creative and fun place to spend time during the holiday seasons, look no further than Pinot's Palette! We make a great place to come in with loved one to paint, drink, and have fun (and relax) throughout the holidays and any time of the year! If you're looking for some fabulous gift ideas, you can come in and paint AND grab some gift certificates while you're here, crossing some names off of your long list! Think about how exciting it will be for someone to unwrap the gift of an experience, knowing that they get to try something new and leave with a handmade souvenir in the end! There's nothing like a gift from the heart, so to give one with extra time and thought put into it, along with an experience where they can make some amazing memories? Even better! :)