Come Out To The City of Tustin Art Walk 2019
The Tustin Parks and Recreation Department will be hosting it's
12th Annual Art Walk & Craft Crawl on October 19th in Old Town Tustin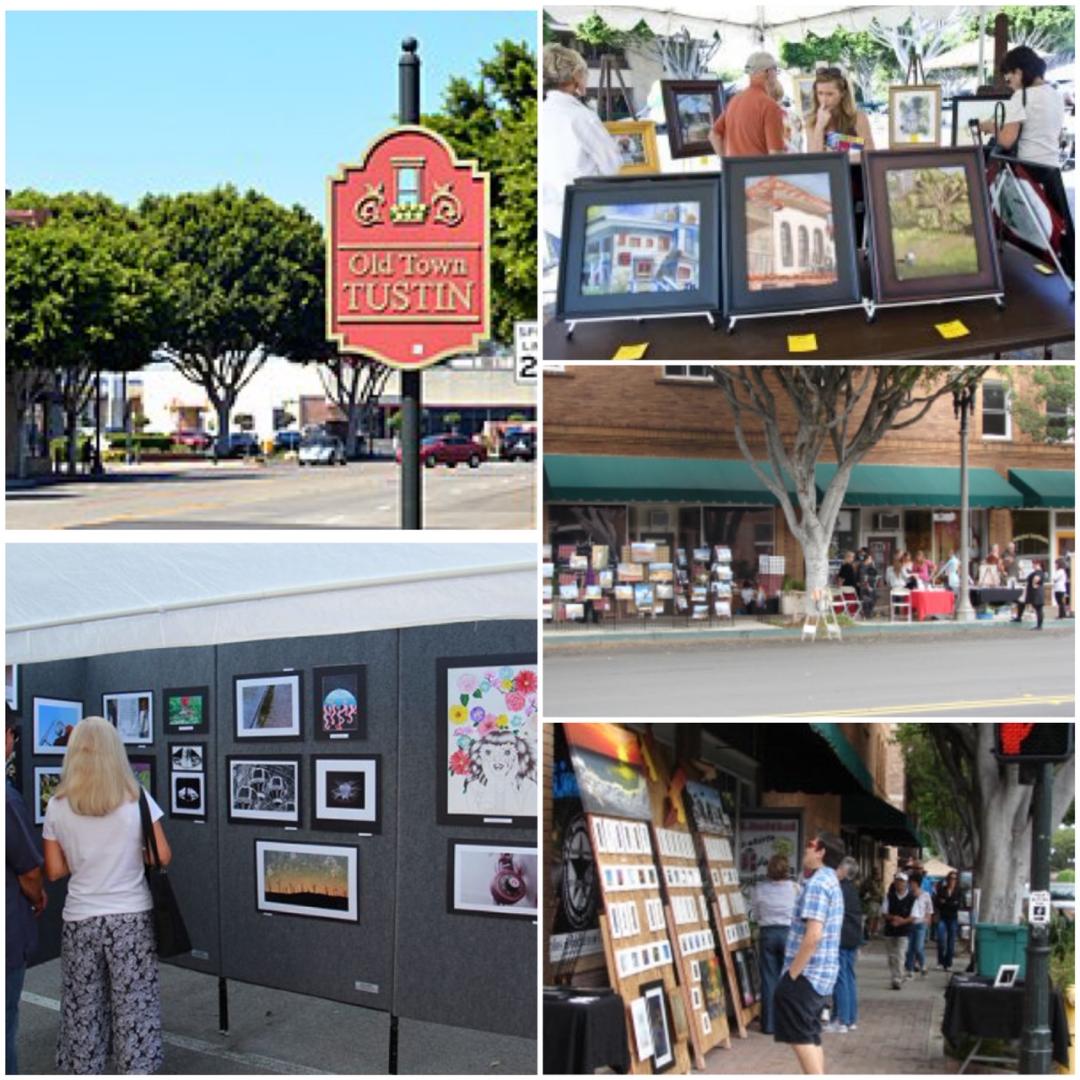 The City of Tustin holds an annual art walk event every October. Each year, the theme varies slightly, but activities and events generally include a plein air contest, historic old town bus tours, beer and wine tasting, photo displays, sidewalk artists, handcraft spaces, kids art activities, and live music. The art walk takes place in Old Town Tustin at El Camino Real and Main Street and the surrounding area.
This year, the Artwalk will be on October 19th!
What To Expect:
- Sidewalk Artists
- Wine and Beer Tasting
- Live Music
- A Kids' Art Village
AND MORE…
Kids Get Creative!
The t-shirt design for the event was selected from a group of submissions by local children artists! The winner of the contest gets to see his or her design on the shirt for this big event!
Pinot's Palette Plays A Role!
We're super excited (and proud) to announce that our very own, Cherisse Lockerd, owner of Pinot's Palette Tustin, was selected as one of the judges for this art walk! With her great love of art and wine, this event will be not only exciting for her to attend, but to participate in, checking out dozens of pieces of beautiful artwork!
We hope you'll take advantage of this amazing display of art in the area and come out to support local artist and take in the sights! Bring the whole family for a fun day out, make it a date with that special someone, or come with friends and get inspired by the creativity and expressive artwork!
**MORE Artwalks Around Orange County:
-- Santa Ana
On the first Saturday of each month, you can attend the Downtown Santa Ana Artwalk
This event is like a free carnival happening across downtown Santa Ana from 6pm-10pm on the First Saturday of each month. There are two main outdoor festival areas with vendors, pop-up artists and performances, over 20 art galleries and studios with rotating art shows and performances and live music!
*Learn more:
https://www....saartwalk.org
-- Anaheim - Nov. 9
The Downtown Anaheim Arts District hosts the Art Crawl Experience four times a year, and the next one up is on November 9th.
The event aims to showcase art in public places, street artisans, pop-up galleries by local artists, and the brick-and-mortar galleries of the Anaheim Arts District. The event features permanent art fixtures on display, live art demonstrations by participating artists, food trucks, vendors with hand-made goods available for purchase, and entertainment. Complimentary rides are available on the Anaheim Resort Transit (ART)
*More:
http://www.d...heim.com/ace/
-- Costa Mesa
*Held on the 3rd Saturday of every month.
The Costa Mesa ArtWalk at Lion's Park launched in June 2019 and is sponsored by City of Costa Mesa and Costa Mesa Parks & Rec. Held in front of the city's new library, the free event features live painting, Silent Disco with DJs, Dance performances and battles, food trucks, and over 35 local artisans and vendors. Visitors to the newest Artwalk in the community will get to see The City Of The Arts in action with live demonstrations right there on the lawn plus games, music, and more.
*More:
https://www....-64303792374#
-- Fullerton
*Held ont he first Friday of every month.
The Downtown Fullerton Art Walk is a monthly event organized by the Downtown Art Community and local retailers to showcase local art, culture, and history. The best place to start is the Fullerton Museum Plaza at 301 N. Pomona. Here you can get a map of participating venues and explore the area. Participating venues and galleries each display original concepts and may feature entertainment, food, drinks, and vendors. Some of the participating vendors are located at Villa Del Sol, Magoski Arts Colony, and Carpe Diem Experience.
*Learn more:
http://www.f...onartwalk.com
If you're looking to make some artwork of your own, come on out to our studio where every day is a great day to make some art! No prior-experience? No problem!
At Pinot's Palette, we're here to help you through the step-by-step process of making a work of art in just a 2-3 hour class! A huge portion of our customers are first-time painters, so don't be nervous if it's your first time… that's what we're here for.
We proudly stand by the belief that anyone can paint! One of our artist will walk you through the painting, encouraging and helping you along the way. You'll be so surprised by what you make, and proud of yourself too, at the end of the class! Leave our studio with your masterpiece in hand and take it home to proudly display for all to see!
** We have some excellent Fall and Halloween themed classes come up:
https://www....dmadeartwork-
** And our full calendar is loaded with great things:
https://www....tustin/events
We hope to see you all, soon, whether it's at the artwork or at our studio! Have fun getting creative with painting class or just finding inspiration at the Artwalk in Tustin or any of the others in the area!
Be sure to keep an eye out for other local art events that are happing around Orange County, too!
Share Vie our full calendar here | Buy a Pinot's Palette gift certificate