Bring All Of Your Loved Ones In For A Painting And Wine Class This Holiday Season!
"Make time for the best things in life"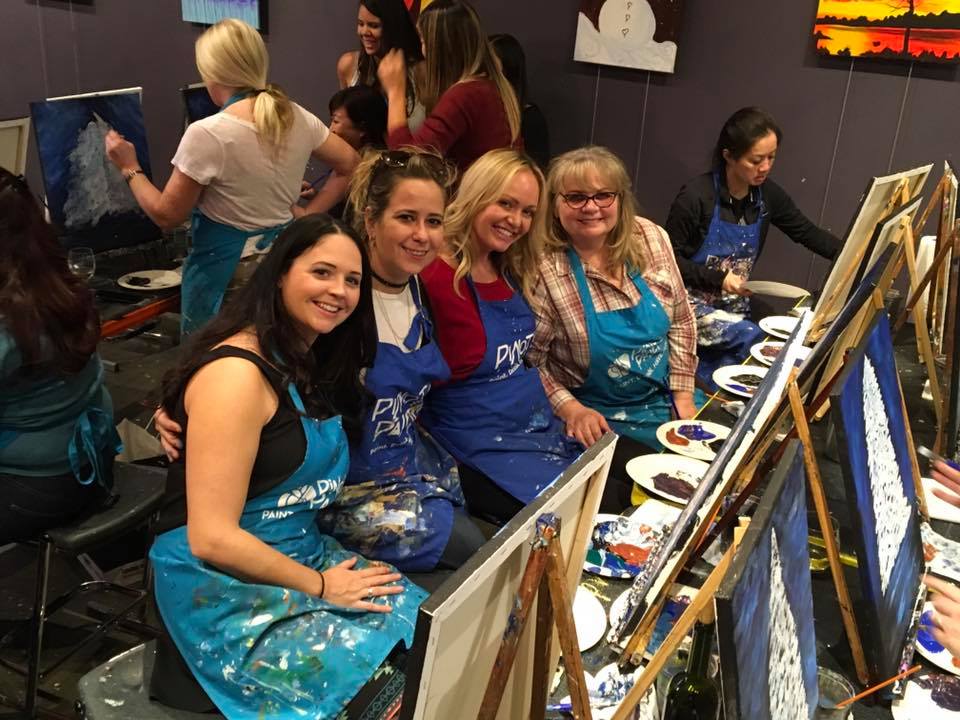 Take some time to spend with loves ones this holiday season! Out-of-town guests, the kids, your spouse, and other family will love to spend time together, making memories and starting new traditions!
This is the time of year when kids have days off of school and college students are home for long periods of time; Work is closed more often, and we take the time to visit with our loved ones. While there are so many fun traditions we all like to continue every year, it's always fun to try out some new things, from time to time!
We live in SoCal, a vacation destination for many people, which might be why we get so many out-of-town guests this season…
The weather is likely much warmer than wherever they're visiting from and we have endless options of fun things to do, sometimes its nice to take a break from the crowds and spend some quiet time together; Take these moments to catch up, make some beautiful memories, and just live in the moment with your loved ones.
There's nothing like a painting and wine class as the perfect way to spend time with friends and family, any time of year! We're a unique and creative place to spend time as you get in touch with your inner-artist; We also make a great place to come as a date night, girls' night out, or just as a place to relax and unwind after a long day of work, whether you're with friends or alone. NO prior experience is needed, as one of our talented instructors will walk you through the class, step by step, encouraging you the whole way through! We have a wide variety of wine and beer if you'd like to enjoy some 'liquid creativity' as you paint and have fun, making a masterpiece and memories that will last a lifetime.
If you want a great way to spend time with your family and friends this time of year, or are in need of some ideas for entertaining house guests look no further than 'The District' in Tustin… Pinot's Palette is the place for you!
*Here are some of the classes we're offering this month:
https://www....alettetustin-
*Be sure to take advantage of our, 'The More, The Merrier' deal, running all December long:
https://www....seatsget1free
***More ways to entertain your out of town guests this season!
(Or things for you and your family do together- no out of town guests, required):
*Go to Downtown Disney instead of Disneyland: Did you know that Disneyland has a drop-off-and-pick-up lot on Harbor Boulevard? Look carefully, you'll see the small sign, somewhat hidden by shrubbery, southwest of where the shuttle buses enter and exit. My suggestion: Take your guests who want to visit Disneyland in Anaheim first thing in the morning, explain to them about Fast Passes and make sure they've downloaded the official app, drop them off at the designated lot, and then park later to meet them at Downtown Disney, where you can get two hours of free parking. You can stroll around Downtown Disney for free. And note that there's an AMC movie theater there that will validate you for an extra two hours of parking.
*Visit the Newport Back Bay: Check out Community Science Sundays at the Newport Back Bay Science Center, from 10 a.m. to 2 p.m. With activities for adults, kids and their parents. There are tidepool touch tanks, see coastal and estuary birds, check out the Teaching Lab, walk a loop trail. Open to all ages. Location: 600 Shellmaker Rd., Newport Beach
http://www.b...ncecenter.org
*Enjoy free dinosaurs at the Natural History Museum: While we're on the topic of Exposition Park, allow me to note that the extremely cool Natural History Museum of Los Angeles County, which has a newly renovated dinosaur exhibit, is free on the first Tuesday of most months, which will be coming up on Jan. 3 (order free tickets online). Also good for the La Brea Tar Pits, which feature Ice Age animals. The Family Plus Membership, good for an entire year, costs $129 and includes admission any time for two adults, four named children, plus an extra guest any time to three different museums including the La Brea Tar Pits and the William S. Hart Museum in Newhall.
https://nhm.org/site/
*See the Space Shuttle: Visiting the California Science Center downtown in Exposition Park is free, and it's fun, too. Kids love it. During the holiday period, you'll need to pay $2 online for advance timed reservations to visit the fascinating Space Shuttle Endeavor exhibit. Note: When you go online to reserve your visit, they'll offer you packages including an IMAX movie, special exhibits and such, but you don't have to buy, just scroll to the bottom of the page to reserve your shuttle ticket. You can also call 213-744-2019 and pay $3 each to reserve tickets in advance. (When it's not a peak period, you don't need a reservation). You will have to pay $12 for parking when you get there, or ride the Metro Expo line. Note that some special attractions inside the museum charge additional fees.
https://cali...ncecenter.org
*Visit the Los Angeles County Museum of Art: This fascinating museum on Wilshire Boulevard has a membership program called NexGen that gives free admission to kids 17 and under, with one adult also admitted free, all the time, every visit. Even babies and out-of-towners can join. Exhibitions that require a special ticket are not included. Ask for a membership card at the ticket window when you get there or call 323-857-6512. It's open extended holiday hours Dec. 26-Jan. 8 from 10 a.m. to 8 p.m. Regular adult admission is $25. Note that L.A. County residents get in free every Monday, Tuesday and Thursday, 3 p.m.-5 p.m. and Friday: 3 p.m.-8 p.m. Location: 5905 Wilshire Blvd. L.A
http://www.lacma.org
We hope to see you soon for a painting and wine class at Pinot's Palette, Tustin, where you'll paint, drink, and have fun!
Have a wonderful holiday season, spending time with the ones you love the most and making memories that'll last forever!
Cheers!
Share View our calendar and sign up for a class | Purchase some gift certificates!