Peter Mondavi, Jr. pays a visit to Pinot's Palette in Tustin!
What do you do when a wine celebrity comes to your studio? Drink lots of wine, of course!!!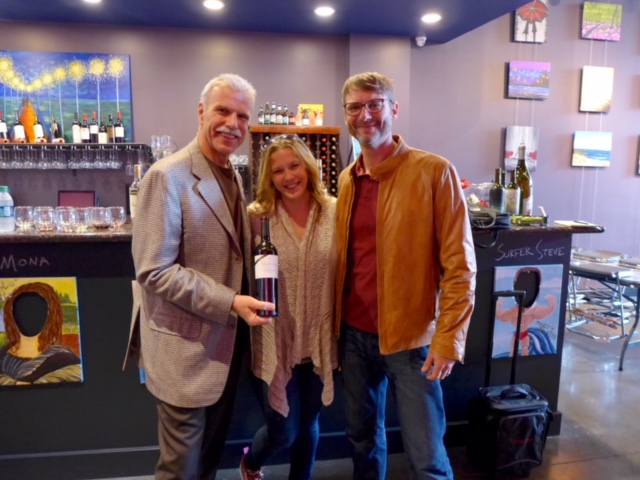 We recently had the pleasure of hosting Peter Mondavi, Jr. for a wine tasting at the studio while we were looking to carry some new, delicious wines. Peter heads the Charles Krug-Peter Mondavi Family Napa Valley Winery. He is the son of Peter Mondavi and nephew of Robert Mondavi, which, if you're into wine, you're likely familiar with those names. He offered us some amazing wines to taste while we delighted in the story he told about his family's long history in the wine business. The "rags to riches" story of his grandfather's journey from Italy to California is truly inspirational manifestation of the American Dream! "The history of the family reads like a classic American success story."
In 1906, Cesare Mondavi (Peter, Jr.'s grandfather) emigrated from Italy to Minnesota. In 1908, he returned to Italy to marry his bride, Rosa and they moved back to Minnesota for a while, eventually moving to Lodi, California. That is where they began operating a wine grape shipping firm in 1922, at the beginning of prohibition. The family's formal entrance into the wine business began in 1943, when Cesare and Rosa purchased the Charles Krug Winery for their sons, Peter (Peter, Jr.'s father) and Robert. (*Charles Krug, established in 1861, is Napa Valley's oldest winery).
Peter, Sr. worked on improving wine making techniques in the mid 1940's and the family developed an extensive program to improve vineyard quality and enhance winemaking techniques. "Under Peter's stewardship, the winery set milestones for innovations, including cold fermentation for white wines, and sterile filtration techniques that produced crisper, livelier wines."
Upon the death of Cesare, Rosa became the president of Charles Krug and, along with her sons, operated the winery until 1965 when Robert moved a few miles south to Oakville to set up his own winery and Peter was named the president of Charles Krug (in 1967). Peter was named a "Living Legend" by the Napa Valley Vintners Association in 1995! February 2016, at the age of 101, Peter Mondavi, Sr. passed away, but his sons Peter, Jr. and Marc continued his legacy by leading the way at Charles Krug.
Pinot's Palette is pleased to announce that some of the wines we offer at our studio include some of the best wines from Mondavi and Charles Krug. Here are is a list of some to look for!!!:
- Robert Mondavi Winery (50th Anniversary) Napa Valley, Fume Blanc (*A dry Sauvignon Blanc), 2015
*rich layers of fruit; lemon-creme, vine-ripened peach, guava are joined by a bit of subtle ginger
- Robert Mondavi Winery, Oakville, Napa Valley, Cabernet Sauvignon, 2013
*deep, enticing wild berry and black currant fruit in a complex ribbon of flavor; powerful, yet refined taste.
- Charles Krug, Napa Valley Cabernet Sauvignon, Estate Bottled, 2011
*bold tones of black currant and pepper; hints of vanilla, blueberries, wth softly balanced tannins
- Charles Krug, Carneros-Napa Valley, Pinot Noir, 2014
*a delicate pinot; sweet cherry, vanilla, and raspberry, and a long finish, rounded out by a burst of cherry and cream soda
- Stag's Leap Wine Cellars, Napa Valley, "Artemis", Cabernet Sauvignon, 2014
*aromas of black cherry, currants, berries, and a hint of sweet oak.
We hope you have found the history of this incredible family and their winery as intriguing as we do! Come see us for a class and try some of the newest additions to our wine collection. There are a lot to choose from, and something for everyone!
Share Learn more about Charles Krug wine HERE | Read all about Robert Mondavi Winery HERE