Paint a Series!!
We offer A LOT of different paintings at Pinot's Palette- but what about painting a few of them that go together? Why not paint a series that you could display together in your home?!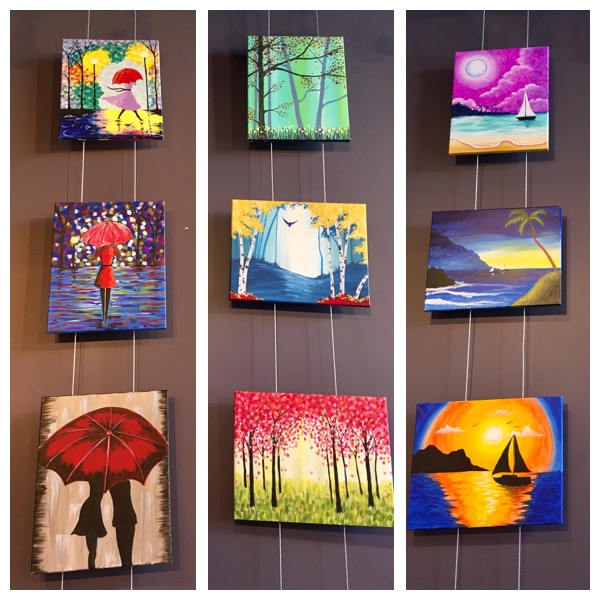 We've been located in Tustin for over 3 years and have developed a pretty good sense about what our customers like to paint most! We see the same paintings (and same themes in paintings) do well over and over again, with a lot of positive feedback about how much customers enjoyed the painting or how well it fits in with their home decor.
This being California, we know our customers love their beach and palm tree paintings! Landscape paintings are super popular in various paint and sip-type studios across the U.S., since they tend to be a little easier to paint.
Since Spring is all around us for the next few months, floral paintings are widely requested right now, so you'll see a lot of those coming up on our calendar. Flower-themed paintings always turn out amazing!! Since flowers are one of the easier subjects to paint, our customers are oten more loose and free with their paintings, adding in their own shape and color to their flowers. This is great to see, since all of the paintings turn out so different and unique to each painter's creativity!
We also rarely meet a person who doesn't love a vanGogh replication painting, so we ALWAYS have those on our calendar! We have the traditional vanGogh replication paintings that people LOVE, but also different versions of them like the classic, "Starry Night." There are location-specific Starry Night makeovers (Like 'Starry night over L.A.'), color variations (like 'Psychedelic Starry Night'), and simplified versions (Such as 'Simply a Starry Night'). *and MANY more!
Throughout April and May, we have quite a few paintings on the calendar that can be painted and hung together as a collection or series! Putting a few paintings together that flow with one another is a big art trend and looks great in a wall art collage. Check out Pinterest for some super fun and modern ideas for decorating a section of a wall in an "art collage" style, and use the paintings you'll create that go together in that collage!
Some of the upcoming painting we are offering, that would look perfect together are:
Beach Theme: April 15 & 26; May 13 & 27
Floral Theme: April 8, 22, & 30; May 6, 13, 14, 20, & 24
***Check out our Mother's Day schedule for Sunday, May 14 for some gorgeous floral paintings! Makes a WONDERFUL outing for Mom on her special day!!!
vanGogh Theme: April 14 & 27; May 6 & 27
***April 14 is a date night 'Starry Night' painting!!!
Enjoy browsing our calendar and maybe even coming up with a few paintings that you think would work well in a series for your home! We hope to see you soon (or maybe a few times over the next few weeks!!) :)