Have Your Next 'Girls' Night Out' At Pinot's Palette!!!
Ladies!!! We are here for you! You're hard-working and fun-loving women who deserve a fun night out for yourselves!!!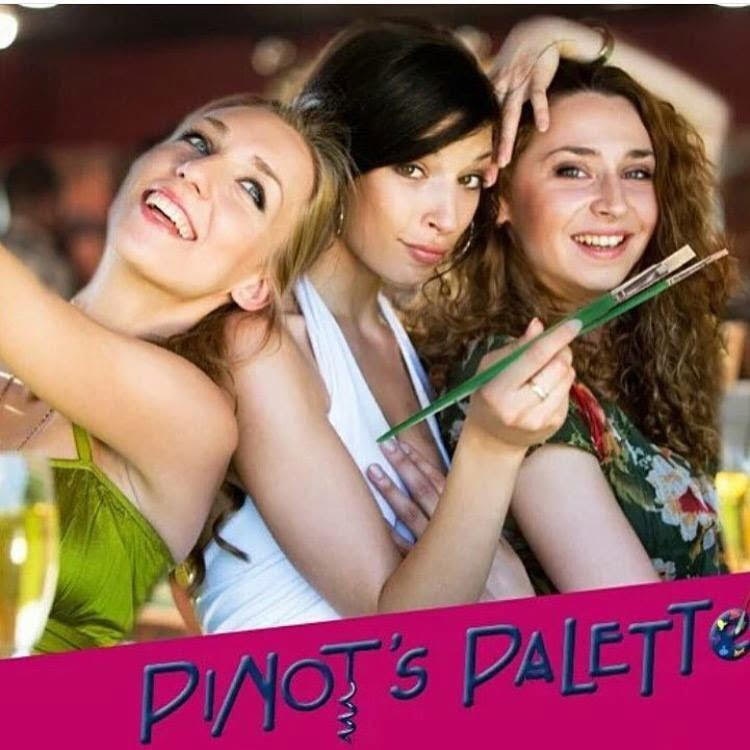 Come out to Pinot's Palette for a super fun time with the girls (or any of your friends and family)! We offer day and night classes at our studio, making it easy for you and the gals to get together at whatever time works best for you all! Pinot's Palette offers a truly unique night out experience that you'll enjoy and want to do over and over again!
Our classes are 2-3 hours (depending on the the painting), and include an experienced artist, walking you through each step of the painting, easily and comfortably...no prior painting experience necessary!! You'll relax, have some wine, listen to music, and paint along with your friends while you spend time together! At the end of the night, you'll leave with a beautiful masterpiece to remember your fun girls' night out forever!!
Make it a full, night-out experience:
Stop by a local bar or restaurant for some happy hour drinks and apps before heading to the studio... or perhaps go out after a class; You can show off your new masterpiece and make everyone jealous :)
Check out some GREAT dinner and drinks recommendations for a fun Girl's Night Out:
http://losan...range-county/
Here are some great ideas for happy hour drinks and food in our shopping center!
You can park once, and hit two places for the evening!
These are all within a VERY SHORT walking distance from our studio:
https://www....pyhoursnearus
**************************************************************************************************
JOIN US FOR A VERY SPECIAL EVENT:
Come Paint and Brunch with us...
Sunday, October 8, (Noon-2:30pm)
*We have the perfect girls' day out event coming up! This fabulous brunch event will be held on October 8!!!
From 12-2:30pm, we will be painting while eating a delicious brunch! Two activities for one price! This event will be such a special way to spend a day out with the girls, painting a beautiful picture of some dresses on hangers, titled, 'Dazzling Divas'. The painting is shown in a beautiful grey, black, and red color scheme; however, this painting is super easy to adjust to any colors you may want, to best match your home!!
Paint and Brunch With Us!!!!!!
https://www..../event/169310
**************************************************************************************************
We hope to see you there and feel free to bring all of your friends to join in on the fun!!! (If you're registering separately, be sure to tell us you want to sit together with all of your girlfriends, so we're sure to put your whole group together at a table!). We think you'll love this night out experience! There are SO MANY paintings to choose from! View our entire calendar (link is listed below), and see which painting makes your heart happiest! Choose a few and try them all! It's a great way to add personal style into your home and a fun way to spend time, getting creative and drinking wine!
We'll see you soon, at Pinot's Palette in Tustin!
Cheers!!!
Share Sign up for the brunch and painting class! | View our entire calendar