Team-Building Events and Other Private Events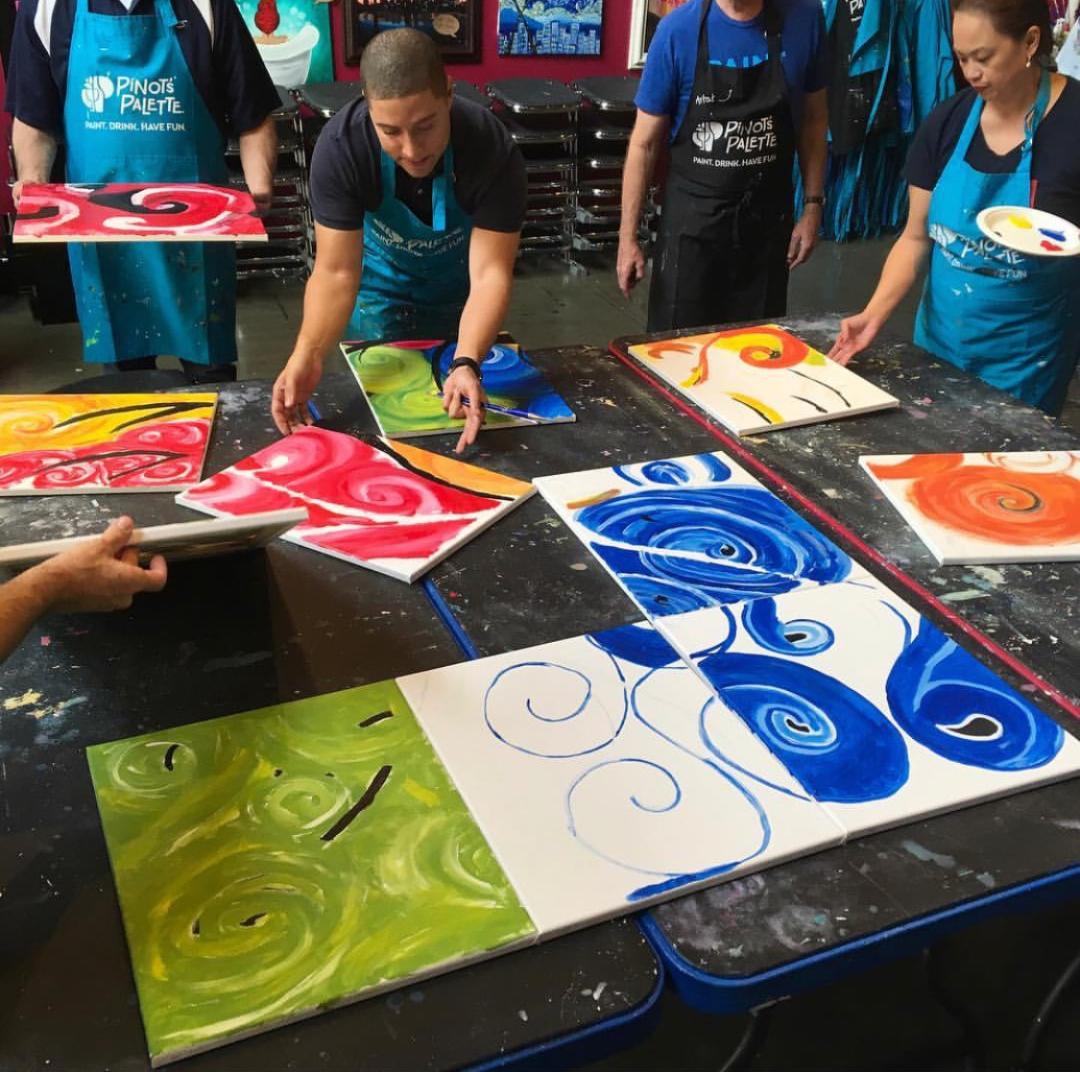 If you've ever been to one of our painting and wine classes, you know just how much fun they are! Now, imagine all of the fun of one of these special events with the painting and guest list of your choice! Celebrate anything you want to with one of our private parties where you and your friends, family, group or club, co-workers, or anyone else gets to spend time together making memories and masterpieces at Pinot's Palette with one of our private events!
**** Corporate/Team-Buliding Events ****
Thinking about planning a unique work event?? Well look no further! Pinot's Palette, Tustin, offers new and exciting ways to host you and your co-workers for a private, corporate paint party! Watch your employees work together to make a masterpiece and learn more about one another as they participate in this unique and creative adventure together!
There are so many options when it comes to Pinot's Palette, such as:
1. Each painter can paint on their own canvas (like in our usual public classes). We have our typical 16"x20" canvases which are the most popular, BUT you can also inquire about the other sizes and materials we offer!
2. Painters can participate in a " Musical Chairs" style class where painters will begin their painting on one canvas, then at some point will switch to another painter's canvas and continue to paint... Then will switch again... And so on until the painting is complete with multiple person's added touches and personal style
3. You can try a PUZZLE Style painting where we take one of our regular paintings and break it up into multiple canvases to paint... Then when all of the pieces are complete, painters will work together together to put the painting back together, making a complete picture. (like the image above)
4. Our most popular style of painting for a Team-Building event is a COLLABORATIVE Painting where we have a larger than usual canvas and co-workers are out into teams and must work together to complete the painting!!!
5. MYSTERY Painting! The party planner can select the painting for everyone to make and it will be revealed when the guests arrive!
OR the painting can be hidden the entire time, so you'll only be able to see the guided example that your artist will be painting with you, step-by=-step. Guests will have fun guessing what the final picture will look like!
With so many options, there's sure to be something for any type of corporate event you may want to plan! So go ahead and visit our website for more info- you can send an email or call for more information and to book your party, as well!!
— About Team Building Events:
https://www....porate-events
***** Other Private Parties *****
It's not only Corporate parties that we host at our studio, but anything you want to celebrate! Whether it's a birthday, retirement, engagement, bridal shower, or just want to come in and paint with your friends and family for the heck of it, Pinot's Palette's got you covered!
Remember that when you host a private event with us, you get to make all of the decisions; From the class time and date, to the painting, music, food, wine, decor, and more, it's your party so plan it how you want to!
We can suggest local places that cater if you're interested in that, or you can bring in your own food. Let us know the type of music you want to listen to and we'll find it for you.
Choose the date, time, and painting that you and your guests would like most and contact us to get your event all set up!
There's nothing like a painting and wine class, EXCEPT for a painting and wine class with the gustiest of your choice!
Spend time in a fun and creative environment, making masterpieces and memories with loved ones and co-workers with one of these special private events, and you'll be glad you did.
We also offer MOBILE PARTIES where we'll bring all of the fun of our painting events to YOU at the location of your choice!
We're happy to work with you on anything you'd like to plan, just contact us, let us know how you want your event to go, and we're there to help!
— Celebrations:
https://www....ivate-parties
— Mobile Events:
https://www....ainting-party
We hope to hear from you soon, and in the meantime, take advantage of our public classes; Our February calendar is filled with fabulous artwork, including lots of great paintings for Valentine's Day!
Check them out, sign up, and come in to get in touch with your inner artist!
Cheers!
Share View our public calendar here | Buy some gift certificates