Our Mobile Parties Are More Popular The Ever! Book Yours Today!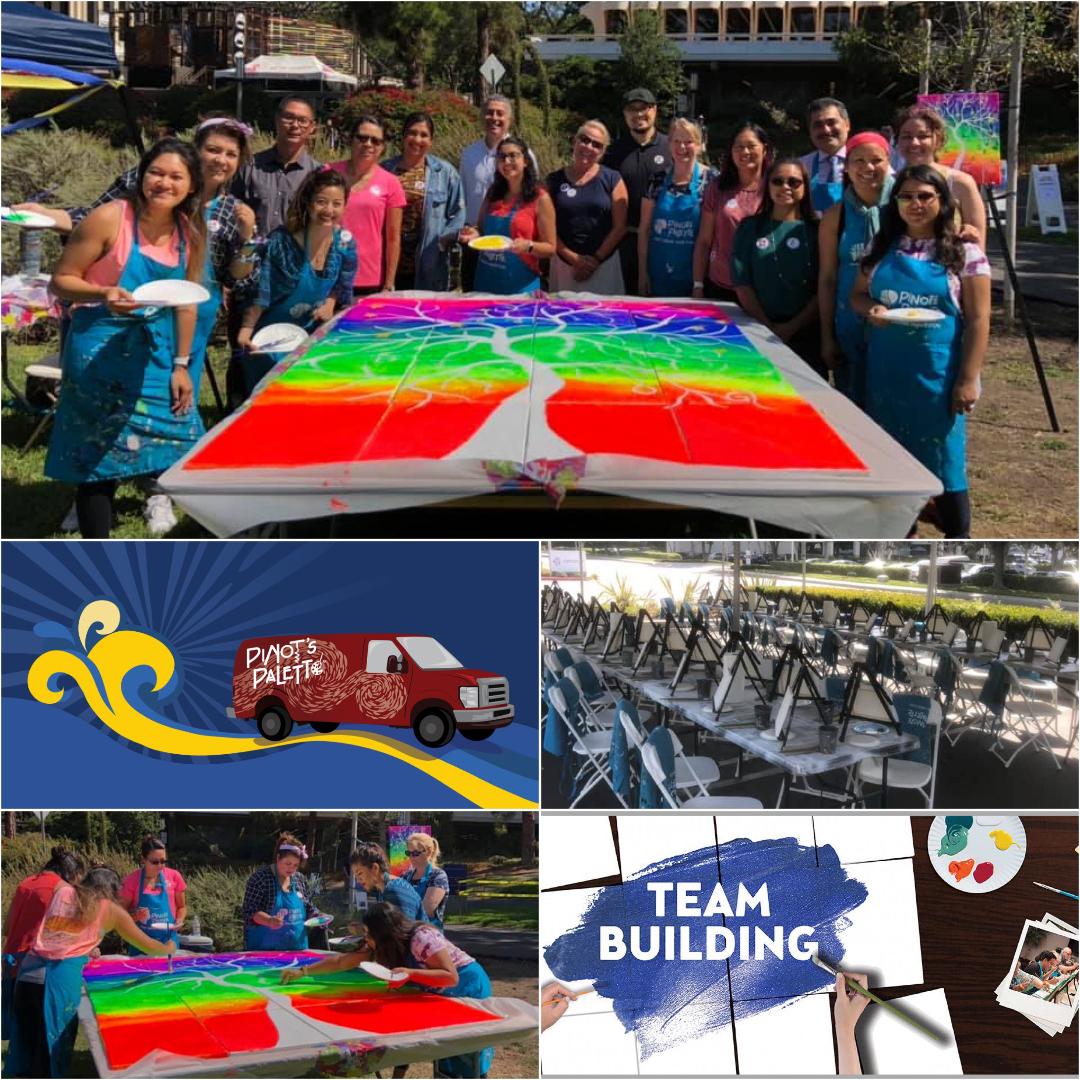 If you've ever been to one of our classes, you know what we're all about! You check the calendar to see which class you want to attend, sign up, and join us on the date and time of the event. When you come in, you hit the bar for a relaxing glass of wine or beer, and then enjoy a 2-3 hour painting class where one of our talented instructors will walk you through the painting, step-by-step, encouraging you the whole way through! Our customers are so excited to leave the class at the end of the night with their hand-painted masterpieces, ready to take it home and display for everyone to see!
While these classes are aways SO MUCH FUN, we also offer the painting and wine concept in other ways! From private parties and corporate team-building events, to mobile parties, we've got something for everyone and every occasion!
Our Mobile Private Parties have been hot, hot, hot lately and we want you to join in the fun! We've been working with everyone from camera companies, to local Universities, and the one thing each of these events has in common is that everyone has a great time!
There's nothing like making art with friends, family, and even coworkers as a great way to bond over something new and exciting. Getting in touch with your inner-artist can do a lot of positive things for you, including relieving stress, helping you to express yourself, and leaving you with a sense of accomplishment.
When you book a mobile party with us, you get a very similar experience to our public classes, except that YOU get to plan how the class goes! You select the date and time of the event, the location, the painting you want to create, the guest list, food, music, and more! Just like the classes in our studio, we'll provide everything you need to paint. The brushes, paint, canvases, aprons, and even the instructor will all be brought to you and your group at the location of your choice. You also get to choose the way you want to make your artwork, as we have several options to choose from.
While most of our public classes, and may of our private parties, and mobile events use one canvas to a person, it's the corporate-related parties that are most interested in one of our team-building styles of art-making.
Here are some of the ways you can use our classes to encourage coworkers to work together and bond over a creative experience…
Some of the painting styles include:
-Collaborative Painting:
All members work together on a large canvas or a collection of large canvases, to create one large piece of artwork that everyone came together and helped to create!
-Puzzle Painting (As can be seen in the photos, above):
Another way your team members can work together and constantly communicate to create a very large painting, made up of multiple, individual canvases! Each person (or group of people, depending on the way you'd like to go...) will paint a section of the overall painting and at the end of the class, all of the canvases get pushed together to form one whole painting!
(*This tends to be one of our most popular corporate selections, especially if you have a large, blank wall in the office that needs some artwork!) There's something so incredible about individuals working together to each create one small piece of an overall masterpiece!
-"Musical" Painting:
Much like musical chairs, you sit in a seat for a direction or two, then the artist asks everyone to stand up and move to another seat of their choice or can even utilize the music as guests walk around and have to sit when the music stops! This is another fun way to have a collaboration-style painting class where multiple people work on one canvas to create a final masterpiece in the end.
*this is another one that the party planner can decide upon before arrival and keep secret until the first move!
No matter which style of painting class you choose to host, they're all super fun and it's a truly unique way to spend time with your colleagues. From bonding and forming ties with your office mates to helping impress a few new clients, Pinot's Palette in Tustin is the PERFECT place to do it!
BUT REMEMBER... these special events aren't only for work purposes! Host a birthday party, retirement, bridal shower, baby shower, reunion, or anything else you want to celebrate with us and we'll bring the party to you!
NOTE
(*) Photos above are from our most recent 'Mobile Parties', one with 'RED Digital Camera' in Irvine, and one with UCI University of California Irvine; In the photos that show the beautiful fluorescent painting, the Radiologists and faculty at UCI choose to create this glowing masterpiece to fit right in with their job. The office will get a large burst of color with this multi-canvas creation, painted in collaboration by the team members, showing individual talent as it comes together to create one symbiotic piece.
This is a great example of how you can utilize our mobile parties (or private parties, in general) to meet your needs!
((The painting above is a 'Puzzle' painting, a large, collaborative work of art where everyone works together on individual canvases then pushed the together to make one big masterpiece!))
Share Get started on booking your mobile event | View our public calendar