Holiday Private Parties With Pinot's Palette Are The Best! Books Yours Today!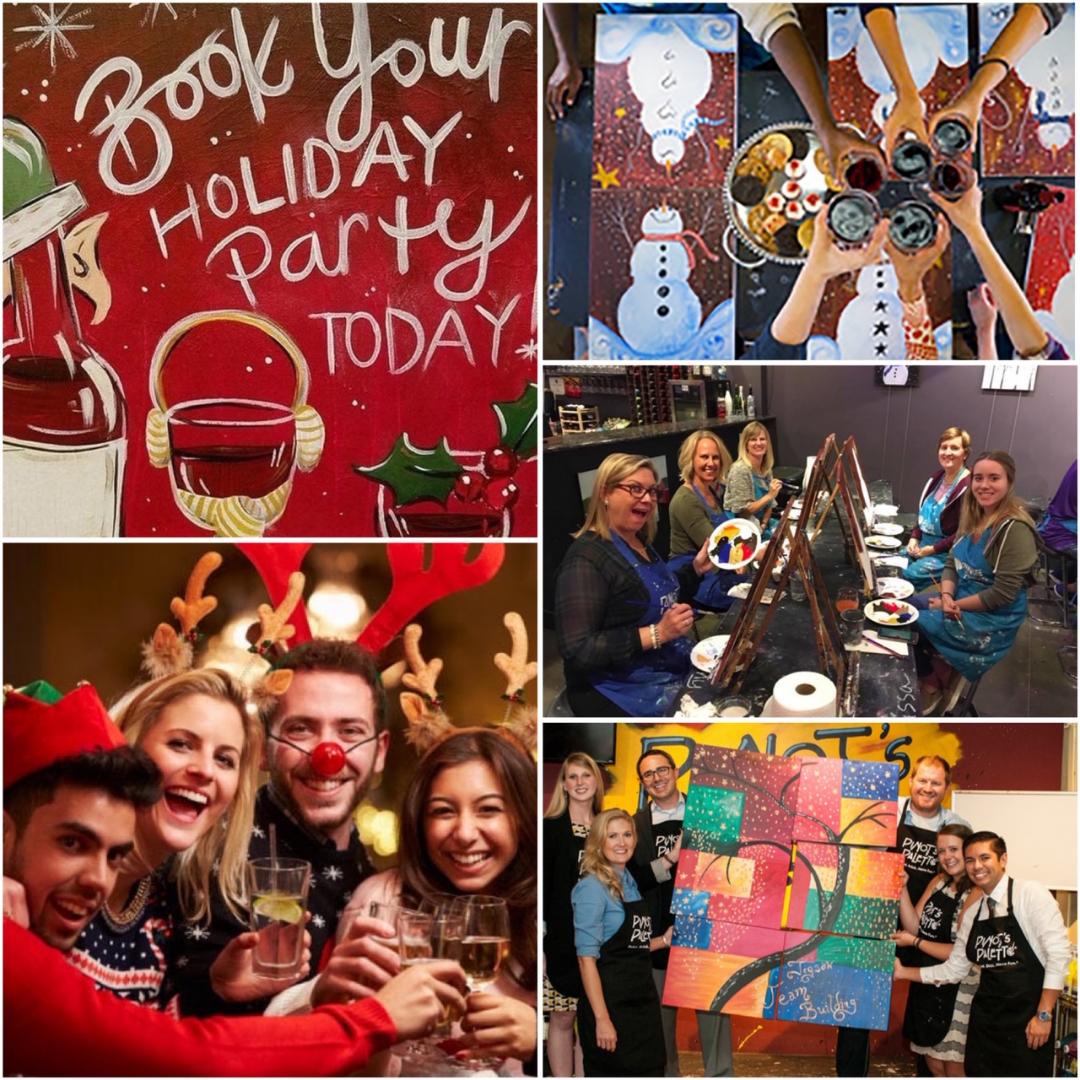 It's time to start thinking about your holiday party! The weeks are flying by and before you know it, the holidays will be here! No matter where you book your event, the earlier you can set things up, the more likely you are to get the date and time of your choice! We'd love to suggest something different for this year's event… A painting and wine party with Pinot's Palette!
Our private parties have become quite a popular choice for celebrating anything you want! From birthdays and wedding celebrations, to corporate/teambuilding events, reunions, retirement parties, and more, our studio offers a fun and creative way to spend time!
When you book a party with Pinot's Palette, you can select the date, time, and painting of your choice! We have a huge library, filled with amazing artwork, including lots of great Christmas and winter-themed paintings, and you get to choose any of them to make during your party! Whatever you think you and your guests would like to create the most, let us know and we'll help you find what you're looking for.
That being said, in addition to regular private events (like an annual family and friends holiday party), we offer a corporate/office party type of class that focuses on team-building. Theses are especially great if you're looking for a unique holiday party for your employees, with the added bonus of having everyone work together on something artistic.
Putting your time and effort into something creative like a collaborative painting is such a wonderful way to get your employees connecting and bonding, outside of the office.
*We have several styles of team-building paintings that are very popular for corporate events (whether it's the holidays or any time of year!)…
Each one is unique and fun in it's own way, and offers a fantastic turnout:
-Collaborative Painting:
All members work together on a large canvas or a collection of large canvases, to create one large piece of artwork that everyone came together and helped to create! How awesome would a large collaborative painting look, hanging in the lobby or one of the rooms of your company?!
-Puzzle Painting (*shown, above) :
Another way your team members can work together and constantly communicate to create a very large painting, made up of multiple, individual canvases! Each person (or group of people, depending on the way you'd like to go...) will paint a section of the overall painting and at the end of the class, all of the canvases get pushed together to form one whole painting!
(*This tends to be one of our most popular corporate selections, especially if you have a large, blank wall in the office that needs some artwork!) There's something so incredible about individuals working together to each create one small piece of an overall masterpiece!
-Surprise Painting:
You can announce where you'll be holding your holiday party, but don't let anyone know what you'll be painting. Select a painting that everyone will like, OR let us know if you want something special created for your party! We've made custom painting with he company's logo, or something else that has to do with he type of job it is, etc… (You can let us know if that's something you're interested in when you book your event!).
-"Musical" Painting:
Much like musical chairs, you sit in a seat for a direction or two, then the artist asks everyone to stand up and move to another seat of their choice or can even utilize the music as guests walk around and have to sit when the music stops! This is another fun way to have a collaboration-style painting class where multiple people work on one canvas to create a final masterpiece in the end.
(This is another one that the party planner can decide upon before arrival and keep secret until the first move).
*Remember that ANYONE can book an event with us; Whatever you reason for a celebration, we're here for it! We want to help take the pressure off of the party planner, so let us know hoe we can help! From helping you book the party, and make all of the painting, wine, and music selections, to opening up early for you to decorate and set up your food, our goal is to make it easier on you! If you're looking to have the party catered (a popular and even more helpful option for the planner), we can recommend some great local places that cater! Bring in a special playlist that you've created to play during the party, or let us know what type of music you want and we can play it on our end!
Whatever you need… we've got you!
We hope you and your party will join us for a private celebration this season, or even just come in for one of our public classes and make some artwork. If you're not quite sure what are classes are all about, or if you don't know whether we're the right fit for your party, join us in one of our regular classes and see for yourself! We've got a calendar full of excellent classes coming up these next few weeks; You can't go wrong with any that you choose!
Keep us in mind for gifts this year, too! Whether you're looking to make some lovely handprinted gifts for your loved ones, or eager to give the joy of a painting and wine class to someone else with a gift certificate, we've got it all!
*Book your private celebration:
https://www....ivate-parties
*Book your corporate event:
https://www....porate-events
-Looking to host party but at a location other than our Tustin studio? Ask about our mobile parties where we'll brig the fun to you!
*Mobile events:
https://www....ainting-party
<3 From our Pinot's Palette family to yours, Happy Holidays! <3
Share View our public class calendar | Buy some gift certificates!