Watch Our Van Go!
Watch Our Van Go with our Mobile Painting Parties!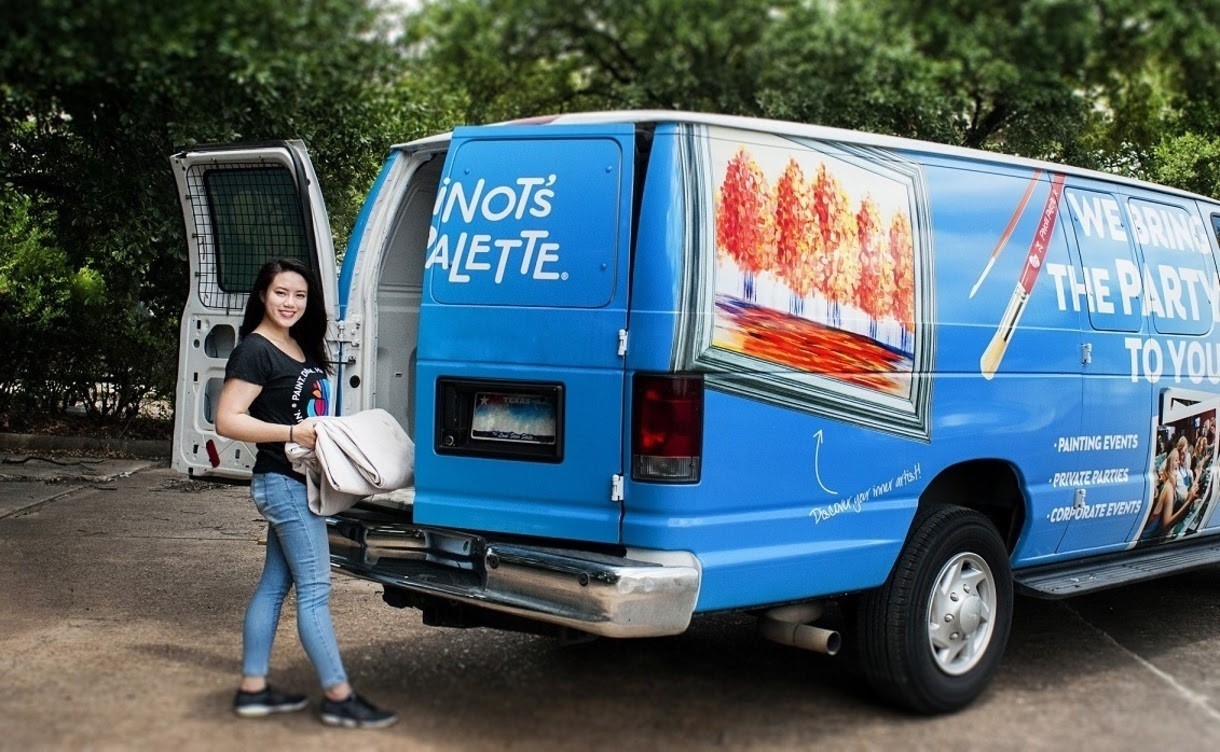 Want to book a private event at your office, home or school? No problem, we can come to you!
Availability
Off-Site Parties can be booked any day subject to availability. We have a minimum of 15 painters required for an off-site event.
Deposit/Pricing
There is a non-refundable deposit to hold your desired day and time, based on the location of the event:
Distance from our Studio Fee
<20 miles $0
20-50 miles $49
50-100 $99
Our pricing is based on the age group and number of painters.
Full-size canvas (15x20) ages 12 to adults:
• 15-30 painters $45 for 2 hours, $55 for 3 hours
• 31-40 painters $40 for 2 hours, $50 for 3 hours
• 41 or more painters $35 for 2 hours, $45 for 3 hours
Smaller canvas (9 x 12) ages 11 and under:
• 15-30 painters $35 for 2 hours
• 31-40 painters $30 for 2 hours
• 41 or more painters $25 for 2 hours
Painting Choices
Once we find a date that works & the deposit is paid, we ask you to send us your painting choice. We prefer to finalize your painting choice no later than one week prior to your event.
Want something tailored to you and your group? You can also choose to have a custom piece made for an additional $200 artist's fee.
What does Pinot's Palette Provide?
The Pinot's Palette Team will bring the following:
• Two to Four of our seasoned artists to guide painters step-by-step through the featured painting
• All of the painting essentials including paint, brushes, water cups, paper towels, palettes, easels, and canvases
• Tables and stools for seating up to 50 painters
• Smocks to help protect clothes, drop cloths to help protect floors and butcher paper to help protect tables
• Music that sets the tone for your guests to Paint. Drink. And Have Fun.
What does the location need to provide?
The location will need to provide the following:
• Garbage cans and extra garbage bags
• A water source for filling water cups and washing brushes (typical bathroom is adequate)
• Room to fit the desired amount of painters
• One hour and a half of set up time and one hour of clean up time in the room or area where we will paint
• Any beverages and snacks desired along with eating and drinking equipment
Please understand that Pinot's Palette will help protect flooring, tables, and clothes; but cannot ultimately be responsible for paint that gets on items such as furniture, carpet, floors, etc.
If you'd like to move forward, please give us a call at the studio at 714-400-9016, and let us know if we can answer any questions about our booking terms! We take calls at the studio Monday through Friday from 9am – 4pm, but you can reach us through email anytime at tustin@pinotspalette.com