Spend 'Black Friday' With US This Year!
Get ready...
It's one of the biggest weekends of the year....
Thanksgiving is on Thursday, followed by the BIGGEST shopping weekend, 'Black Friday Weekend'!!!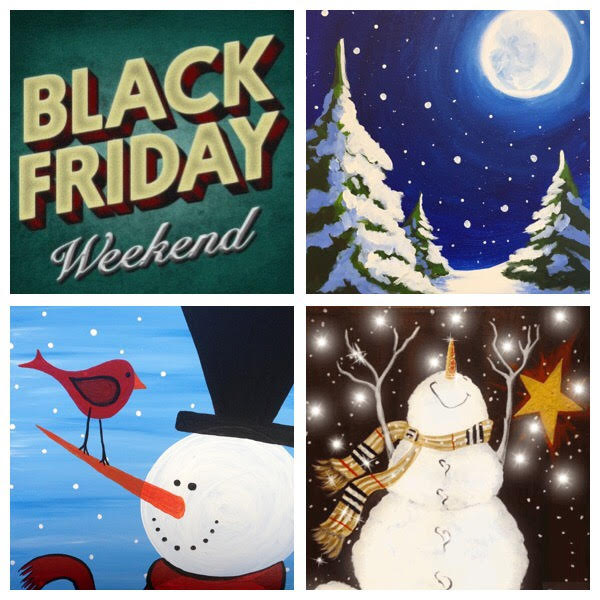 The annual crazy shopping day, 'Black Friday, is one of those things that you probably, either love or hate. Maybe it's one of those special traditions that makes you happy, signifying the official beginning of the Christmas season, and lots of big shopping deals!! For some, it's a day to stay off the roads and out of the stores, and stay at at home, sipping hot cocoa and watching Hallmark movies.
However you prefer to spend the day, keep us in mind for an exciting and super fun way to spend your holiday weekend! We are offering some excellent classes, all weekend long, and we'd love to see you there! Imagine, relaxing with a glass of wine and some friends, instead of standing in a long line, in a crowded store of shoppers. At Pinot's Palette, you get to spend time, creating a masterpiece that you'll get to take home and enjoy for years to come, have fun while you're doing it, and relax on this long weekend off!
HERE'S WHAT'S GOING ON THIS WEEKEND:
Friday, November 24:
3-5pm, 'Alpine Moon'
Your first glass of house wine is FREE in this special 'Black Friday' class. Come in and paint a beautiful winter scene, drink some wine, and get ready for the winter holidays to begin!
*Sign up here:
https://www..../event/200953
Saturday, November 25:
(1)
3-6pm, 'Firefly Lake'
*This gorgeous scene is of a sunset sky and fireflies, adding ambience to a lovely lake setting. It will brighten up any room in your home OR would even make a wonderful gift for a loved one this season!
Sign up here:
https://www..../event/198453
(2)
7:30-9:30pm, 'Paris Rendezvous'
*This is one of our most popular paintings. With beautiful grey tones, black, and a little red 'pop' of color, this painting of the Eiffel Tower is classic and sophisticated!
Sign up here:
https://www..../event/198369
Sunday, November 26:
(1)
Little Brushes, kids class, outdoors!
12:30-2:30, 'Frosty Friends'
*We'll take the little ones off your hands for a bit it you're looking to do some shopping in the area or have lunch! The class is for ages 6 and up, and we'll be providing hot cocoa at the end of the session for the kiddos!
Sign your child up here:
https://www..../event/202038
(2)
4:30-7pm, 'Snowman's Bliss'
***Light up class!!! We'll be added a strand of LED lights, onto the canvas to create a beautiful, illuminated painting!
These classes tend to sell out fast so be sure to book your seat, ASAP!
Sign up here:
https://www..../event/183886
We hope to see you all, soon! When you have the chance, pop in and see what the fun is all about! If you're unable to make it for our Black Friday weekend, come on in, any other day to give our classes a try! Be sure to bring friends and family with you, so everyone can partake in the fun, and you'll able to spend time with loved ones.
Sign up online or stop in to our location to reserve your seats! We hope you and your family have a wonderful Thanksgiving!
Cheers and thankful wishes to you!