So Many Things To Create At Pinots Palette!
In honor of Valentine's Day and all things hearts-covered, we have a fabulous class on the calendar you won't want to miss!
We're taking a break from canvas painting for the night and getting crafty with this super fun project!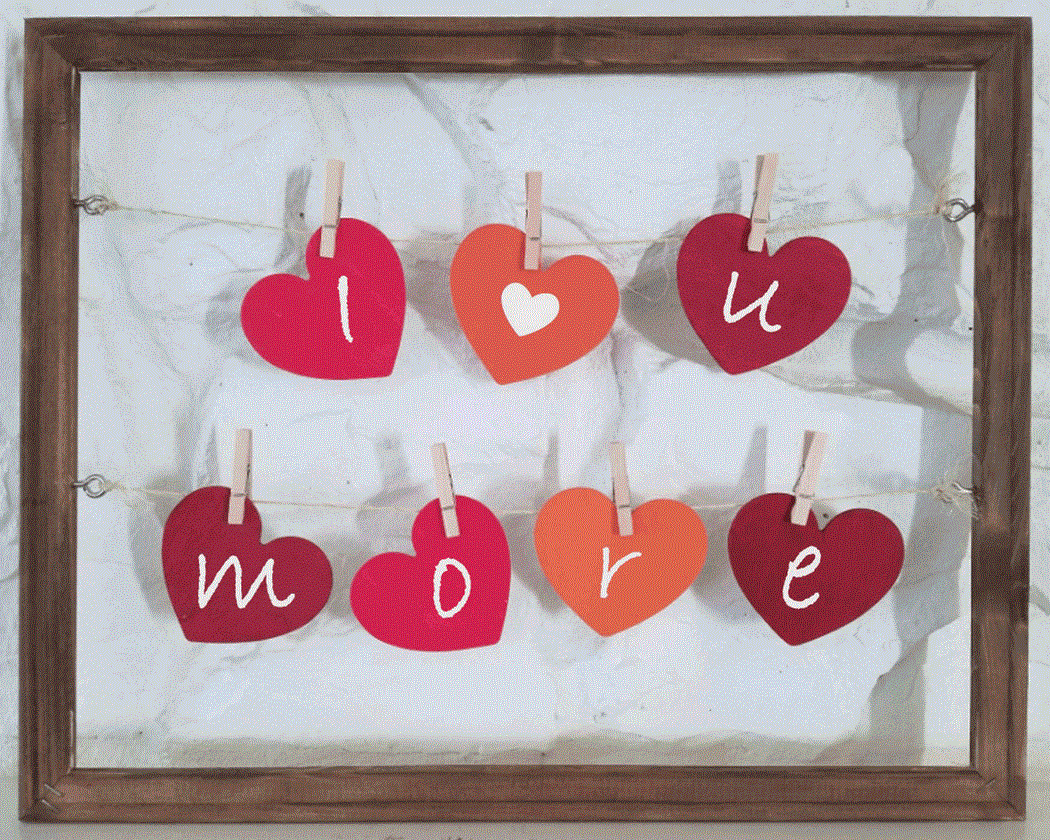 MAKE A FRAME!!!
We're getting crafty with our 'off-the-canvas' works of art and we can't wait for you to join us for some of them!
On SATURDAY, FEBRUARY 9th, we're offering a special 'I ((Heart)) You' Frame Project.
Tell that special someone "I ❤ U" with this cute frame project. Customers will create this personalized project by stringing twine to a frame, painting heart wood cutouts and pinning them to two "clothes lines." Customize your colors or switch it up by adding your own pictures and mementos to the line.
This class will be different from our ordinary classes, as we're creating a new kind of art- one that not only serves as decoration with but will be put to good use! Hang messages or photos from the wire and enjoy making it unique to your home and style with the colors you choose. Give this awesome gift to a loved one for Valentine's Day or come in with friends and family as a way to celebrate the holiday of love (and keep it for yourself!)! However you choose to make it and use it, the time spent in class making this craft, drinking some wine, listening to music, and having fun, won't be forgotten.
Come in and make some art and memories with us, at Pinot's Palette in Tustin!
*Sign up for the frame class:
https://www..../event/288723
*****MORE unique upcoming classes to watch out for:
While we LOVE to paint on a canvas, it's always fun to think outside of the box and create art on other surfaces. From wooden pallets and wine bottles or glasses, to some special crafts that we like trying out, we're always offering new experiences for you to come in and try out!
MAKE A BLANKET!
February 4, 2019 (*Seats are limited as this class is growing in popularity and is almost sold out. **Keep an eye out for us to post another one of these special events in the future as we're sure this craft will be super popular!)
During this one-of-a-kind workshop we will guide you step-by-step through hand knitting a warm, soft chunky knit blanket. No needles or knitting experience is required and all supplies will be provided.
You will receive 130 yards of chunky chenille yarn and your completed blanket will measure approximately 40x50 inches. A selection of colors will be available on a first come, first serve basis. Some colors may be available in limited qualities.
*BONUS for this 2/4/10 class- Your first glass of house wine (or beer) is included in admission.
Learn more:
https://www..../event/302397
WOODEN PALLET PAINTING
February 17th
'Peace At Sunset' Wooden Pallet Class
Relax and unwind as you recreate this painting. Pour yourself a glass of your favorite wine and breathe as you capture the serenity of the ocean at sunset. Take on the extraordinary colors of this new painting that creates a modern yet rustic look as is combines the popularity of a beautiful sign with words and the look of rustic wood. Hang it inside or outside and think of the beach and a glass of wine, each time you look at it!
*BONUS- Your first mimosa is included with admission!
https://www..../event/288711
PAINT ON GLASS
'Pint-Sized' Pets- paint on a beer glass
We'll help you put your furry bff on a glass, combining 2 things that so many people love: their pets and some tasty beer!
(*Further details listed when you register for the class)
https://www..../event/288237
Continue to look for updates to our March and April calendar, for some of the upcoming "off the canvas" classes we'll be offering!
We hope to see you and your friends and family soon for a class, whether it's one of the above-mentioned classes or another painting on the calendar. Come in with confidence that you'll leave with a wonderful handmade work of art that you can be proud to say you made! Our talented and helpful artists and assistants will walk you through the painting step by step, encouraging you the whole way though and making it easy for first-time artists to create! If you live in or around Orange County, we're the spot for you, located in The District in Tustin! IN addition to our public classes, we offer private parties, corporate/teambuiding events, and more!
Private parties:
https://www....ivate-parties
Corporate/teambuilding events:
https://www....porate-events
Share View our full calendar | Sign up for the special frame class