Our Super Popular 'Project Pet' Class Is Back! Reserve Your Seats ASAP To Paint Your Pet!!!
Turn your pet into a Paw-some portrait!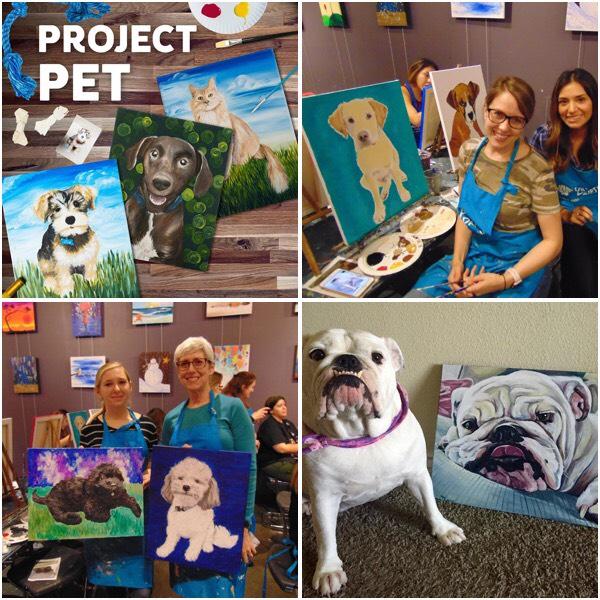 These 'paint your pet' classes are super popular and something that our customers LOVE to attend! People LOVE their pets so much and making a work of art, dedicated to their fur-baby, is about as great as it gets! Our customers enjoy coming in to the class and finding a picture of their pet, printed on the canvas, ready for them to bring to life!
The best part about theses classes is that YOU are in charge of your masterpiece!
Do a realistic/natural painting, a colorful/pop-art style of painting, or perhaps, turn your pet into a cartoon! You could even sign up for a few of these special classes and try a new style each time; How great would a bunch of styles of paintings look, next to one another in a large art display on your wall?! Plus, you'll have fun, experimenting with the various styles of art and getting in touch with your inner artist as you try them!
It may seem like an intimidating idea: coming in to a painting class (especially if you're a first-time painter) and making a realistic-looking picture of your pet, but you'll see that it's not too hard when you've got some help!
Our talented and helpful artists will be available to assist you with your painting throughout the duration of the class, offering tips and stepping in to lend a hand whenever you need. You'll soon begin to let loose and enjoy the act of painting as you listen to music, drink some wine, and have a lot of fun with your group!
Come in and make a painting for yourself or give it to someone special!
Think of what an an AMAZING gift idea this would be...
--Is there someone that you celebrate a late holiday gift exchange with?
--Does a friend or family member have a birthday coming up?
--Do you and your honey have an anniversary and you want a great gift to give?
--What about Valentine's day?
*These customized paintings are so special, and not just because they are of a furry (or scaly or feathered…) family member but it's a gift that was made by YOU! Nothing says "Love" like a handmade, personalized gift from the heart. Taking the time to make something for someone is such a special sentiment and one that won't go unnoticed.
Make something that your friends and family will enjoy looking at everyday, and will treasure forever!
Come in to our next 'Project Pet' class and create your furry bff on a canvas, adding color and personality, along with a handpainted, personal touch!
**Be sure to sign up ASAP and pay attention to the deadline for registration!
Not only do these classes sell out fast but we require you to sign up by a specific date so we can get your pet's image on the canvas and ready to greet you when you come in for the class!
*****************************************************************************************
Project Pet
Sunday, January 20th
11:30am-2:30pm
**DEADLINE TO REGISTER IS JAN 11th!
Paint a portrait of your pet at Project Pet. Once you sign up for the painting, email us a high quality digital photo of your pet (one pet per canvas, please) and we will do the rest. Each photo will be transferred onto a 16"X20" canvas. Our talented artists will walk you through the steps to create your very own Pet Portrait!
*Sign up:
https://www....nts%2Fjanuary
****************************************************************************************
We hope to see you at our January 20th class! We know you'll have a great time and eager to leave the class with your masterpiece and show it off to everyone!
Keep an eye on our calendar, as well have some excellent January paintings coming up! Make some artwork to hang in your home and admire, all year long!
AND---We offer our 'Project Pet' class a few times a year so be sure to watch out for our next date!
See you soon!
Cheers!
Cheers!
Share View our full calendar | Purchase some gift certificates!