Join Us For Some Spectacular Black Light Classes!!!
It's that time of year again — The one where we turn out all of the lights and paint in the DARK!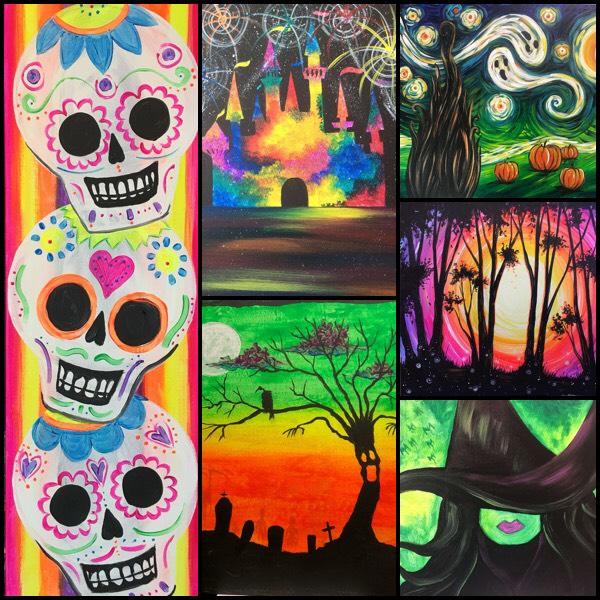 You read that right…
When we host our 'Black Light Classes', we turn out the bright lights and let the psychedelic glow of the black lights, do their thing.
We'll be using fluorescent paints to ensure that the end result is as vibrant and electric as possible, and believe us when we say that it will be! These super uniqiue classes are by far, some of our most popular! Our customers LOVE to come in and get creative in our studio as they paint some Halloween-themed paintings under the special lights, giving the whole class an added feeling of eeriness. The paintings will look fabulous when you leave at the end of the night and take them home to decorate with! Use them in the natural light of your houses as they light up any room with incredible color; Use them for the perfect decoration for a Halloween party and throw some black lights around the house to make them glow, and give your home some mood-lighting for the spooktacular festivities.
If you've been to one of our black light classes before, you know how much fun they are! We'll transform our glowing, white canvases into a handmade work of art with an array of neon colors and designs, as we sip some wine or beer, and listen to some great music. If you've been to one of our standard classes where we paint with the lights ON, then you likely had a great time, making memories and some gorgeous artwork… So just imagine how excellent a different style of our typical classes would be! Be sure to give these unique glow paintings a try and add the to your growing collection of paintings you've created in the past.
For those of you who have NEVER attended a painting and wine class, you've been missing out! We've had over a million customers, throughout all of our studios, Nation-wide, since we opened our doors in 2009. We feel confident in saying that one of our creative and exciting classes is something you should try and will be a positive experience for you and your loved ones to participate in. Come in and try one out, ASAP, and see why our classes are so popular! While there are tons of incredible classes on the calendar for the Fall and throughout all of the holiday season, there's no better time to try one of our classes than during our special black light nights, so be sure to sign up online and tell all of your friends to do so, as well!
***Check out these black light classes that we're offering throughout the beginning of October!!!
Tuesday, October 2
'Castle Celebration'
Enjoy a magical firework display and fill your world with color! This castle might remind you of a very happy place (the happiest place on Earth, even…), but you can think of it as any magical setting you want! Have fun, customizing it with the details of your choice, as you paint with bright colors and a whole lot of style!
https://www....nts%2Foctober
Wednesday, October 3
'Laguna Sunset'
Laguna Beach, CA is renowned for not only its surf, arts and eclectic foods, but also for wonderful sunsets. Chill with us and catch a glimpse of everyday life in Laguna. This gorgeous landscape will make you long for Summer, and since we're lucky enough to call SoCal our home, we get to have the warm weather, much longer than others do! Relish in the beauty of our state and create this masterpiece to hang in your home.
https://www....nts%2Foctober
Thursday, October 4
'Van Gogh's Starry Night- Halloween'
*Special: $4 glasses of house wine
Join us for this fun twist on Van Gogh's Starry Night - Halloween Edition at Pinot's Palette studio near you! "There is magic in the night when the pumpkins glow by moonlight." There's nothing our customers like more than a Van Gogh-inspired painting, so sign up, ASAP, as this painting is likely to sell out! Come in and enjoy the thrill of painting in a heavily-brushstroked, impressionistic style with lots of glowing color.
https://www....nts%2Foctober
Saturday, October 6
'Witch Way To Pinot's'
These witchy women make you wander what they've been up to. Perhaps they are searching for a Pinot's Palette where they can Paint, Drink, and have Fun! Come in and paint a bright, moonlit sky in lovely shades of blue and violet with 3 witchy silhouettes, dancing under the glow of the large moon.
https://www....nts%2Foctober
Tuesday, October 9
'Hallo's Eve'
Ghouls howling, black cats meowing, and spiders crawling. Dusk is upon us and it's Hallow's Eve… Let the spooking begin! Bright colors collide with dark silhouettes to make this Halloween scene something really great.
**This is a 'Painting It Forward' class, a paint and sip class with an extra dose of heart and soul. When you buy a seat in a Painting It Forward class, you're making a donation to a nonprofit or community fundraiser.
https://www....nts%2Foctober
Wednesday, October 10
'Wickedly Popular'
Summon the flying monkeys and have a enviously good time painting this wickedly popular witch! Enjoy this bright green and black painting, perfect for the mysterious woman that makes the painting so bewitching.
https://www....nts%2Foctober
Thursday, October 11
'Sugar Stack'
These bright and playful sugar skulls are inspired by the colorful folk art of Oaxaca, Mexico, and more specifically, the figurines and candy skulls placed on family ofrendas (altars) during Dias de los Muertos. Follow along to recreate them exactly or customize your painting by adding your own personal details, colors and touches. This Sugar Stack is fun for everyone! This will be painted on a long canvas, perfect for fitting into any space in your home this season!
https://www....nts%2Foctober
Friday, October 12
'Through The Trees'
A bright, and beautiful sunset through the trees is the perfect way to bring a pop of color to any home décor! This is one colorful landscape! The stunning colors of the moon and surrounding sky will make you happy, as they set the tone for the dark, silhouetted forrest in front of the colorful sky. Enjoy the light of the fireflies, dancing about the forest's edge with delight.
https://www....nts%2Foctober
We hope to see you soon for a painting and wine class, whether you're interested in one of these incredible black light paintings or any of the others on our calendar! If you live in Tustin, we're right around the corner from you, located in 'The District', a great shopping center and entertainment hub in Orange County! We make the perfect event for everything from a fun and unique date night, an awesome girls' night out experience, and we even offer private events! When you view our classes on our website, you'll be viewing our schedule for our public classes, but you can also book a painting party with the guest list of your choice! Come in to celebrate a birthday, bridal shower, reunion, retirement, and more with friends and family, sharing their artistic sides, together. Make memories that will last a lifetime with a souvenir to treasure forever with one our classes.
*Learn more about our private parties, here:
https://www....ivate-parties
We also play host to some great corporate events, too! Why not book your next work party or team building event with us? We offer several styles of paintings that incorporate team building strategies, encouraging the whole office to work together, creating a stunning world of art!
*Read more about corporate events, here:
https://www....porate-events
*Keep us in mind for an off-site event like a child's birthday party or other private, mobile event. Check out our site to learn more about out these private parties!
Cheers!