Join Us For Some Excellent Upcoming Classes (AND Specials)!!!
We have some amazing classes coming up, featuring excellent deals that your WONT'T WANT TO MISS!!!!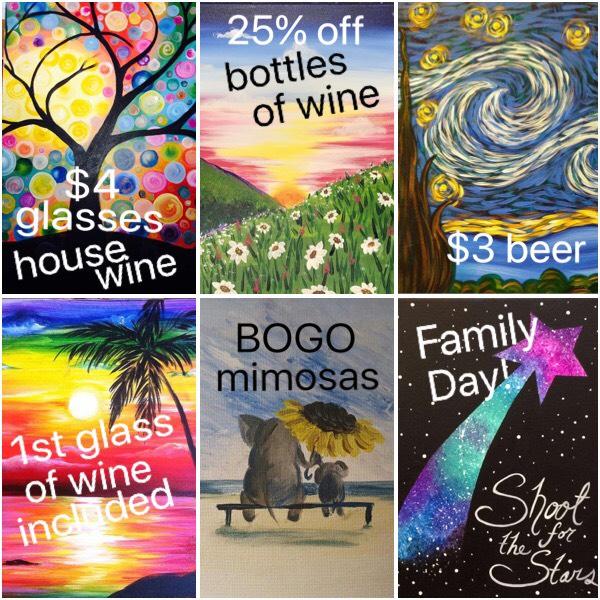 Happy Spring, Everyone!!!
We wanted to tell you about some of the incredible classes we have coming up throughout the month! From special deals to special styles of classes, we have it all and something for everyone! Join us for one (or a few…) of these upcoming events and see your inner-artist, come to life (*While saving some money!):
*****
SPECIAL: 1st Glass Of House Wine (or first beer) Included With Admission
April 7, 'Flutter Through Paintbrushes'
*Sign up:
https://www..../event/210748
April 14, 'Rip Curled Sunset'
*Sign up:
https://www..../event/218407
April 15, 'Azalea Trail'
*Sign up:
https://www..../event/218412
*****
SPECIAL: $3 Beer All Night Long (12 oz)
April 13, 'Mystic Moonlight'
*Sign up:https://www.pinotspalette.com/tustin/event/210753
April 21, 'Beach Signs'
*Sign up:
https://www..../event/218416
April 27, 'Simply A Starry Night'
*Sign up:
https://www..../event/218434
*****
SPECIAL: 1st Mimosa Included
April 8 'Breath Of Spring'
*Sign up:
https://www..../event/229089
*****
SPECIAL: $4 Glasses Of House Wine
April 12, 'Tree Of Whim'
*Sign up:
https://www..../event/229091
April 19, 'Toes By The Shore'
*sign up:
https://www..../event/218424
May 1, 'Spring Splendor'
*Sign up:
https://www..../event/218436
May 3, 'Bubbly Bubbly Flowers'
*Sign up:
https://www..../event/233786
*****
SPECIAL: 25% Off Bottles Of Wine
April 21, 'Daisy Field At Sunrise'
*Sign up:
https://www..../event/204672
*****
MORE: Super Fun, Unique Events:
LONG Canvas Painting:
April 28, 'Giraffing Me Crazy'
Join us as we paint on a LONG 10'x30" canvas
*Sign up:
https://www..../event/229088
Flip Night
April 28, 'Monet's River Seine'
Flip Night! At the end of the night, the bartender will flip a coin- call it right and you'll receive 50% off your bar tab! One flip per tab!
*Sign up:
https://www..../event/218419
Paint a wine bottle!
Tropical Starry Night Wine Bottle Painting
Join us as we take a blank, empty wine bottle, some special paints, and create a masterpiece that an be used! We'll provide you with everything, including a string of lights that go inside of the bottle for a gorgeous work of art to display in your home!
*Sign up:
https://www..../event/210755
Paint a tote bag!
April 26, 'Life's A Beach'
Join us as we create some art that's functional! We're painting on some canvas tote bags that would make an adorable beach bag or one to just toss your items into and use, all Summer long!
*Sign up:
https://www..../event/218426
Outdoor family event
April 29, 'Shoot For The Stars'
Join us to paint outside under a tent right in front of our studio for a family paint day! Or, drop the kids off for a couple hours while you do some shopping! Either way, its a fun kid-friendly event!
We'll be painting with the kids, but using big kid canvases and brushes so it'll be a fun event for the family! One purchased seat per painter, please. Ages 6 and up welcome!
*Seating is limited, so sign up while you can:
https://www..../event/229410
Cinco De Mayo!
*Join us on the 5th Of May as we celebrate Cinco De Mayo with drink specials and gorgeous paintings!
-When I Grow Up!
Who wouldn't want to be a majestic elephant when they grow up? This adorable masterpiece appeals to your inner child.
*Sign up:
https://www..../event/218431
-Endless Summer
We are day dreaming about summer and being on the beach. Come find your happy place with us while painting this beautiful paradise scene.
*Sign up:
https://www..../event/221182
Join us for some of the classes we have throughout the April and into May, and bring all fo your friends and family to join along in the fun! We're a painting and wine studio that offers 2-3 hour classes that ANYONE will enjoy! There's no need for any prior art experience to join our classes, as we are meant for the first-time painter! E have a talented and encouraging instructor who will walk you through the paintings, step by step, along with our helpful and kind staff who will pour your drinks and assist you with the paintings! You'll be surprised at how easily (and quickly) you can go from a blank canvas to masterpiece in just 2-3 hours! You'll leave the class, proudly carrying your handmade work of art that YOU created and are able to display in your home.
A class at Pinot's Palette makes the perfect thing to do if you live (or are visiting) in or around the Tustin area! We proudly sit on many lists, as one of the top places to visit for a fun night out or a great way to spend time with friends in the Orange County area! We have thousands of reviews from our satisfied customers who have attended out classes and left proud, accomplished, and feeling happy. If you love wine, beer, good music, and spending time in a creative environment with some great people, then Pinot's Palette, Tustin, is the place to be! We make such a fun and unique idea for a girls' night out or date night at our public painting classes, as well as a great place to host a birthday party or other event with out private classes! We also offer Corporate events with team building aspects that help with building communication, camaraderie, and confidence amongst coworkers. Even ask about out mobile events where we bring the painting fu to you!
*Learn more about Private Events:
https://www....ivate-parties
*Learn more about Corporate Events:
https://www....porate-events
Have a wonderful month and we hope to see you soon!
CHEERS!