Join Us For A Painting Class & Baseball Game At The Angels Stadium!!!
We're In The Big Leagues NOW!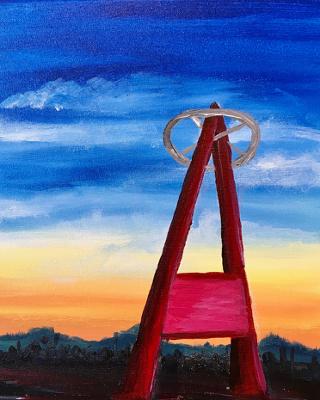 Pinot's Palette is hosting a pre-game painting class at The Angel Stadium of Anaheim and we hope you'll all join us!
We are SO EXCITED about this new partnership and we're here to tell you all about it!
Join us on Wednesday, September 25th for 'Paint At The Park' led by Pinot's Palette!
This $50 ticket package includes admission to a pre-game paint class led by Pinot's Palette and a Club All-Star ticket to the Angels game on Wednesday, September 25th to watch as the Angels take on the Oakland Athletics.
*** Fans who purchase this ticket package through the link below will be treated to a pre-game paint class in our Saint Archer Brewing Co. restaurant, featuring an exclusive Angels design. One of our talented artists at this studio has come up with a brand new painting, just for this event, and it's perfect for the theme! (*shown above)
'The Big A', the large trademark sculpture that stands outside of the stadium, is the subject of our artwork for the evening. Created in the team colors of red and blue, and depicting the mountains as seen from Anaheim, and a gorgeous California sky, this masterpiece will look great in any fan's home!
You'll have so much fun, spending time with friends as you get creative, enjoy some drinks, and then stay for the excitement of the game, after the painting fun is over!
Make this one-of-a-kind artwork for your home to show everyone that you're the biggest Angels fan around; Or, create this masterpiece for a friend or family member and give it to them for a birthday or the upcoming holidays. Anyway you want to utilize your handmade painting is great and we hope you'll join us to make it!
If you've never been to one of our painting classes, we offer a step-by-step painting technique that ANYONE can do! No painting experience? No Problem! We'll provide everything you need to make your painting and one of our talented artists will walk you through the artwork, one step at a time, encouraging you the whole way! We'll also have assistant artists, walking around to help you whenever you need it during the class.
Come out and get in touch with your inner-artist (yes, we believe that everyone has one…), and see what you can create!
Enjoy some food and drinks, a little creative fun, and spending time with friends and family at the Angels Stadium this September and make it a night you'll always remember!
**More about Saint Archer Brewing Co at the stadium:
https://www....ng-co-anaheim
Learn more and REGISTER HERE:
https://www....t-at-the-park
***Space Is LIMITED! Be Sure To Sign Up ASAP! :)
Share Sign up for this event! | View our Tustin studio calendar