Join Us For A Black Light Class! These Paintings Are So Much Fun To Paint & Enjoy, All Year Long!
Come out of the cold and into our studio this January for a special 'Glow In The Dark' painting class!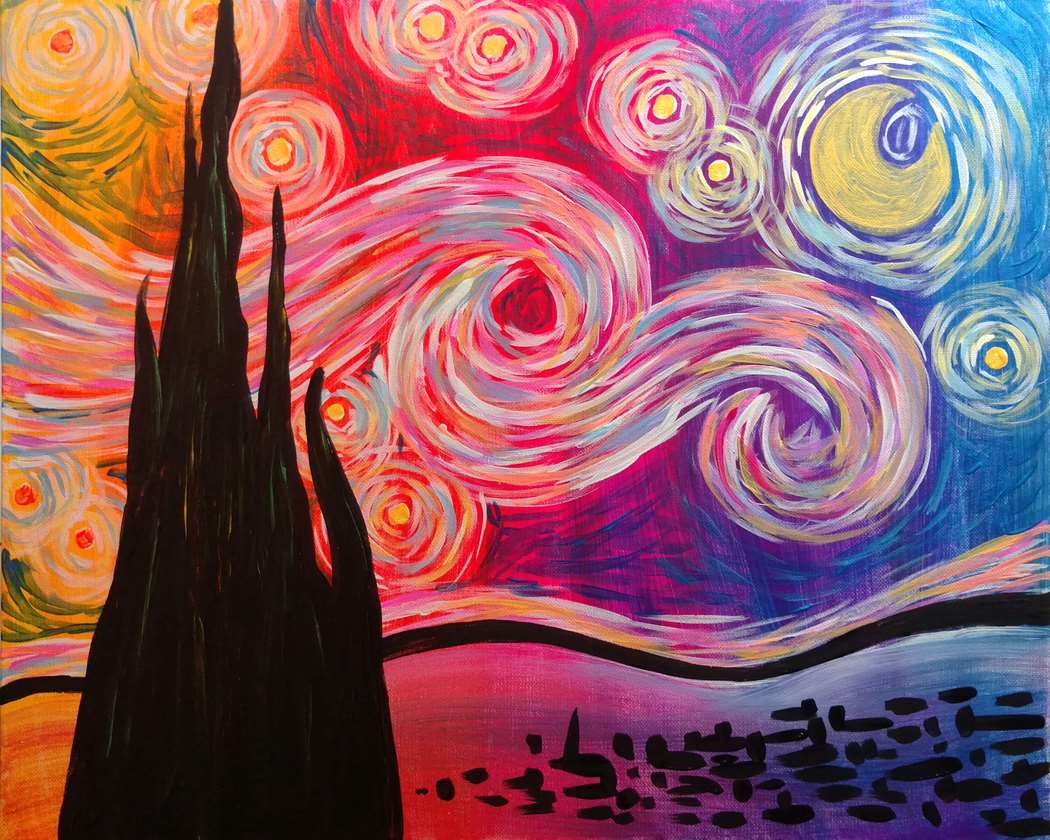 On January 3rd, we'll be flipping the switch on our regular bright lights and
exchanging them for some black lights that will make everything G--L--O--W
If you've never had the privilege of attending one of our black light classes, there's nothing like them! They're some of our customers' favorite classes, probably because of how unique they are! The concept of a painting and wine class has been going strong for years, but we love to try new things and these glow paintings have been sweeping across Pinot's Palette studios, nation-wide, leaving customers satisfied and wanting to paint more!
The key to these paintings' glow is in the very bright florescent paints that we use! They're so vibrant that they seem to glow even without the help of the black lights but for anyone who has been under the light of that hazy purple glow, you know where the real magic lies…
We'll have large black lights, hanging over the painting area, making each brushstroke, light up the canvas. We encourage you to wear white or neon clothing to glow right along with your masterpiece!
Have fun having out with friends, drinking some wine, listening to music, and glowing in the dark as you paint the night away!
JOIN US!!!
Thursday, January 3
'Psychedelic Starry Night'
This vibrant take on Van Gogh's Starry Night is just as fun to paint in the daylight as it is under blacklight. The glowing color palette is easy to customize, and the simple design is very beginner-friendly. Join us and paint your own technicolor masterpiece!
The best thing about this painting (besides the fact that it glows!!!) is that it's one of our most-popular paintings that we offer… A Van Gogh Style work of art! If there's one thing we know about our fabulous customers, it's that they LOVE to paint some Vang Gogh! The master's impressionistic style, bright colors, and recognizable images are widely-popular, all over the world, and our Orange County studio is no different! There's something so fun and whimsical about Van Gogh's artwork and customers enjoy making it for themselves. Van Gogh style paintings are especially great for fist time painters, as the image is made up of hundreds of tine stroke, which are easy for literally anyone to do and we think that gives nervous first-timers a boost of confidence!
Come in and make this stunning, glowing masterpiece for your home or to give as a gift (hello, belated Christmas gift-givers) and add some color and style into any room!
*Sign up:
https://www....stin%2Fevents
**Remember that these classes are very popular and tend to sell out so be sure to sign up, ASAP, to reserve your spot today!
We can't wait to see you all there in the New Year, celebrating a fresh new start and making some incredible masterpieces!!!
Sign up online, give us a call, or stop in to reserve your spot. If you and your friends are signing up separately, remember to request that you all sit together!
Our classes are one-of-a-kind and a fantastic way to spend time with loved ones or alone as you relax and unwind from your day!
In addition to our public classes, we offer private events, too! Come in to celebrate a birthday, retirement, bridal event, or more with our Private Parties!
https://www....ivate-parties
Gather the whole office together to spend time, bonding over a painting experience and engaging in a team-building activity with our Corporate Events!
https://www....ivate-parties
If you're looking to book a private event with us but want us to come to YOU, take advantage of our Mobile Events, where we'll pack up the supplies and come to the destination of your choice to teach you and your group how to paint!
We hope you have a wonderful holiday season and we look forward too seeing you in the New Year for our special Black Light Class or any of the other classes on our January calendar!
Cheers!
Share Sign up for this special class! | View our full calendar