Host A Brunch Private Party At Pinot's Palette!
If you're looking for a great place to host a brunch time private event, look no further than Pinot's Palette!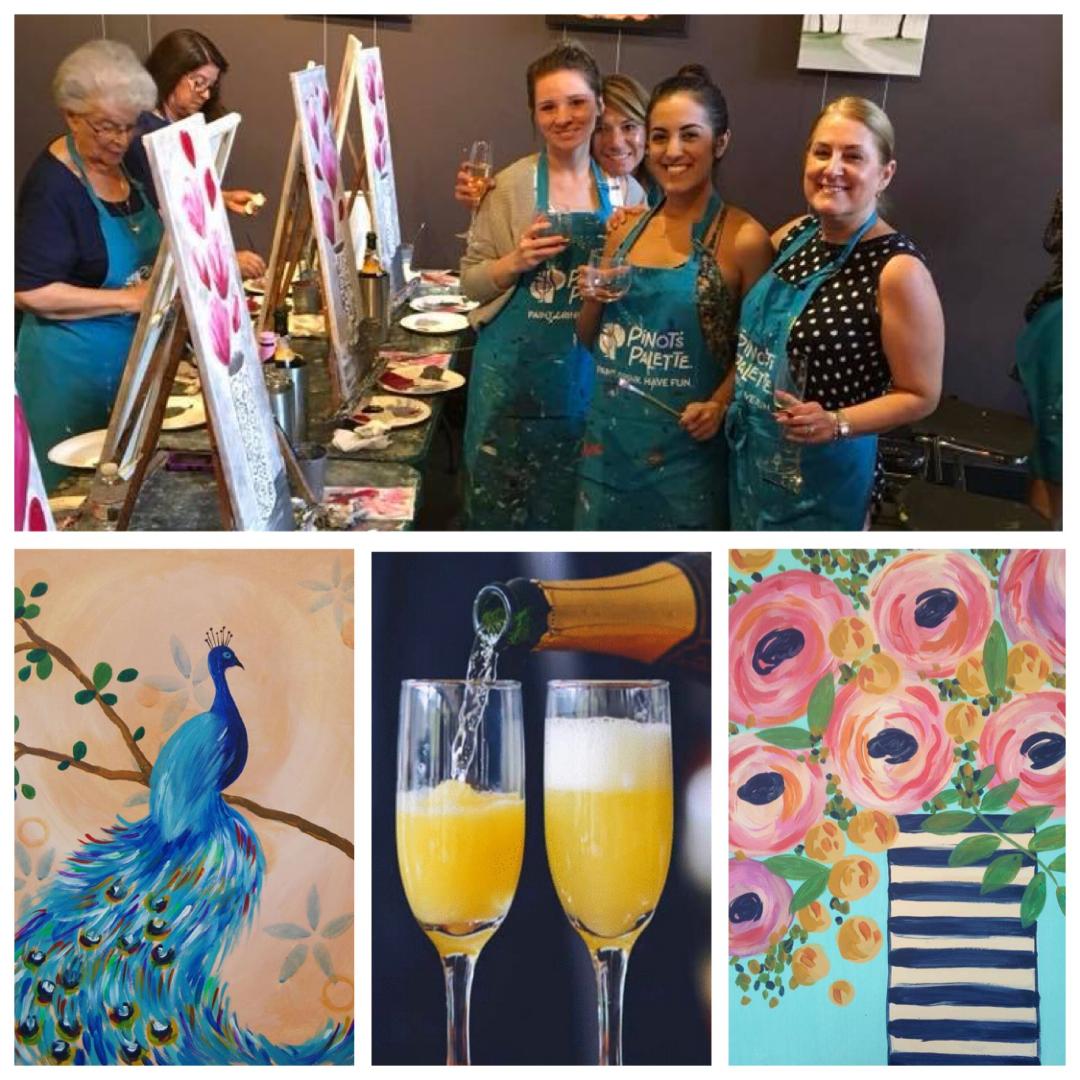 You may have seen the 'Available For Brunch Private Party' sign on our calendar these past few months.
We're here to tell you all about what it means for you!
Pinot's Palette has always offered private events where you can come in for a paint and wine party with the date and time, painting, and guest list of your choice; And while the 'Brunch Party' concept is very similar to our typical private parties, the time of day (brunching hours), drink menu, and complimentary pastries are unique to these 'Brunch Parties'!
Gather friends together to celebrate a wedding, baby, or other special occasion; Bring your employees in for a brunch meeting with a special creative twist, or for a team-building day; Host your next club meeting or school-related function, church-affiliated event, etc. with a painting party that everyone will love!
There are so many ways to use our studio for a unique and creative event that you and your guests will get so much out of and we hope to see you soon!
* HOW OUR BRUNCH PARTIES WORK:
- Book your private party any day between 9am-1pm
- Choose which painting you want to create for the class
- You're in charge of all of the other details like food, decorations, and more!
- We will provide complimentary locally-made brunch pastries for you and your entire party
- Our bar is stocked with mimosas and weekly brunch specialty cocktails for purchase
**And we are here to help you with anything you may need, along the way! There is no set way to host a party with us. It's all about what your event is for and how YOU want it to go.
We'll assist you in setting up tables for your catered or other food you choose to have, let you come in early to decorate, supply you with everything you need to paint, play the music of your choice, and so much more!
Our paintings are between 2-3 hours and typically, our party-bookers will add on an additional hour for food, drinks, mingling, and anything else they want to do! Talk about the book you read for your book club, hold a pre-painting meeting for a work event, play a holiday game at the Christmas party, etc..)
Just let us know what you're looking for in a private event and we can help you the whole way through!
NOTE:
(*) Brunch private parties must meet a minimum of 15 painters (or 15 paid spots)
(*) Choose between a two-hour painting at $35/person OR a three hour painting at $45/person
(*) Extra party time can be purchased for $75/half hour which is typical for most private events
Remember that when you book a party with us, YOU get to be in charge of everything from selecting the date and time, as well as the painting you want to create. You can also select the music for the class, add decorations and bring in food (or have it catered), along with planning games or anything else you want to do to make your event, extra special!
These parties are so much fun because it's all of the excitement and creativity of one of our public classes, but with the guest list, timeline, and creations of your choice.
*** There are so may ways to utilize our private events to fit exactly what you want:
* Wedding celebrations
Come in to celebrate the bride-to-be with a bachelorette party or bridal shower, or couples wedding party!
((Bridal and baby showers are very popular for our Brunch times!))
Our library is stocked full of paintings that are perfect for a bridal shower, wedding celebration, and more! You can view the full library below, or ask us for recommendations when you book the event!
*Library:
https://www....nting-library
**Book your celebration:
https://www....ivate-parties
* Holiday parties
Ask us about various paintings that would be great for a holiday celebration (we have themed artwork for all occasions)
((We're already taking reservations for our holiday parties so be sure to book your family or work party with us, ASAP!))
If you and your friends, family, or coworkers are looking for a new and unique place to have your holiday event, check out all that Pinot's has to offer!
* Fundraising
Use our studio to hold your next fundraising event for a school or sports team. We can help you set up a raffle, and other ways to raise money while painting and having fun! Just ask us about how you can incorporate a fundraising concept into your event and we'll help you out!
* Corporate
Join us, along with the whole office, to hold a team-building painting class where everyone will bond over a creative experience!
-Learn more about this:
https://www....eorangecounty
**Book your corporate event:
https://www....porate-events
* Anything else you can think of
Host your next book club, alumni club, church meet-up or more with our studio, and build in time to talk about whatever is on the agenda, whether its a recap from your last meeting, discussions about fundraising, conversations about the book you read this month, and more!
Whatever it is you're looking for in our painting and wine concept, we can help you adjust it to fit your needs.
We hope to see you soon for one of these fabulous 'Brunch Private Parties' where you'll get to have fun with friends or family, get creative and make a painting, and have a ton of fun while you're at it! Make painting and some memories that will last for years to come with a painting and wine party at Pinot's Palette in Tustin!
Cheers!