Happy Birthday To Our Favorite Boy Wizard!
This July 31st, Harry is turning 39 years old! Happy Birthday!!!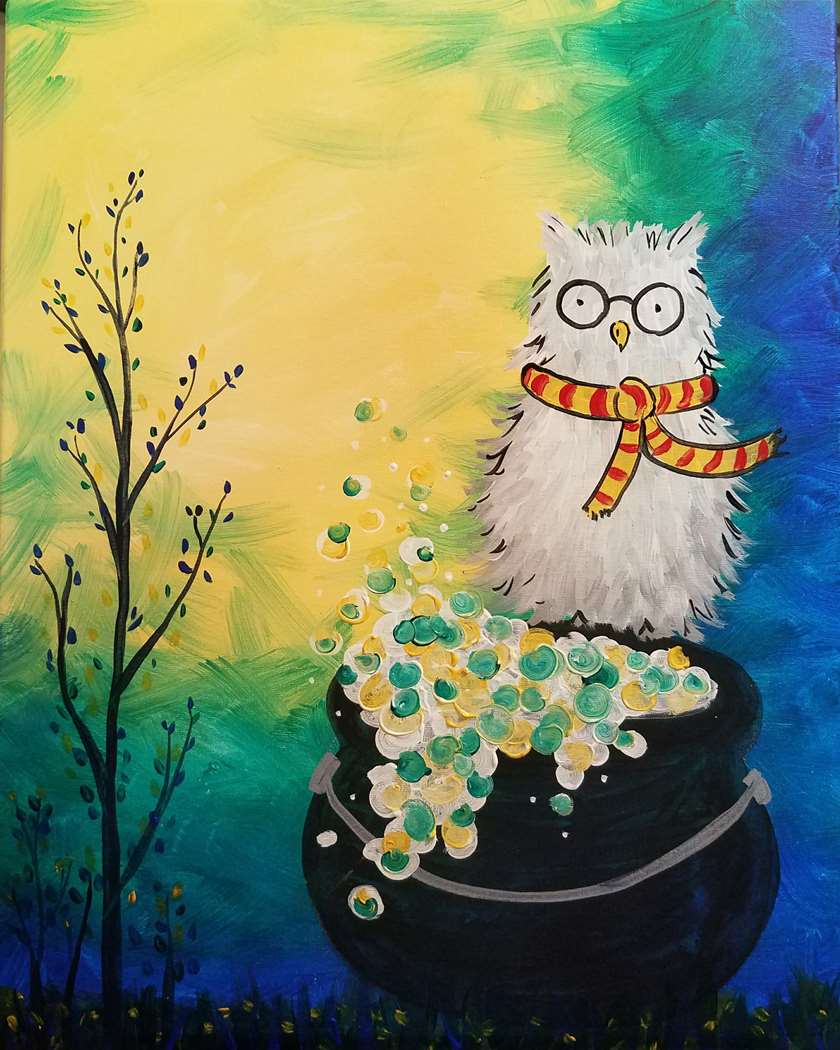 Some casual fans aren't aware that the Harry Potter books actually take place in the '90s. That's right: The Boy Who Lived rocked his teen days in the time of the Backstreet Boys and inflatable furniture.
While the series doesn't list his exact birth date, evidence indicating Harry's age first surfaced in Harry Potter and the Chamber of Secrets when he celebrated the deathday anniversary of Nearly Headless Nick. This celebration fell on October 31, 1992, when Harry was 12. If Harry existed outside the pages of author J.K. Rowling's novels and off the big screen, he would be 38 years old. He'd likely celebrate this momentous occasion with friends Hermione Granger and Ron Weasley in addition to his wife Ginny Weasley and their children Albus Severus, James Sirius and Lily Luna.
WE'RE CELEBRATING HP'S B-DAY WITH A PAINTING AND WINE CLASS!!!
July 31st (6:30 - 8:45pm)
'Cauldron Chemist'
Whether you are a fan of chemistry, potions, or owls, there is no denying love for this charming cauldron chemist!
It's Party Time!!!
Join us to celebrate a very special Wizard's birthday while we paint, drink, and play trivia! We'll have prizes too!
*Sign up:
https://www..../event/339240
— WIZARDS UNITE ™ — A Fun and Interactive Game For The Ultimate Fan!!! *** Check it out!
"Harry Potter™, Wizards Unite is a real-world augmented reality (AR) game inspired by the Wizarding World that puts magic in your hands. Like Pokemon Go™, Wizards Unite uses Google mapping to make it look like characters are appearing in the real world. Players see characters, creatures and other elements overlaid on the landscape that they see through their phone's camera as they move around.
Magic is out in the open and on the loose, and it's up to you as the player to hide it and cover it up before muggles (non-magic folk) see it and figure out what's going on. Once you download the game, you will be able to establish yourself as an official member of the wizarding world and the Statute of Secrecy Task Force."
-- All about this fun and trending game:
https://www....ardsunite.com
(*Note: All above quoted summaries of this game are borrowed from 'Gulf News Entertainment', an online news source, with which we are not affiliated)
*** Dont forget to celebrate 'Shark Week' 2019!
This month is not just a celebration of wonderful wizardly characters, but also of some of the wildest creatures in the sea!
This year, 'Shark Week' starts on Sunday, July 28 and runs until Sunday, August 4.
Shark Week on Discovery Channel will feature the event's first scripted feature-length film, which will star Josh Duhamel.
For the first time ever, Discovery Channel is rolling out a scripted, feature-length film just for "Shark Week" (starring Duhamel), "Capsized: Blood In The Water" tells the true story about an October 1982 shark encounter.
After each day's specials, Rob Riggle will host "Shark After Dark," the week's nightly talk show. Riggle will also star in "Shark Trip: Eat. Pray. Chum" alongside his friends Adam DeVine ("Pitch Perfect"), Anthony Anderson ("black-ish"), Joel McHale ("Community") and Damon Wayans Jr. ("New Girl"). Original programming wraps up Aug. 3, with reruns of the week's best content featured on Aug. 4.
**Your 'Shark Week' guide to all 18 programs:
https://ew.c...all-programs/