Book Your Holiday Party With Us NOW!!!
If you haven't already found that perfect location for your annual holiday party, it's time to do so!!!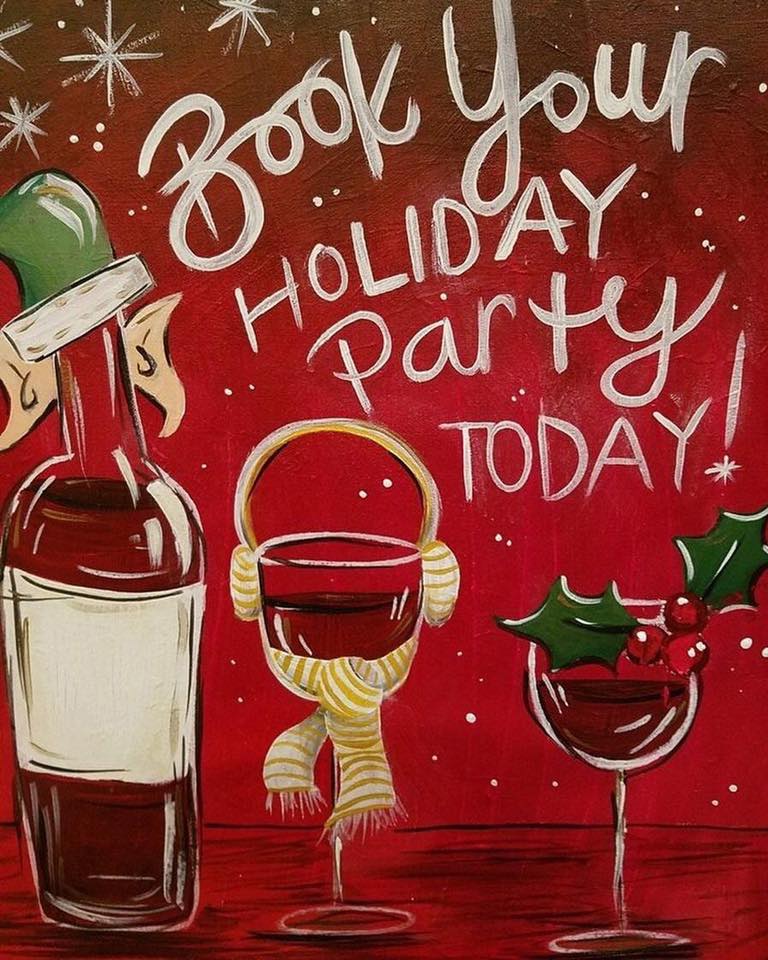 With the days of December, quickly passing by, its 'go time' for getting it together and making the plans for your party. Whether you're planning a friends and family get together, or organizing the whole office Christmas party, we've got your back!
Here at Pinot's Palette, we're your 'one-stop-shop' for the holidays!!! We make the perfect location to host a private party, a fun place to come and spend a night out in a painting a wine class, and we make shopping easy with our gift certificates!
The main thing we want to offer information on is our private party classes! These are SO MUCH fun, anytime of year, but especially during the holidays! Imagine how fun and unique of an idea a painting and wine class would be for this year's bash?!!
If you're in charge of planning the office party, you'll be everyone's hero when you choose a venue like ours! It's different from the same old office party, squished between cubicles, eating some dry cookies and listening to office stories, that you've heard a dozen times...
At Pinot's Palette, you'll get to drink wine and listen to music, while getting creative with your coworkers! It's amazing how much more conversing you'll hear from your desk mates in a relaxed environment like our studio, bonding over this exciting painting experience (the wine tends to encourage talkativeness, too)... :)
If you've never been to one of our classes, you've been missing out! We offer a 2-3 hour class where everyone is lead, step-by-step, through a painting by a talented artist. We have a great staff, available to help with anything you may need from help with your painting to pouring another glass of wine!
Our private events are even better than the public class, because we open our doors ONLY for you and your guests! It's a fun and creative experience where everyone will leave the class with a handmade masterpiece that they created!
If you're interested in booking a party, but still need some convincing, here's a list of the TOP reasons you should book your party with us, ASAP:
(1) YOU are in charge of everything from the date and time, to the painting selection! You can choose the food and wine, the music, and more! Specify the entire event to the needs of you and your guests!
(2) Easy on the party planner! We are here to help you, the whole way. Just email or call us, and we'll help you set the party up, keep in contact with you the whole time, and have everything set up and ready to go when you arrive! Let us know what you need, as we are here for YOU!!!
(3) It's fun!!!! Seriously, what's better than food, wine, music, and spending time with friends, painting?! Not much!
It's been proven than painting is good for your health, as it's a relaxing and mindless activity that calms, soothes, and encourages creativity. Experience all of that with your loved ones and it's sure to be a night to remember!
(4) It's different. Be everyone hero when you plan this unique and thoughtful party concept! People will love trying something new and leaving with something they created, with their own hands!
(5) It's trendy! Be the coolest party planner around and have your guests giving you non-stop compliments on how great it is that you found such a neat idea! While many people have heard of a paint and sip class, many have still never done one. This really is a fresh and fun idea for any one, at any age and any paint skill level.
Give it a try... all the cool kids are doing it. :)
*** We highly recommend booking your event ASAP!!! We fill up FAST this time of year, so be sure to fill out the form, on the link attached, to get the ball rolling for your registration. You can call or email us with additional questions, or even stop into the studio! If you haven't been to one of our classes and want to give it a try before committing to the private party, come on in to one of our public's classes! We make a great idea for a fun girls' night out or a crafty date night! We have some amazingly festive paintings in store for you, these next few weeks, too!
(sign up for a public class):
https://www....te.com/tustin
If you live or work in or around the Orange County area and are looking for something fun to do, come see us... you won't be disappointed! We have thousands of excellent reviews from satisfied customers, both from public classes and private parties! We aim to please and are always here to help with anything you need, so let us know!
Check out the link, below, to sign up for a public class, private party, or to purchase a gift certificate!
We hope you and your family have a wonderful holiday season and we hope to see you soon!!
Cheers!!!
Share Book your private party HERE! | Purchase a gift certificate HERE!